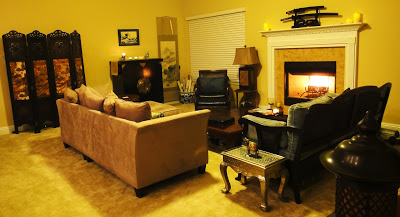 …at the living room in Casa de Krueger! We took breakfast on the patio in the sunshine, so imagine my surprise to find the temperature had dropped 20 degrees this afternoon. Chris and I had dinner in front of the fire. Feeling contemplative? Unfurl a scroll from the scroll bowl to ponder.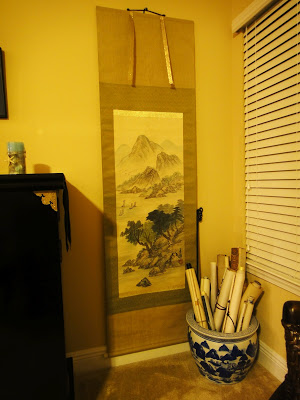 Customer feedback at Mari's Cafe Americain has of late been…shall we say…poor. In an effort to lose the last few (dozen) pregnancy pounds, I've taken some drastic measures. I've had measurable success with my muglette plan: substitute my morning bagel for an omelet in a mug. Some tomatoes, asparagus, or other veggies leftover from the previous night's dinner, two eggs, a touch of cheese, all in a large mug. Cover with plastic wrap and microwave for three minutes. Voila—a very fluffy omelet that keeps me satisfied until tea time. But back to dinner: pasta had to go. Chris and I spent such limited time together in Japan that I would default to his favorite as a main course whenever he was home. Plus he's a really picky eater. The fact that he dropped a tortellini on Isaac last weekend doesn't bounce in his favor. So I'm trying to get back to pasta-less dishes like I used to make, with not so good results. It didn't help that I had to substitute star anise for tarragon in a new recipe I was trying. Bleck—too much of a weird flavor. The next night I made an old chicken-veggie-rice dish, but the rice came out crunchy. YUK! But then…but THEN!
Take it Slow Sweet and Spicy Steak
Two and a half pounds of London broil, cut to fit into my Crock Pot. Topped with half a package of apricots, a small package of mangoes and a handful of dried Japanese sour plums. I couldn't find room for the dried salted limes or guava (where did those come from?!). I poured half a cup of some white wine sangria that's been sitting in the fridge over it all and added a chipotle pepper in adobo sauce, cooked it for six hours on high, and served over jasmine rice with a side salad of mixed greens, strawberries, pecans, dried cranberries and raspberry vinaigrette. Chris said it was one of his all-time favorites. Ta-da!