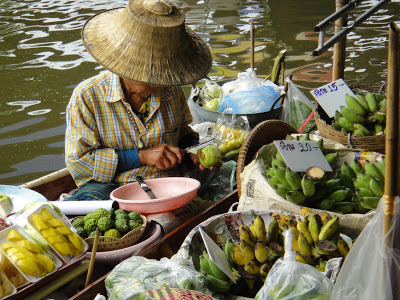 To be quite truthful, I had high expectations for this trip to Thailand—high expectations in the way of seeing people in unusual hats going about their daily business. As such, the Damnoen Saduak Floating Market a couple hours west of Bangkok was a complete success, even if 'going about their daily business' includes selling other funny hats to tourists. I happen to be a tourist and hold them in high regard.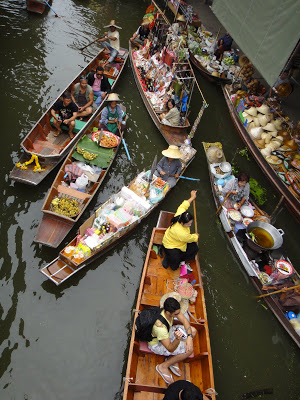 I thought there was one floating market; turns out there are still many in operation. I'd heard it was an overpriced tourist trap; I think people who have been there say that to discourage other people who have not been there from going and making it more visited and therefore less cool. Ok, maybe it was overpriced, but it was still totally worth it!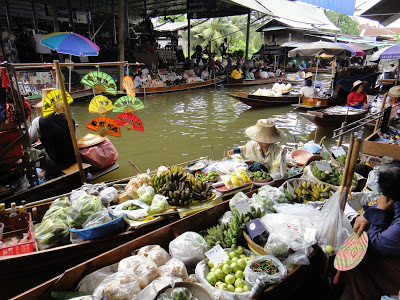 The market was colorful and busy, ever-changing but nicely paced. People paddled their boats slowly through the canals selling mangos, sprouted coconuts, raw chicken, flowers, freshly-cooked lunch, fans and (yay!) funny hats, among many–many–other things.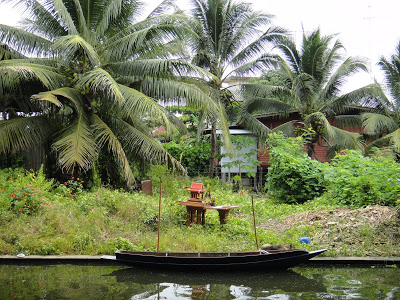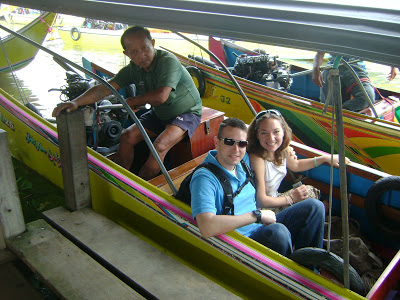 We took a short boat ride to the beginning of the market, then walked alongside the canal and peered down from a bridge. On the way there, we zoomed by houses with river water rushing inside over the floor, homes with laundry hanging to dry on porches overflowing with water. Our Pattaya hotel room had no seals on the doors so when we tried to warm up the room from the 5 degrees Celsius the thermostat was programed to we ended up with condensation pooling on the tile floor. I woke up and stepped down into water deep enough to splash and slosh. Just like these people, it looked like. Maybe it's a Thai thing (we ended up keeping our floor dry by withstanding an 18 degrees C room temperature the entire time. brrrr).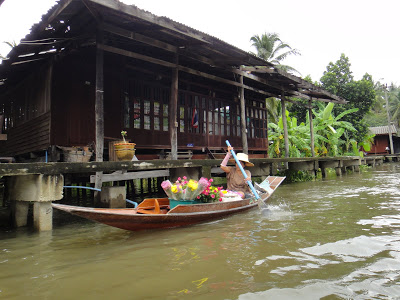 Thailand's two biggest industries—agriculture and tourism—are tied for profitability. In rural areas still criss-crossed by irrigation canals like these people get up early and go to the floating market to get meat and produce to cook for breakfast and the rest of the day. This draws tourists looking for people in funny hats. This in turn draws souvenir vendors. This proceeds every morning. So where does the floating market fit into Thailand's revenue report? Tourism or agriculture?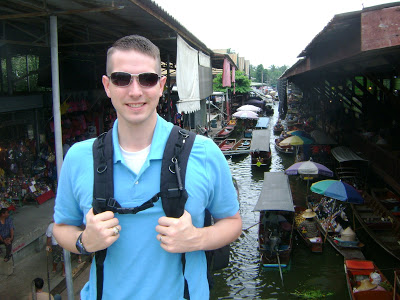 This also made me ponder "authentic travel." I'm not really sure what that's supposed to mean, but I think it sounds pretentious, like there's some virtue to traveling with no money, as if hanging out with local alcoholics or other backpackers in bars makes your experience somehow holier or more exalted or—pet peeve—more authentic than mine (I'm talking to YOU, worthless "Rough Guide to Southeast Asia on a Budget"!!). Anyway, if the majority of a nation's income is derived from tourism, wouldn't that make tourist stuff the most "authentic"?? Ha ha.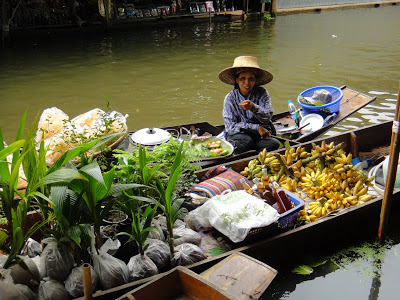 But I didn't come to Thailand to turn Thai. I came to see Chris, to meet him in our latest port of call, and to see a little more of other people's lives, the world, and how it's the same and different from where I've lived.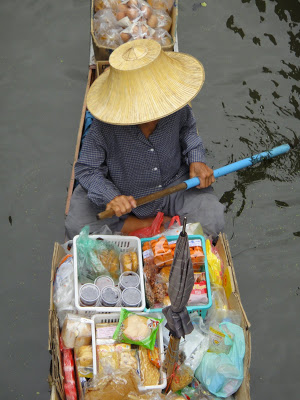 So we had some double super tasty pad thai and called it a day.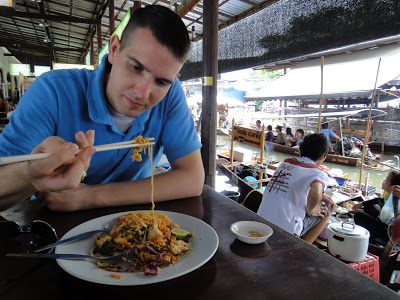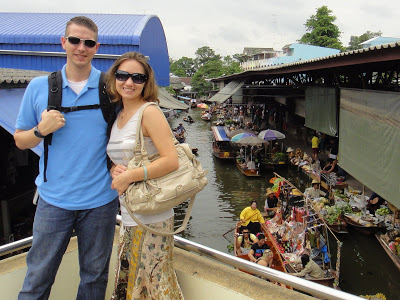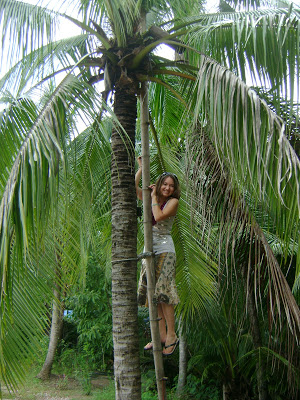 …after a quick climb up a coconut palm, of course!