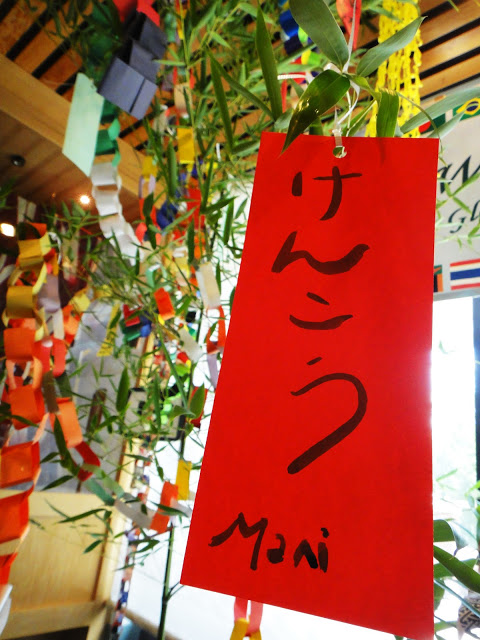 Good Health. Or maybe Happiness.
"Capture your moment in nature in three short lines. Include a summer seasonal reference (Kigo) for this time," read a poster at the Tanabata Star Festival last Friday at UWF. "Examples of seasonal references for summer are: Cicada (semi), Morning Glory (Asagao), Golden Fish, O-bon, Chilled Noodle, Rain Shower, Summer, Yukata, Fan, Wind Chime, Tanabata, Fireworks, Lightening Bugs, etc."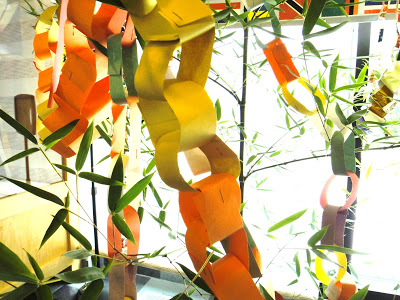 Translations of some famous haiku:
Furu ike ya
kawazu tobikomu
mizu no oto
"An ancient pond
A frog jumps in
the splash of water."
~Matsuo Basho (1144-1694)
"A morning glory
twining around the well bucket.
I will ask my neighbor for water."
~ Kaga no Chiyo-ni (1703-1775)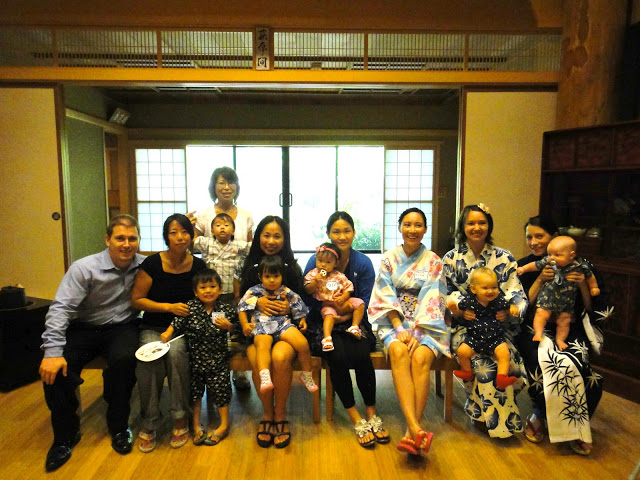 2012 UWF Tanabata Festival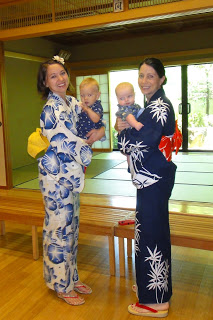 I wore my morning glory yukata; Isaac wore his dragonfly jinbei. My friend Nancy found out about the festival and made our reservation. Her yukata had a bamboo motif, and her sweet baby Charlie wore a gray crab jinbei. We got to be in the picture with all the Japanese girls and their babies. Isaac tried his first Japanese food (rice balls in bonito fish flakes), chewed on pretzels, and scooched around looking for things with wheels. He is 100% boy.
One of the organizers, Shigeko Honda, wrote this Florida appropriate haiku:
"Crepe myrtle
In the blazing summer
Elegantly blooming."
"Write your wish for good luck, peace, prosperity, good health, etc. in your native language or in Japanese and hang it on the bamboo Tanabata tree. Tanabata, the Japanese star festival, originated from the Chinese Qixi Festival.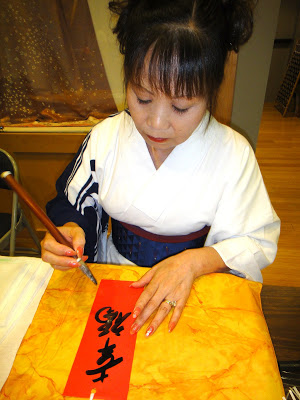 It celebrates the meeting of Orihime (Vega) and Hikoboshi (Altair) in the evening of July 7th. According to legend, the Milky Way, a river of stars that crosses the sky, separates these lovers, and they are allowed to meet only once a year on the seventh day of the seventh month.
The festival was adopted in the Kyoto Imperial Palace in Japan during the Heian Period (794-1185). The festival spread to the general public by the early Edo period (1603-1867), became mixed with various Bon traditions, and developed into the modern Tanabata festival. In the Edo period, girls wished for better sewing and craftsmanship, and boys wished for better handwriting by writing wishes on strips of paper. At this time, the custom was to use dew left on taro leaves to create the ink used to write wishes.
In present-day Japan, people generally celebrate Tanabata by writing wishes, sometimes in the form of poetry, on tanzaku (small pieces of paper), and hanging them on bamboo, sometimes with other decorations. The bamboo and decorations are often set afloat on a river or burned after the festival, around midnight. This resembles the custom of floating paper ships and candles on rivers during Bon."
~Festival flyer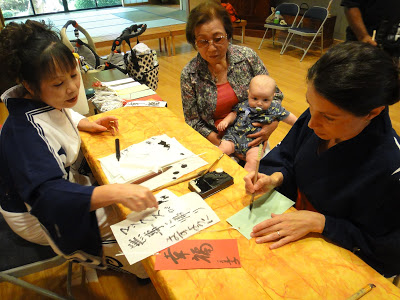 Nancy makes a wish
It was fun meeting Japanese who live in America and hanging out with Nancy in yukata. Although it's really hard to hold/play with/feed/chase this jinbaby while wrapped so tightly! The nice ladies helped us get dressed before the event.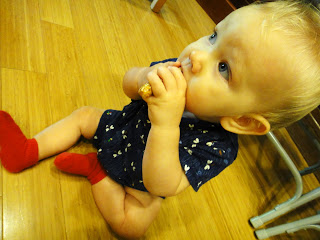 And…good news! One of the ladies in charge said I can participate when they have Urasenke tea ceremony workshops. I told her I would really like to participate, but I'm really terrible even though I have my first year certificate. I'm afraid this sounds like the Japanese way to be humble about legitimate skill, so I tried to really assure her I am so out of practice it would embarrass my beloved tea teacher, Sumie. I'll have to start studying again so when the workshop rolls around it will sound like modesty instead of…you know…the truth.


That morning, as I unwrapped my yukata from its place in my kimono bin, I had a moment of excitement when I thought about going to see Sumie, my tea instructor, dance leader, and Japanese Older Sister. Just a fraction of a second of anticipation, then, crash—oh, that's silly. She won't be there. All the Japan peeps won't be there. Sad sound. Recently I've been having kooky dreams set in Japan, where I'm always on a deadline and usually trying to catch a train or running through the shops around a station. Often it's nighttime, it's always crowded, usually it's raining. I'm either looking for someone or about to miss a train or both. I'm always alone, but know where I am.


Anyway, back in reality, Nancy and I had a great time meeting new friends, laughing about the time we did a calligraphy class in Japan, and dutifully scripting our wishes onto tanzaku to hang on the bamboo. Last year I wished for a healthy baby at the Hiratsuka Tanabata Festival. This year I wished the same for my sweet baby. Or maybe for Happiness. I forget, and it's in Japanese. Please, somebody tell me what I wished for!