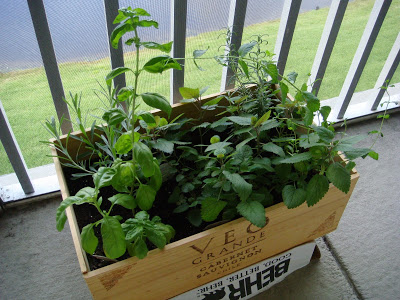 I was pleased to come home to find my herb garden lush and lovely. Thanks, Chris, for watering it diligently! And this is after I clipped an entire sprig of basil, rosemary and lemon verbena for some summertime pasta! Yes, so the pa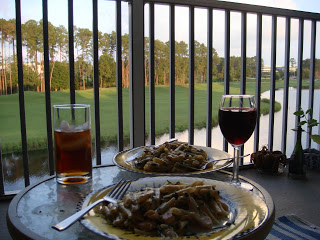 sta below was delicious. It's Chicken Florentine-in-a-bag from the freezer section, but instead of adding water with the penne I added cream sherry. That made it a tad too sweet in my opinion, but Chris liked it. The lemon verbena was an excellent addition to this dish, as was the fresh Parmesan I added on top. Dessert: A pile of green grapes. We sat on the balcony watching cloud formations until it got dark—a wonderful evening!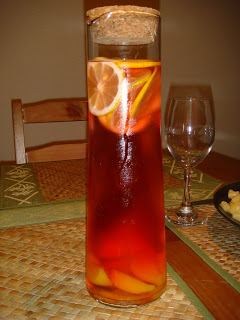 Dinner tonight (below) was inspired by our fun weekend of beach and adventure. Not real adventure, of course—I'm still getting over a cold. Movie adventure! Friday we went to the St. John Town Center, which I loooooooove, and Chris bought me a Welcome-Home-Sorry-Your-Wallet-Got-Stolen present of a wallet trip organizer from White House Black Market. Love it!! Anywho, our fun date weekend continued to a burger dinner at Five Guys, the new Indiana Jones movie (because we walked down the aisle to the theme song) and Marble Slab! And that was just Friday!
Saturday morning pancakes in front of the second Pirates of the Caribbean movie got us in the right mindset for the beach. It was fantastic—breezy and warm with jolly waves that had just enough kick. Followed by Chili's, and the third Pirates movie. A relaxing, welcome home weekend!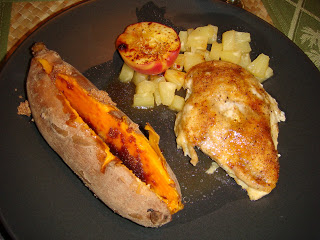 So what is this delicious dinner that looks kind of weird? I made it all up: sangria of Blush Sunset wine with peaches and lemon, Spiced Floridian Chicken with a Rum-Peach-Pineapple Salsa, yams with butter and brown sugar. Annoyingly, I used a spice mixture I made awhile ago…and forget what exactly was in it. Something along the lines of: cumin, curry, salt, pepper…what else?? Hmm…a mystery.