Olive, gray, navy, aubergine (that's the actual name for eggplant, my mom told me) — supposedly these are fall's hot colors. I used them as a guideline in a Beading with Wendy Wednesday last week that carried into this week and even today. Here's a sampling: On the left we have an asymmetrical gray and aqua bracelet based on the colors in the square stone. Amethyst and freshwater pearls make up the two bracelets next to it and the coordinating earrings. The bronze clasps are quite fetching, and the deep purple looks really pretty with brown to segue summer into fall. One set is for my MOM!!! Thanks for the pretty word for a pretty color!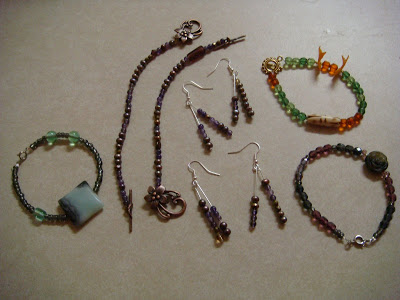 Bottom right is a gray-black-aubergine bracelet centered around a gray stone rose bead, perfect for solemn occasion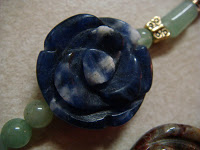 s like executions of final will and testaments today (along with sensible shoes, a black pencil skirt, aubergine sleeveless turtleneck and huge black sunglasses). And the top bracelet is just full of traditional fall colors while still incorporating olive. The brown bead is bone to keep those maple leaves from looking too teacher-y. I knew I shouldn't put them on or I'd risk looking like I was in recovery of Snowman Sweater Syndrome, but I couldn't resist. This will look hip with my olive tank or brown dresses! The right inset is a navy granite and jade number I just finished.
In other news, check out these cards I made under the guidance of a wise card-maker from church: