Was it really just four weeks ago that we purchased a pile of exotic merchandise for our adored shop? Just four weeks ago that we ended our first workday and watched evening settle over Chiang Mai, people biking home from work or heading to the night market, while the delicate scents of jasmine and ginger drifted through the air?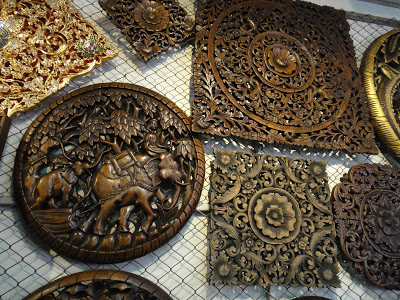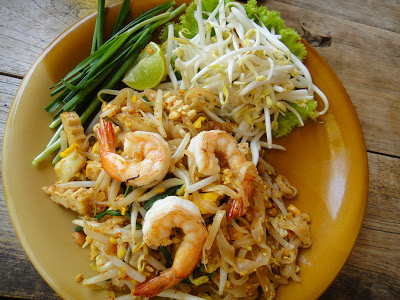 The trip itself went quite smoothly. We woke up on Day One to a full breakfast buffet—a fine start. We met our consolidator in the lobby and headed off to our first assignment: furniture. We spent the morning measuring, photographing and recording all the beautiful pieces we found, each with different options for finishes and cushions. Incense drifted through the marketplace; saffron-robed monks wandered by; the temperature climbed well past 90 degrees. Finally, we wiped our brows and broke for a pad Thai lunch. Then back to work! We finished with the furniture and moved on to triangle pillows and adorable silk elephants in all colors and sizes!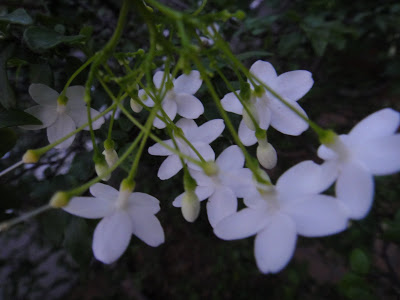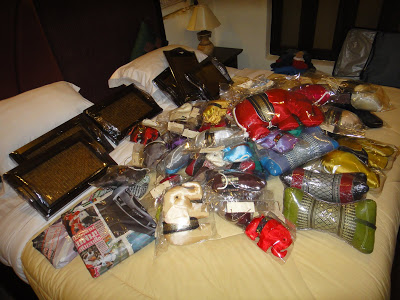 We completed our first day with a very nice haul to show for it. We were exhausted! After a short rest back at the hotel, we headed down to dinner. I had the Thai Set Dinner Menu: chicken satay for an appetizer, chicken soup with lemon grass and coconut milk for the soup course, red curry beef with coconut and peanuts and rice for the main course, and exotic fruits for dessert (all for less than $10). The papaya, dragon fruit, pineapple and watermelon were all very ripe and sweet. Yum! I also enjoyed the (alcohol-free) Pretty in Pink mocktail. Very…pink! Our evening's entertainment had been decided from the beginning—we were just down the road from the Kalare Night Bazaar. Vibrant, hand-embroidered purses, teak wall-carvings, party lights and more lit up the night in a dazzling display of colorful merchandise. A feast for the eyes!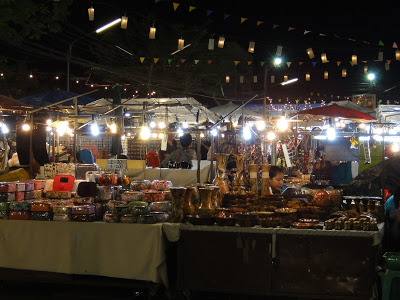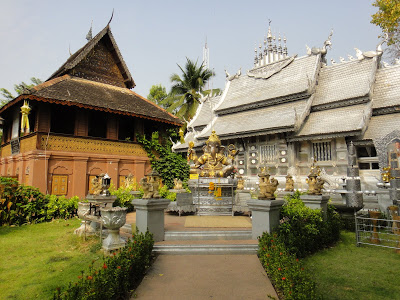 Day Two began with a similarly delicious breakfast. We went in pursuit of hand-stamped silver—not real silver, but fun Thai silver bowls. We first went to a temple covered in silver. Here, the monks are known for their silver handiwork. But they had not what we wanted, so we continued on. Soon we found ourselves in a crowded, dirty marketplace. We turned down a quieter street and hit the jackpot—the best prices we'd seen for more than half the items on our wish list! We bargained hard, spent a lot of money, then—hours later—announced we needed a lunch break!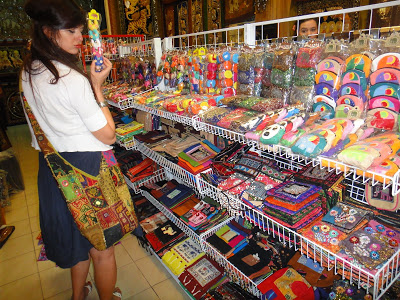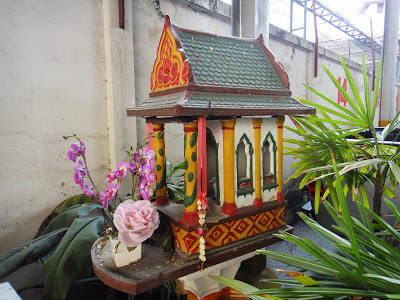 Our guide/consolidator took us back to the main street, crowded with cars, motorbikes, street vendors, vegetable stands, plastic kids' toys, etc. We wove our way through one obstacle after another and finally entered a restaurant. Yesterday's pad Thai was in a more traditional Thai-style raised building with a thatched roof. This restaurant looked like the back of an old kitchen. Flies buzzed, the floor was sticky, and we walked in past a chef chopping long strings of unidentifiable wiggly bits. All the other patrons looked glumly at watery soups—dark pieces sunken in their opaque depths. Our guide looked pleased with herself for finding us a restaurant.
Elaine, Brittany and I exchanged looks. "I think we're all thinking the same thing," I said. They nodded and Elaine spoke up: "We were looking for something more like yesterday." Our guide looked at the owner, who'd come up to our table already, and babbled off something in Thai. They nodded and smiled at us warmly. Elaine said quietly, "I tried!" Usually I'm a 'smile and eat it' person. But not when I have to see the wiggly bits before they're even cooked. My stomach turned. I smiled hugely at our guide: "I'm very sorry, but we're looking for something different." Our guide took this in stride, for which we were very appreciative. We were released.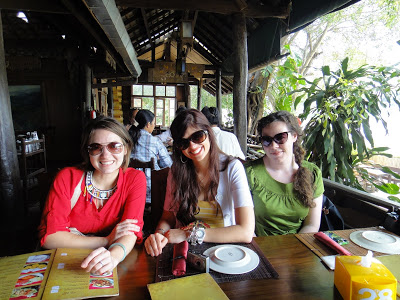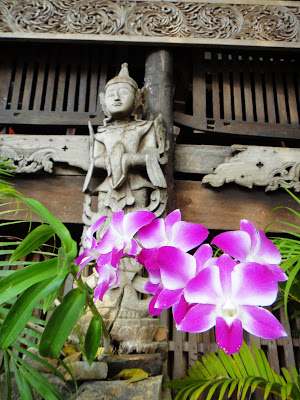 Instead, she took us to a beautiful, traditionally-styled restaurant along the river with many natural orchids and old animal carvings. We tried a spicy papaya salad and some traditional soups and dishes. I ordered a green Thai curry. Then it was back to work. We finished off the afternoon gathering beautiful wooden trays, coasters, silk scarves and table clothes.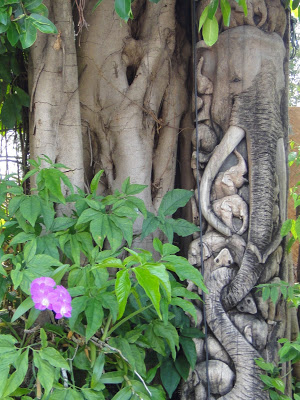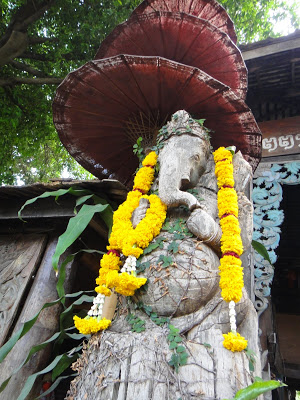 It was still light outside when we finished for the day. Our guide asked if we wanted to see anything, so we asked her to show us the most famous two temples in Chiang Mai. "No problem," she said. "They're on the way back to your hotel!"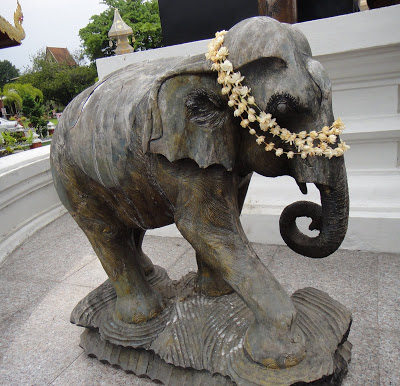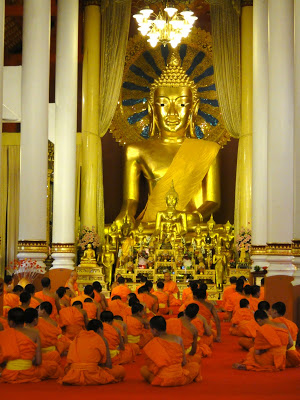 Wat Pra Singh Voramahavihara (above) is more than 700 years old. The people of Chiang Mai call themselves the Lanna people; long ago, in the Lanna Thai kingdom Pra Buddhasihing, another Thai king brought a famous Buddha statue to the Chiang Mai king. The chariot carrying the statue broke down near this temple, which everyone took as a sign that the statue wanted to live here. So it remained, and they changed the name from whatever it used to be to its current name in honor of the stubborn statue. Now robed monks-in-training shifted and whispered while a monk droned on before them. The wind picked up as we circled the temple.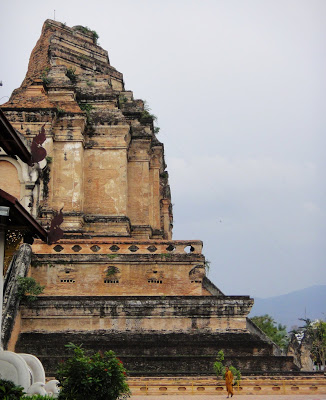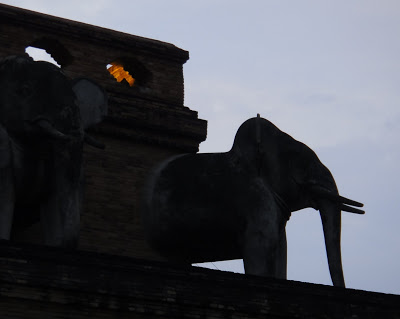 We concluded our brief cultural exploration with Wat Chedi Luang, another temple dating from the 14th century. Elderly monks who looked as old as the crumbling temple smiled and greeted us as night fell and storm clouds rolled across the sky. Bells tinkled in the wind; stone elephants stood in black relief against the darkening sky. Within the temple complex lies the city pillar:
Legend tells of a hermit who visited the god Indra and asked for a talisman to protect Chiang Mai from its enemies. Indra bargained with the hermit; in exchange for offerings, he would allow two human-beast 'kumaphan' creatures to carry the Inthakhin Pillar to the city from heaven. Statues of the mythical creatures were built at the temple and three yang trees were planted in its honor. So long as the tree closest to the pillar is not cut down, the pillar will protect Chiang Mai.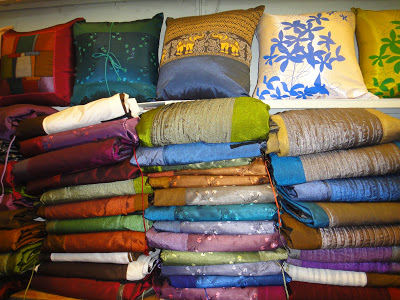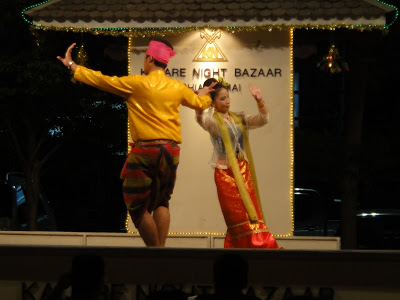 This is when we returned to our hotel room and
found out about the deadly Tohoku-Kanto Earthquake
and resulting tsunami. Obviously that drastically affected our evening, and we scrambled to check in with our Japan-based husbands and see whether our flight would in fact be able to land in Tokyo. (For all the time I spend in Japan while Chris is gone, I can't believe this happened in the four days Chris was in Japan while we were gone!) We also managed to cram all the treasures we found for Ichiban Collectibles into our suitcases. We are some talented packers!
From there, we ventured out to the night market once again, this time enjoying part of a free cultural performance while sampling the marketplace pad Thai (for about a dollar) and, I admit, some delicious French fries. We collected business cards from the best silk vendors so we can order from them in the future, and we even braved a ride in a very rickety tuk-tuk. A very successful buy trip to Thailand, but we were happy to head back to Japan!