"Fresh Eggs" read a sign on Berryhill. I drove down the road slowly enough to memorize the phone number. It was gone. But a bit of research turned up Coldwater Gardens, an organic farm about halfway between here and Alabama.
At some point the gardens will have lodging and stuff. It was cool to see the homes under construction as Baby Explorer and I bounced along the dirt roads and over a homemade wooden bridge (Will it hold…? Will it hold…? That was thrilling!) to the bee hives and back around to the organic garden and free range chickens.
They have a cool system where the compost gets eaten by worms, who get eaten by fish, whose poop fertilizes stuff. Our baby explorer was tired, and I had a weird hair day.
Isaac craned his neck to find the crowing rooster. He and the chickens get herded into the Chicken Garden every afternoon to scratch for bugs. But what really charmed Baby Explorer were the quails. Coo. Coo? Coo. Coo! COO! Coo. Coo. Coo? They murmured and pecked and zipped around their enclosure. His chubby little hand fastened onto the wire mesh and his soft head grew heavy against my shoulder.
Outside the greenhouse/office/library is a clipboard with herb prices clipped to a low tree branch. I bought some lemongrass because in Saigon a lot of the houses grew lemongrass around the foundation to keep bugs out. Also because I like lemongrass a lot. Nearby a rowdy patch of catnip was steadily taking over a corner of the garden, and about two feet from that was a very happy cat who did not move the entire time we were there except to sneeze once.
Coldwater Gardens offers informal tours on Fridays. You can pick your own organic produce (prices vary), and later in the summer we'll go back to pick tomatoes and buy some honey. I made a Coldwater Garden Salad of kale and lettuce tossed with nasturtiums, cucumbers, sage and mint. The snap peas didn't quite make it to the salad. They were delicious. Tomorrow I'm going to saute the fava beans and carrots. And Mouse and Pounce are very much enjoying their bunches of fresh catnip!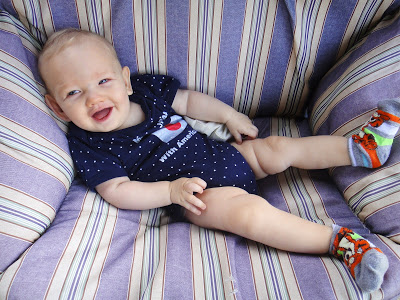 Free range organic Baby Explorer not for consumption.