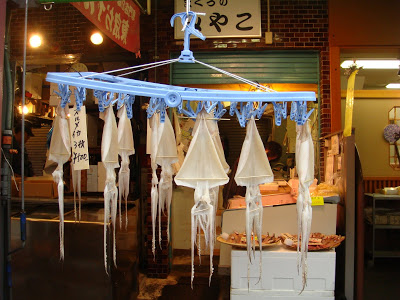 Chris had no desire to see Tsukiji Fish Market. In fact this summer he said, "If you'd like to do that while I'm gone, I won't feel like I'm missing out."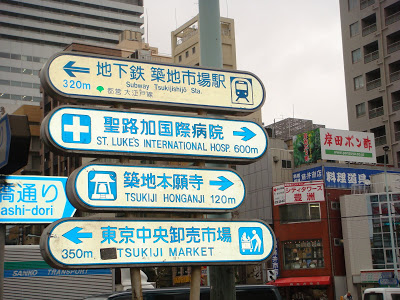 So off I went today, contemplating the importance of Tsukiji Fish Market to the Passport Diaries. A couple summers ago I was hanging out in Jacksonville researching Tokyo and daydreaming of the fun I'd have exploring and writing about adventure after adventure…like the hugest wholesale fish market in the world! But then it hit me—there was lots to venture out on there in Jacksonville. If I wasn't heading off in search of the new and novel there, what would motivate me to be any different in Japan just because of a change of location?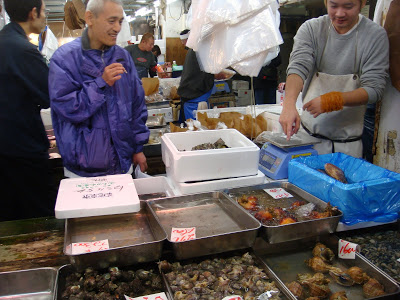 So I researched local Florida fish markets. I called shops and asked questions. And I got up in the dark, left Chris and a warm bed, and drove through the breaking dawn to my very first fish market, wrote my favorite post to that point and earning my first blogging high. After that I went to the fish market in Sasebo, got lost looking for one in Australia, and wrote an article about the market in Kawasaki.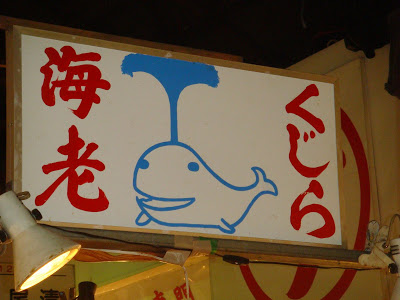 That's a lot stemming from one idle daydream. I was never sure what exactly compelled me to visit squiggly fish market after squiggly fish market. It sure wasn't the fishy-muddy-bloody floors. It was only partially the innate shock value of things like sea cucumbers. Gross. Always something new.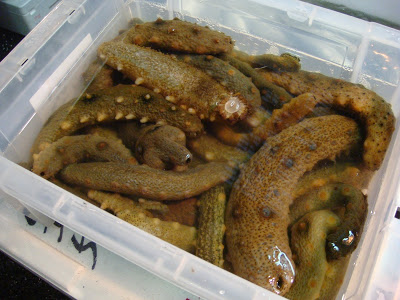 But wandering around the slick floors of Tsukiji's wholesale market, the vegetable market, the sushi shops, the knife vendors and the tea shops all felt very conclusive. No longer will I have this weird desire to visit every fish market I see on the map. I think that's satisfactorily concluded.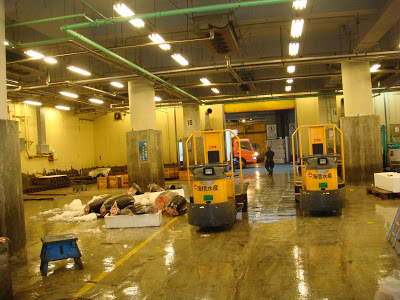 Huge chunks of blue fin tuna sit in the wholesale market area waiting to be picked up by the restaurants and markets that bid on them (the wholesale market opens at 3am for fish inspection; bidding starts just after 5am. Tourists can watch from 5 – 6:15am but no flash photography or something). The wholesale market is part of the inner market, which also includes the fish processing area. This area is particularly…slick, let's say. Also: Lots of tiny carts zooming around at high speeds.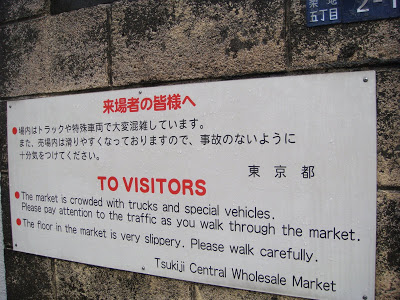 This guy feeding ice blocks into the ice crusher for wholesale fish packing is in the inner market. Making a racket, I might add.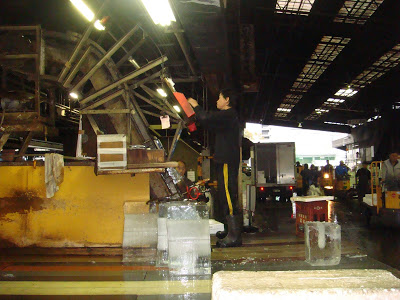 These guys are hanging out in the inner market waiting for their fish to be processed and, it appears, telling fish stories. "How big was it?" "THIS BIG!"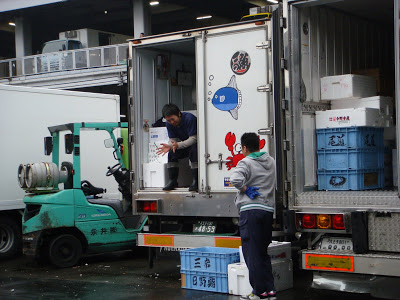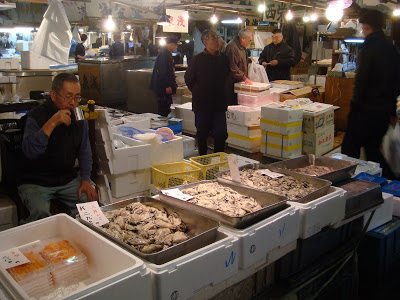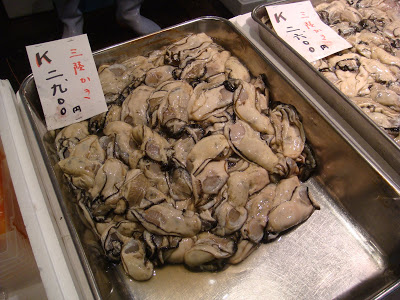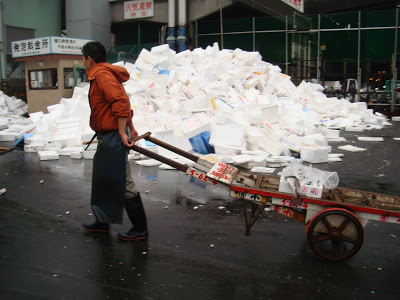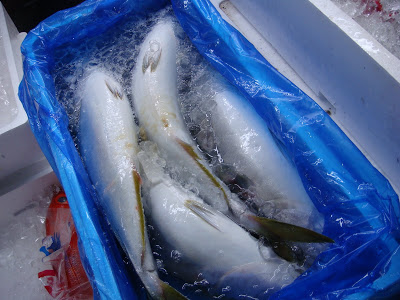 The outer market is the shops selling stuff individuals can buy—fish, sea life, kitchen tools, sushi, etc.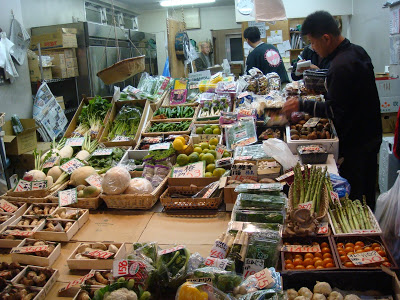 Fresh squid is this purple-y blackish color. It loses color and becomes all white when it's not quite fresh.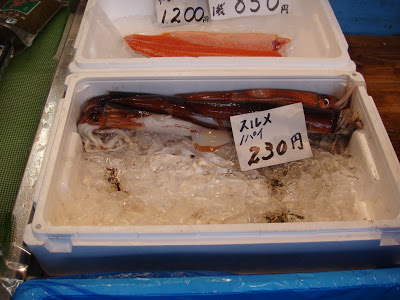 Anywho, my friend Stephanie and her visiting family and I split this sushi plate for breakfast with green tea. If the idea of fish for breakfast makes your stomach turn, that's what the ginger is for. Can you tell what that mango-colored piece of "fresh sushi" is? Sea urchin, we discovered after trying it. Mmmm, gelatinous….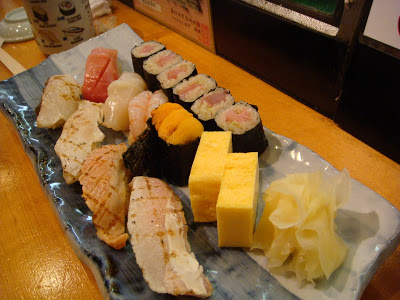 Then I bought an expensive knife. I'd told Chris about them after the Kawasaki market and he'd thought that sounded really cool and we couldn't leave Japan without one! It came with that flowered fabric, which I thought was a delightful tea towel but is actually the sushi chef/ninja headband, the vendor told me. Even better! Ok I made up the ninja part. But aren't those chopstick rests in the shapes of sea food so cuuuuuuute??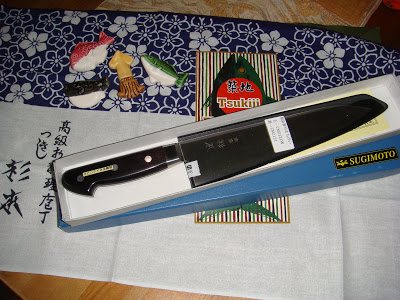 After exhausting the market and wearing out our stomachs' adventurousness for the day before 9:30am, it was over to Tsukiji Honganji, the temple the area is named after. The original temple was built in 1617 along the river on the only land the government would issue the sect, so they built it up. Tsukiji means "built land." It was rebuilt in this Indian style in 1934 after being damaged in a fire/earthquake/chose your own Tokyo disaster because I forget.
To get to the Tokyo Metropolitan Central Wholesale Market (Tsukiji Fish Market): take the Toei Oedo Line to Tsukijishijo Station or the Tokyo Metro Hibiya Line to Tsukiji Station.