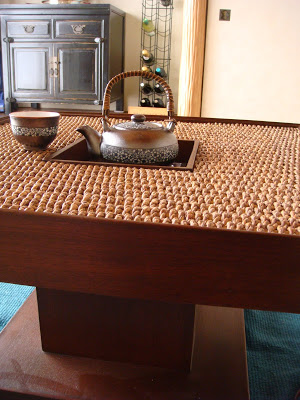 Sometimes the word 'furniture' is used to describe people or things that have become commonplace or just part of the background. Think of the musical
Oliver!
: "Consider yourself well in! Consider yourself part of the
furniture
. We've taken to you so strong! It's clear we're going to get along!"
Snore! What's the point? Well, in addition to buying some traditional Japanese furniture (see above table, originally $200 but some friends were getting rid of it and sold it to us for $30), certain things are starting to seem normal, like furniture. I'd heard about everyone wearing those doctor's masks when they're feeling sickish or if they want to avoid germs floating around the subway, but I was not expecting to see tons of little kids wearing them in Hello Kitty, Sesame Street and Disney character designs. Our house is a block away from a preschool, so all these adorable kiddos in matching yellow field trip hats and navy uniforms are always donning some character's likeness over their noses and mouths. Ta-da! And mom's don't need to tell hacking children to cover their mouths!
These same kids have been taught the pedestrian is always right. If a kid sticks his hand in the air, it means he's going to bolt into the street. I say he. The girls–with their ADORABLE chin-length bobs and bangs–never dive under my tires. Boys, however, have been known to 1. stand on the curb and pitch headfirst toward my car, 2. wait until my car was in the intersection, then raise their hand and jump into the crosswalk racing friends (and nearly colliding with my side door), and 3. ride bikes with rickety training wheels down the middle of the street RACING THE CARS. I saw that yesterday. Scared me half to death! That kid was on the other side of the river headed the opposite direction or I would have scooped him up and told him to go home. All the cars were swerving around him! (please note this excellent table setting, especially the jade chopsticks Chris was using that night! I was being a wimp and using lighter bamboo chopsticks.)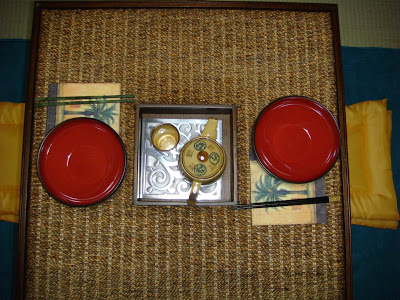 Yesterday I decided to see whether the stream that passes our house in the same one that passes the East Gate. A beautiful 40 minute walk (in heels!) along ducks, cranes, huge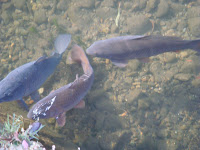 fish and the paperwhites that line the banks led me straight to my destination. When I picked Chris up after my meeting that evening I drove us home along the river. "Do you know where we are?" Chris asked. "I'm completely disoriented." "We're just following the river," I said. "I walked exactly this route earlier." Take a right out the East Gate. Follow the river. Take a left. Voila–there's our house. Chris couldn't believe it worked! What can I say? I'm getting better and better with the, "I bet this will work…" driving ideas.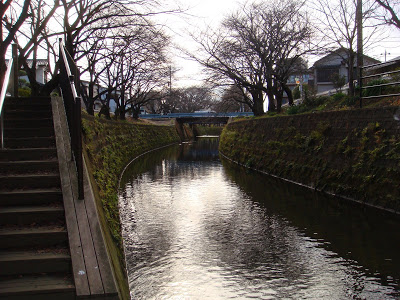 Anywho, that leads me to driving in Japan in general. It is against the law to drive with ANY blood alcohol content. That means having half a beer means you can't drive yourself home. It's really annoying at all these evening meetings where most people have a glass of wine then walk home to the hous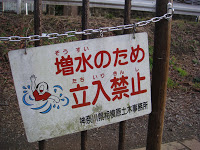 ing area to personally be limited to coffee consumption. But I can completely see why; see above paragraph on kids darting into the street! Apply this also to scooters, motorcycles and bikes, which don't follow the same traffic laws that cars do exactly, as in, they weave and dart and take physically impossible shortcuts. This needs to be countered, however, with the speed limit.
The highest speed limit I've seen out in Japan is 40 kph. That translates to just under 25 mph. It's so slow I don't even have bugs splattered on my windshield. There are exactly two place on base where 50 kph (that's–gasp!! so dangerous!!–about 30 mph) is allowed on the outer reaches of the flight line, but the majority of base is 30 kph, or 18 mph. EIGHTEEN. How the heck is anyone supposed to get anything done at 18 miles and hour?!?! You'll be late for church, zipping along at 30 mph and then wham! Slow it on down to 18. Even our car thinks this is ridiculous. It's an automatic. If I slow down to 30 kilometers/hour, it will naturally kick the speed up to about 40 kph. One time I ju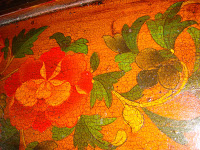 st tried taking my foot off the accelerator when the speed limit shifted down to see whether the car even could slow down that much on its own. It took about a mile, and by that time I'd come to a stop sign anyway. It is mind-numbing. How could you be a danger of hitting anything at that speed, even if you WERE drunk? Talking on cell phones while driving is also very illegal, for the same reason. The only redemption rendered by this painful speed is the beautiful views of Mt. Fuji and the mountains from the flight line. I crept along slower than mold watching the shimmering winter air change colors for the night. It was so pretty it brought to mind the indescribably beautiful
Lisa Frank collection
. Very nice. I mean, that's so slow you don't even have to pay attention. The automatic is so bored it takes over the steering wheel, too.
The final paragraph in this half-brained post will conclude with furniture. At a resale store today I saw this big, pretty, painted, oriental thing in the furniture section and asked what it was. "We aren't sure," the sales lady said. "I was thinking it might be a stand for a big mirror. One of the other volunteers saw it and said it's a Tibetan antique." It looks just like all the Tibetan antiques sold at the bazaars we've been to, which are always upwards of $200, so I bought it (for $10) and decided I'd figure out what it was later. Except now I can't get it out of the car. Any ideas? I'm taking suggestions on what it is AND how to extract it. (the above right photo is a detail of the paint job. The photo below is self-explanatory)