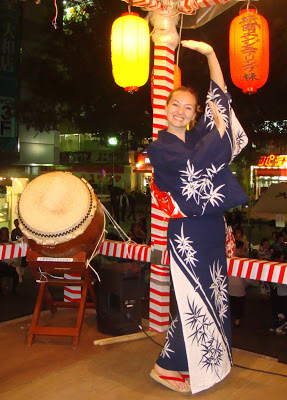 I love summer in Japan. I love mincing along in my yukata to the train station as the sun sinks behind the mountains, illuminating a dark silhouette of Fuji. I can smell the fish my neighbor is cooking for dinner and incense smouldering at a local shrine. A breeze picks up and the evening star rises over Fuji as the boom of taiko drums call me on to a local festival.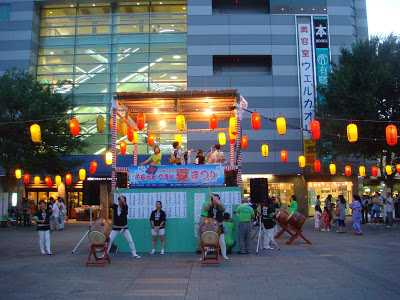 I set out a little self-consciously Friday night. I was meeting friends at Yamato Station for some Bon Odori dancing (yay!) but I'd dressed myself in my yukata for the first time. What if I did something wrong and it slipped apart halfway to the train station? Oh gosh, what if everyone on the train stared at some barely-noticeable-but-offensively-tacky-yukata-mis-wrap? The tiniest slip can make a big difference; for example, you should always wrap the right side under the left. Only dead people wear the left tucked under the right. Clearly, many things could go wrong.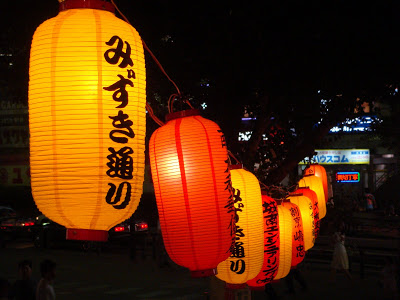 About a block from home my favorite song by The Sounds popped on my playlist: "Pretty as a picture dancing the night away. Don't stop baby–oooooo! I learned my way I'm living for something now. It's hardcore honey! Oooooo! We're not living in America but we're not sorry! I knew there was something that we never had but we don't worry. No, we're not living in America but we're not sorry…." It was shortly followed by "You only live twice or so it seems; one life for yourself and one for your dreams," from the James Bond movie of the same title—the one set in Japan. Perfect!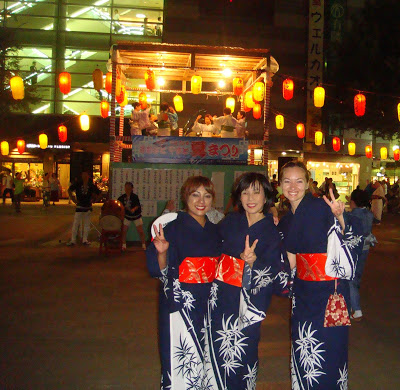 I smiled and kept walking, finally venturing to peak at the passing cars. And guess what! No one even glanced at me! Apparently an American in a red, white and blue yukata walking to the train station is not the weirdest thing anyone's seen lately. Oh wait, that didn't last long. I did in fact get some very obvious stares on the platform of the station where I wait for trains all the time and never get a second glance. Oh well.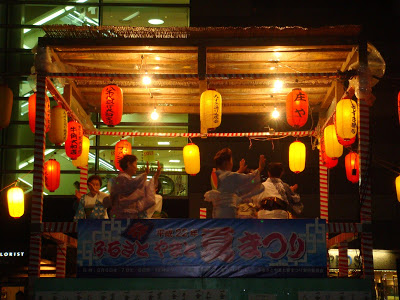 Anyway, in Yamato I soon found Joyce and Sumie. We were sad that Awa Odori performances conflicted with all the Bon Odori performances this year, but Sumie had a solution—after our last Awa practice today we'd continue the dance party with the old favorites in Yamato.
We and many Japanese ladies in yukata danced on and around the stage to Yamato Ondo (our local Yamato Song) and Genki Ondo (Good Song) which involves a lot of waving fans around. We danced the Looking-at-Fuji song and the Coal Miner song; we learned new songs and new movements to my favorite jazzy Zoom Zoom song that croons, "Zoom zoom zooooooom zoom, waka! (clap clap clap). Zoom zoom zooooooom zoom, waka!" We even saw two of the Awa Odori guys (not dancing)!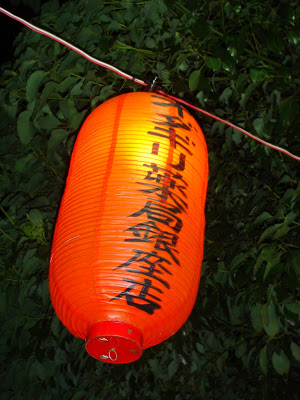 Sumie, great idea! I'm so glad we could hang out and have fun tonight while dancing Bon Odori!!