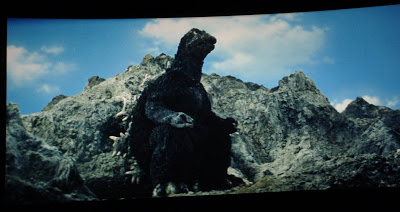 My plans for Thursday fell through so I was left looking for something to do…The Tokyo Metropolitan Museum? Tokyo National Museum? Assorted shrines and temples? But then something in this week's Metropolis Magazine events listing caught my eye: the Museum of Modern Art's National Film Center is showing showing classic monster films! Sure enough, the theater showing the 1966 blockbuster Godzilla vs. the Sea Monster—also called Ebirah, Horror of the Deep—was filled with about 80 Japanese guys, mostly middle-aged. One guy had a beret, another had a long low ponytail. Classic.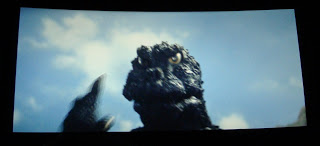 The premise fo the exhibit: "'Cross-section of Japan's Cinematic Past' is the series that aims to present Japanese film heritage from a wide range of perspectives including genres and subject matters. Following the part 1 on Nikkatsu action films and the part 2 on song and dance films, the part 3 will focus on Japanese monster and science fiction films. Masterpieces such as 'Godzilla' and 'Gamera' that were created with the uniquely Japanese special effects will be screened."
The uniquely Japanese special effects were excellent. Even though the movie was all in Japanese with no subtitles (after it started I realized that should've been obvious, but for some reason…it wasn't…) it wasn't hard to follow the plot line at all. Some very villainous villains were taking advantage of native islanders and a huge lobster kept eating people at sea. So some guys who escaped the lobster, washed up on the island and fled from the villains and befriended the islanders figure out how to awaken Godzilla from inside a mountain. Godzilla blinks a couple times then fights 1. the lobster, 2. a huge eagle, 3. a squad of fighter jets, and then crunches the entire Bad Guy Compound.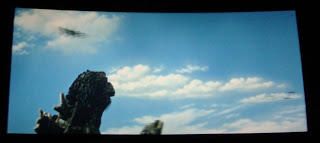 The villains run out to their boat, the giant lobster eats it them, and Godzilla tears off his lobster claws. Then Godzilla hops into the water and swims away while the island explodes (part of the Bad Guy Compound's self-destruct-when-threatened plan). The saved islanders are carried away by an enormous butterfly that they've been worshipping the entire movie and cheer when they see Godzilla survived the explosion. The end.
I would have more photos, except a cranky middle-aged Japanese guy with trendy glasses and a hat told me to knock it off. Oops….I hate it when I'm That Obnoxious Foreigner.