You're back in time a few hundred years. Your husband is a political hostage thanks to his opponents' ability to control you and your family's movements outside the city, so any attempt to flee means repercussions—probably death—for him, but he won't leave without you. The overlords become more tyrannical year by year until you can't bear it any more…you use all the money for your youngest child's education to buy falsified passports, and carefully pack up just the most irreplaceable of seven generations of belongings—anything more would arouse suspicion. You wake the children early and tell them to dress quickly. They have no idea that soon you will either be imprisoned….or free. Either way, this is the last time they'll ever see home. After days of travel through the lower mountains you approach the checkpoint, take a deep breath, and compose your face as you're corralled into the crowded waiting area. When it's your turn to be inspected, your courage falters for a moment as you pass through a room lined with rifles and longbows. Is this how the story ends?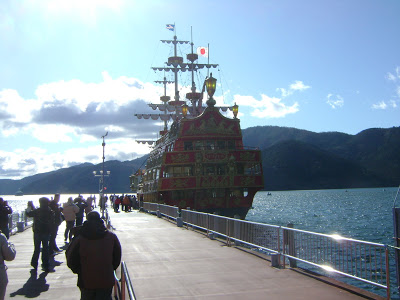 Now, where are you? Are you in Bavaria, trying to flee south through the Roman checkpoint on the highway at Ehrenberg? Are you in Spain, making a run for Gibraltar for passage to England? Keep going! You're in 17th Century Japan, and that angry-looking official is following instructions to "keep guns out and women in."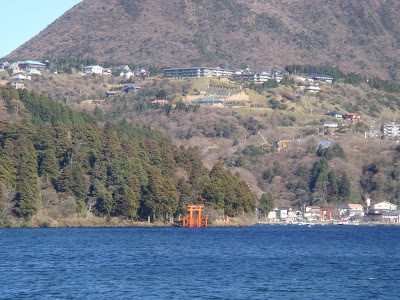 The Tokugawa Shogunate government established the Hakone Sekisho (checkpoint) to control the population between 1619 and 1869. Women and children wanted to leave Edo (old Tokyo) for Kyoto, but the government had better control over their husbands if they stayed.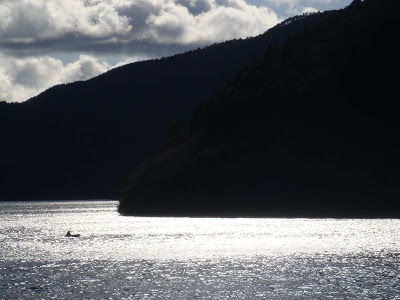 Travel on Lake Ashi was forbidden, and a lookout tower above the checkpoint on the mountain ensured obedience. Dark times for travelers throughout Japan!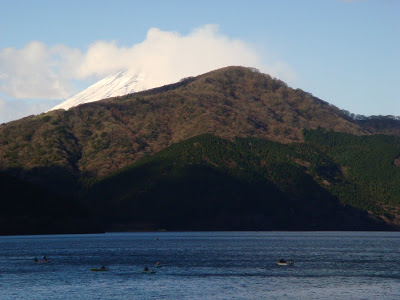 Yikes! Well we did in fact cross Lake Ashi by boat…in fact, we sailed on a mock-up of a pirate boat. Just like the sightseeing boat around the 99 Islands in Sasebo. What's with that exactly!? Betweent the dock and the checkpoint we had lunch of curry rice (Chris) and curry udon (me), followed by red bean and tasteless jello and fruit dessert and a Viennese ko-hee.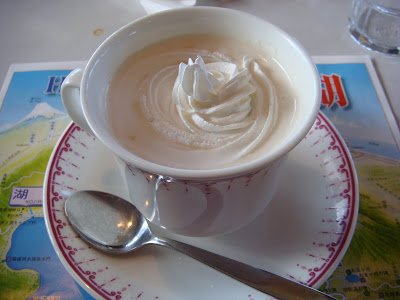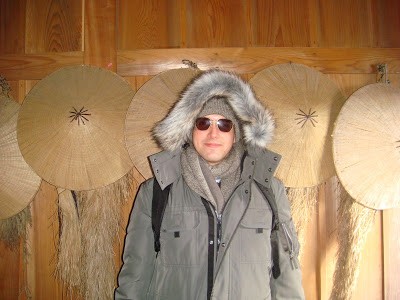 The coolest part of the checkpoint was this tiny museum that had shogunate-era passports (with written descriptions of each traveler and the express reason for their need to cross through), medieval punishments for people found unworthy, samurai suits, old money, drawings of the original buildings and other pertinent things from the era.