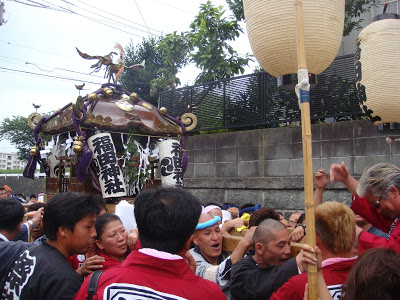 I wanted to go to a festival this weekend, but instead a festival came to me! I had stopped at an ATM en scoot to fill my gas tank this afternoon when my neighbor John pulled over and alerted me to a local festival that would be parading along the river in about an hour. Woo hoo!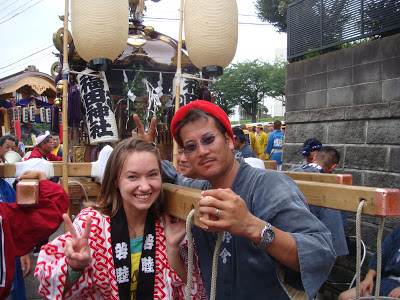 I'd heard of the Hamaori Festival, but only the one in Chigasaki, where the parade starts at 2 or 3 am and carries a bunch of shrines down to the shore to purify them at sunrise (4 am), after which all the men strip and go swimming. The festival is on Ocean Day (in 2009 it's tomorrow, July 20) and blesses the water to guard swimmers against sea monsters and ocean ghosts. I find it interesting that sea monsters and ocean ghosts appear to be a universal fear. I know I admitted to Hannie one time that every time I'm in the ocean I'm vaguely afraid a slimy dead person will grab my ankle and she said she had the exact same fear! Who knew there was a festival against that?!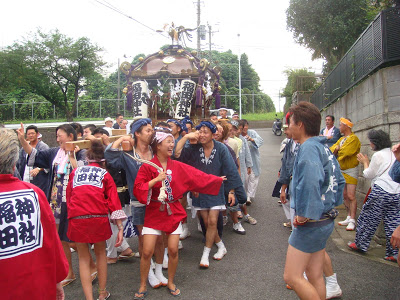 Anywho, apparently different municipalities do it to, et voila: Hamaori-Matsuri for the neighbors! This toned-down version involved no nudity, just carrying the shrine through the streets and along the river, past the graveyard, down the hill, stopping intermittently to collect more people and enjoy each block's hospitality. The drums boomed in the distance, went silent, boomed, went silent for hours before the procession progressed to the river. Once they arrived at the conglomerate of tents set up with food, beer and sake, I understood the silent spells—every single time the drums stopped, the shrine was set down so the carriers could eat and drink. Obviously most everybody was very drunk and extremely friendly by this point. John got coerced into helping carry the float again. I held the plastic cups of Asahi (Japanese beer) and took pictures, then followed the procession with the other people in hopi coats (thigh-length kimono) to the next round of tents, beer, onegiri (rice triangles), Japanese sausages, watermelon, fried chicken, tiny Japanese potatoes, Chu-hi, etc.