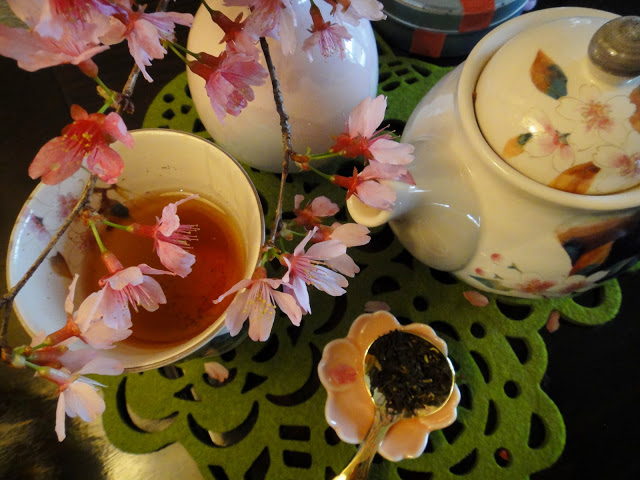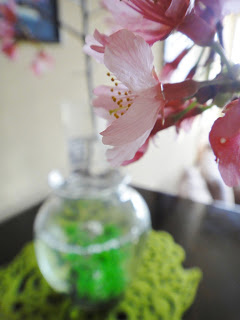 It was raining. Captain Goodbaby and I were driving along when a hint of pink beckoned from the roadside. In less than a minute I was out and in, covered in muddy undergrowth but proudly bearing a branch of cherry blossoms in full bloom. I justified it because 1. no one saw, 2. it wasn't anyone's yard, and 3. the branch I snagged was hidden behind the bushes anyway.
I've had Japan on the brain more than usual as I finished up a project that made me thinking about our river, our bridge, our Road of a Thousand Blossoms. I kept thinking about this "Cheery Cherry Blossom Tea Party" tablescape I concocted exactly three years ago, freezing my fanny off alone in the tatami room with no heat. I bought those cherry blossoms at the florist down the street because harvesting one of the branches from the river would be UNSPEAKABLE. Anyway, the point of that was to try out the Lupicia Sakura tea I'd just purchased. The next year that seasonal tea sold out before I could get some, and the following year I evacuated and missed it altogether. Last year it sold out online, but THIS YEAR I ordered some in time! It arrived on my doorstep the day after Isaac and I recovered the blooming cherry branch! You know what that means! SAKURA TEA PARTY!!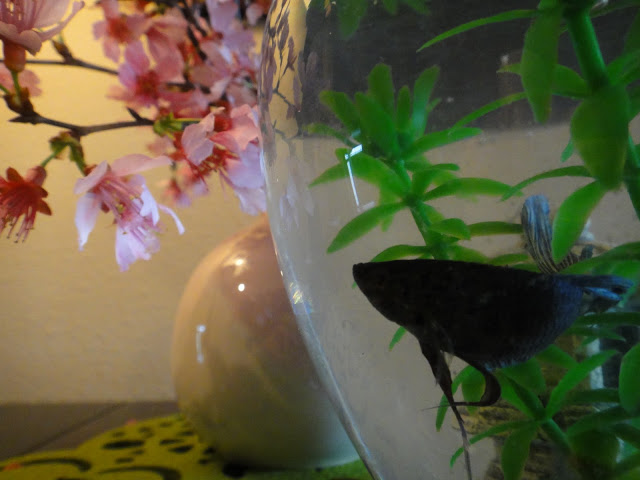 'Hanami' is a cherry blossom viewing party, and maybe the fish's name.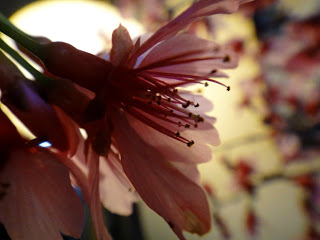 Chris is off running a marathon this weekend, accomplishing some life goal or something. It's my life goal to never run a marathon, because I think they're silly. I mean, the guy who ran the first one died. Trying to do something that's famous because it killed someone absolutely mystifies me. Whoops, what I meant to say was GOOD LUCK CHRIS!!
My life goals are more delightful, like to have a daughter and take her to afternoon tea at the Plaza in New York. I bet no one has ever died in pursuit of that life goal.
But anyway, while he's gone Captain Goodbaby and I broke out the spring box. The cherry blossom scrolls are unfurled, the sideboard sports a sakura obi with an Easter garland, and the dining room is awash in springy pink and blue. Delightful!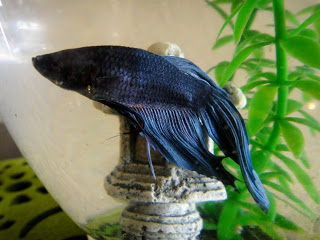 Last year I bought a couple planters of tulips, hyacinths and daffodils. I saved the bulbs on a shelf in the garage, fully expecting them to rot in our humid, warm winter, but to my shock some of them sprouted. I buried them in the herb garden and so far 11 plants are emerging from the dirt!! The hyacinths are already pink. I'm so glad, because our cold front this weekend killed off all the new growth on our hibiscuses and maybe our citrus trees. I don't get it; it didn't freeze. But it's supposed to be warmer tomorrow, so the Goodbaby and I planted basil, nasturtiums and arugula. Gardening made him hungry; he had two chicken nuggets and a whole thing of yogurt for lunch. Somebaby is chunking up for a growth spurt, just in time for spring! I love spring in Florida!
Lupicia's special spring blend: Sakura black tea with salted cherry leaves.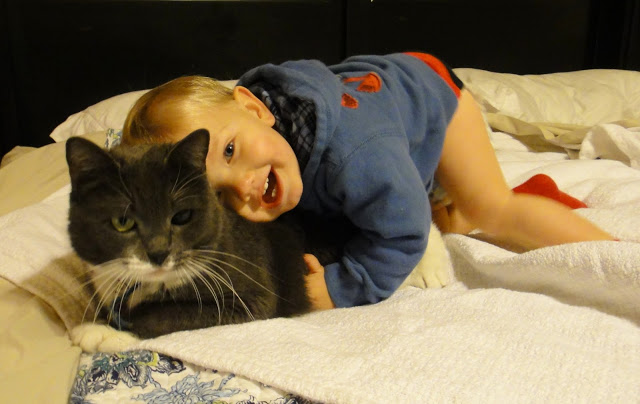 Good kitty. Captain Goodbaby figured out how to climb onto our (very high) bed.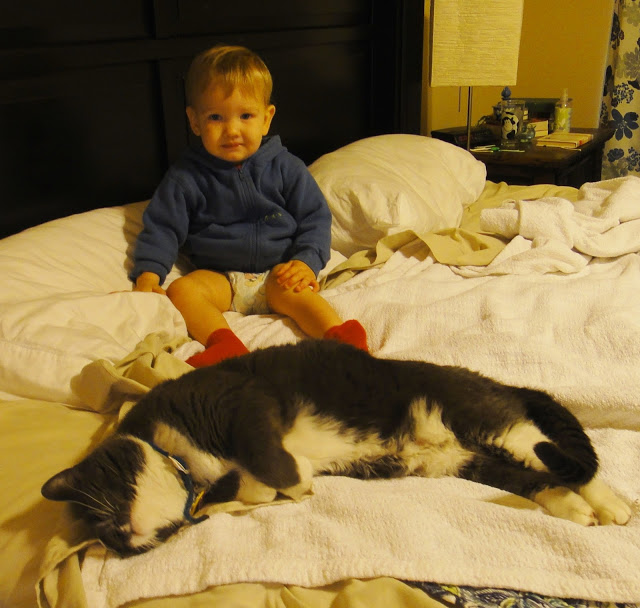 Mouse and the Captain: buddies for life.