The shady interior of Maunakea Market was twice as hot at the sidewalk outside. Clouds of steam and smoke rose off industrial stove tops, sending the savory smell of meat swirling around me, colliding with a wafts of incense, salty fresh seafood, the cool humidity of exotic vegetables, and unidentifiable fruits. Pikake smells like jasmine to me—there were traces of that too, plus the new plastic smell of "Made in China."
The marketplace in Chinatown completely exceeded my expectations. The last time I was in a market this delightfully Chinese was Hong Kong, where I almost got left behind for taking pictures of unidentifiable wiggly meat bits.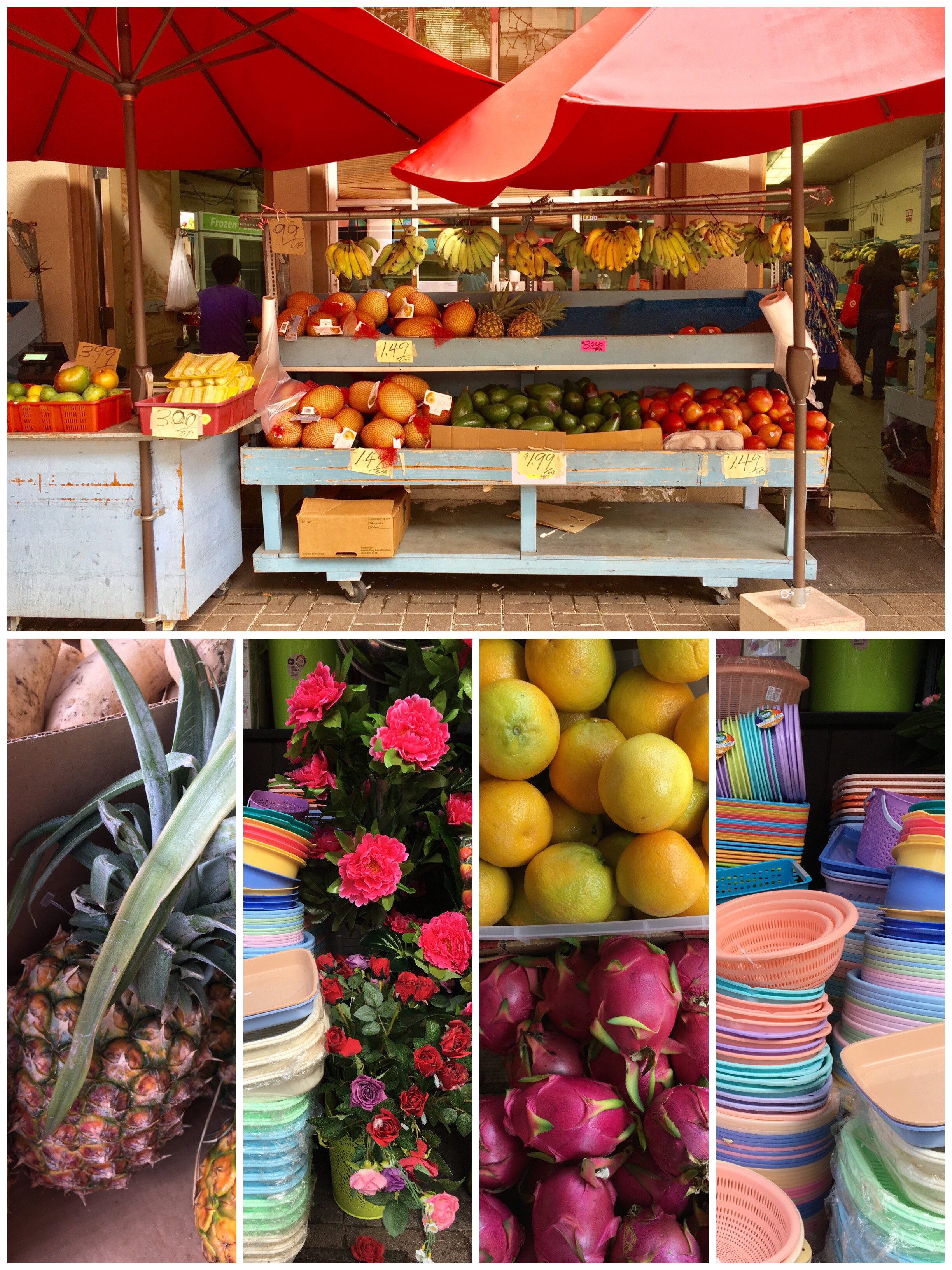 "What is this?" I handed over my apple bananas to be weighed and held up a whitish round fruit(?) something. If it was that native Hawaiian fruit that has easily separated seeds good for a child's snack, I was going to test it out. I read about it somewhere recently.
"I have no idea what that is," the cashier shrugged. Maybe next time.
"How do you eat it?" I asked the fishmonger, pointing to a bin of dark spiked sea cucumbers. He mimed slicing it up. "You can eat it sashimi," he said. Interesting, but…. Pass.
"Excuse me." Massive bags of rice sagged over the edges of the man's dolly as he edged through the pedestrians waiting to cross King Street at the end of the Kekaulike Street Market.
Chinatown was busy and interesting and full of sights to see and smells to smell. I'd come downtown to check out a couple local shops I heard about, and they were cool, but the marketplace is where life happens. I can't resist getting sucked in. Besides, I needed some produce. I probably won't contract rat lungworm disease from corn, right?
I mostly saw two types of people: older Chinese shoppers or sellers, and young white tourist couples with huge cameras. Which group am I? I'm buying fruits and vegetables, but gawking at the exciting array of sweet mangosteens, vibrant dragonfruit, and unusual seafood (and taking pictures!). I'm white, but maybe pass for half. "You hapa? You half?" Hawaiians ask me constantly. I'm not half Hawaiian, of course, but I love the term half. "You could be half Korean," said my Korean friend in college. "Is your mother Japanese?" Japanese ladies asked often in Japan. In Vietnam (formerly colonized by France) my inherited French nose and vague Asian-ness got Chris a lot of attention—people kept asking how he met his "Vietnamese" wife. Europeans ask if I'm French, Lithuanian, Hungarian or Russian. "Where are you from?" Americans ask. "No, where are you FROM?" they ask again when I say Texas.
I don't even know anymore. But I'm not really sure it matters. I'm here now. Half tourist, half local, and halfway across the ocean from anywhere—smack in the middle of a fantastic morning in Honolulu's Chinatown.