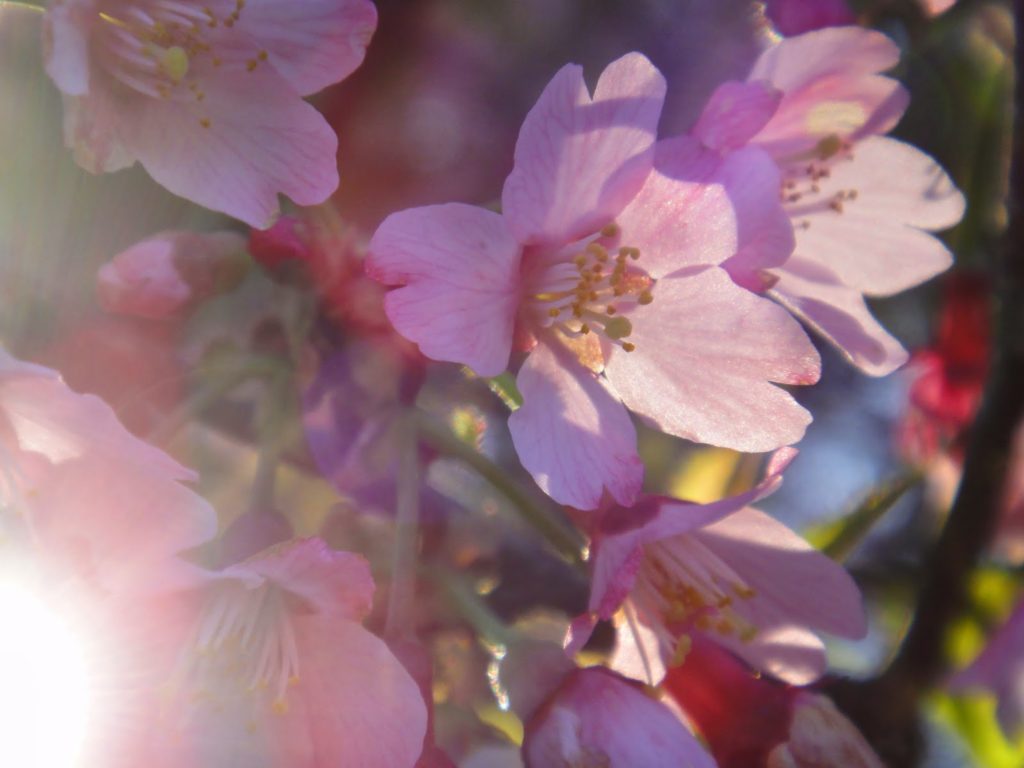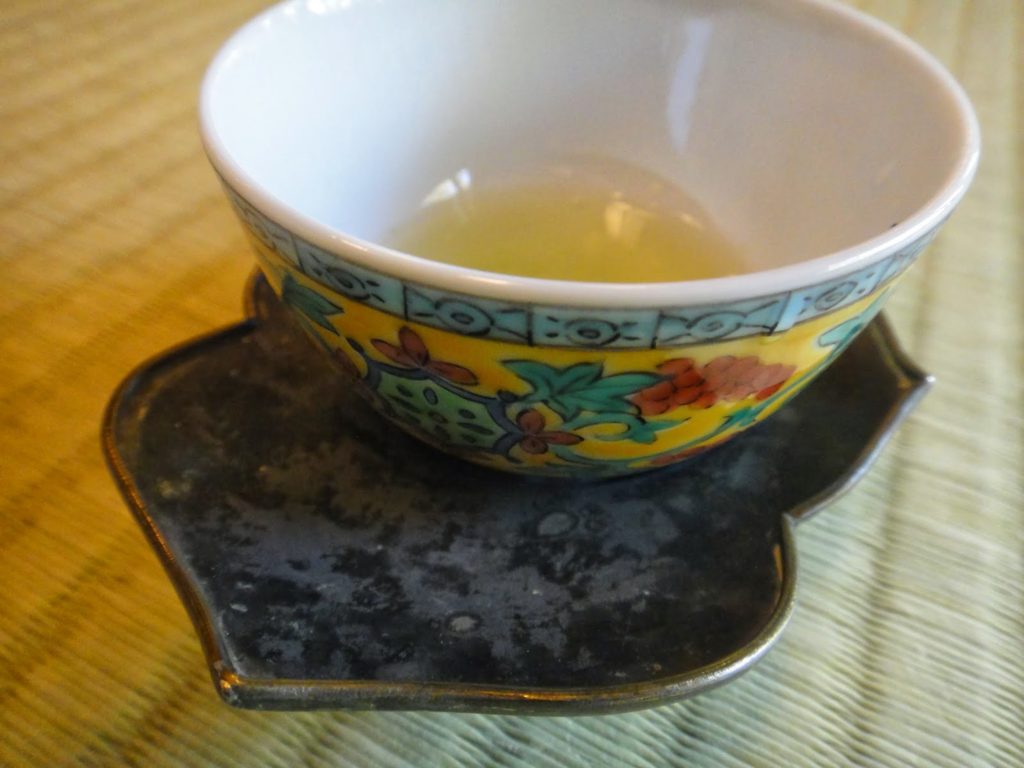 second tea
What a tea treat! The grandmaster of the Higashi-Abe School of Japanese green tea, or Senchado, presided over a tea ceremony today at the University of West Florida's Japan House. Grandmaster Sessho Doi is the fifth generation Higashi-Abe School grandmaster. He is training his 16-year-old son to be the next grandmaster. His son made tea while the grandmaster's wife looked on, elegant and composed in a gorgeous spring kimono. The grandmaster taught about tea while his son worked silently.
Two cherry trees outside the International Culture Center were in full bloom. The tea garden just beyond the tea room revealed an azalea bush beginning to bud.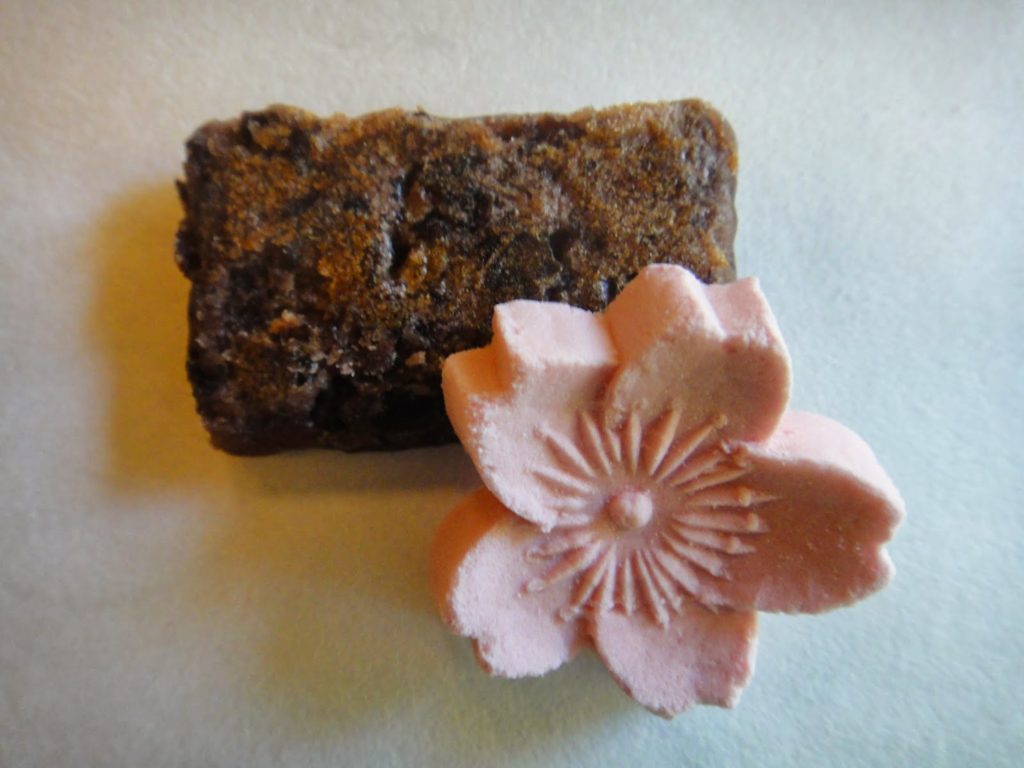 branch and blossom higashi
The grandmaster's younger son assisted the older brother and brought sakura higashi tea sweets to the five guests enjoying tea in the tatami room. Afterwards, I asked if he, too, studied tea. The older son told me not yet; first the oldest son must learn. Then, after his father passes away and the older son becomes Grandmaster, he will teach his younger brother. He has studied four years already.
They live in Kawasaki and came to the USA to perform tea here, Boston and D.C. for the cherry blossom festival.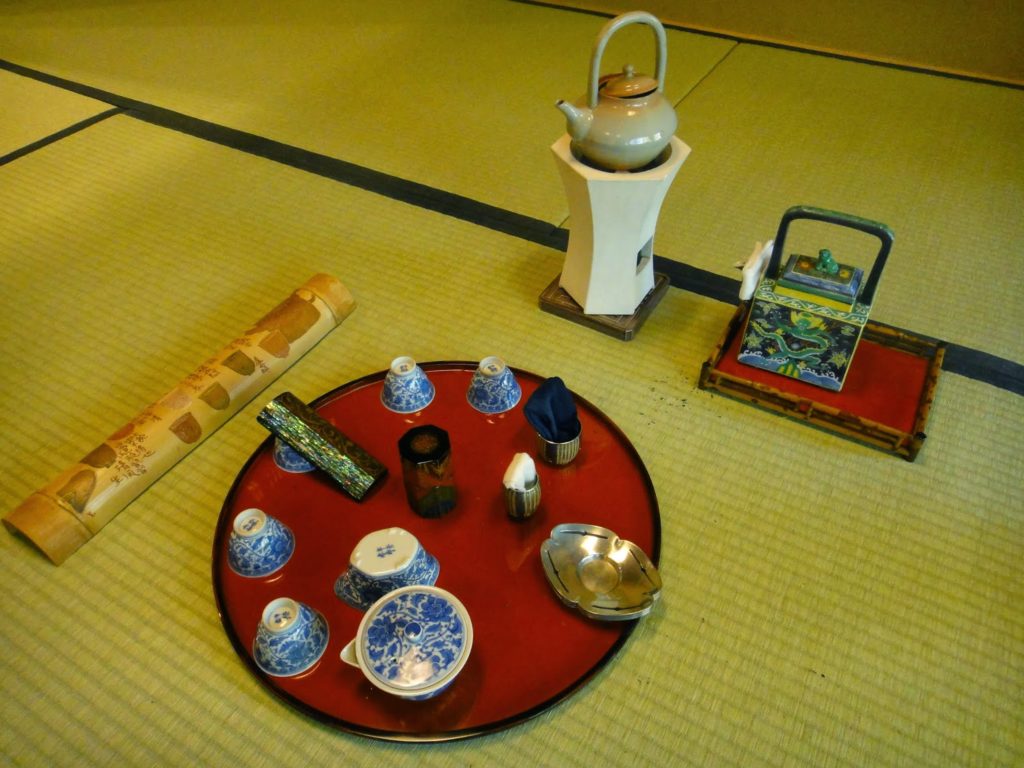 Senchado (Japanese green tea) set up
Here's a brief history of Senchado:
A monk named Baisa-oh founded Senchado in the 18th century. He left his temple and began preaching the principles of Zen spirit and human morality while preparing tea for people. He relied on whatever donations they left for the tea. His followers were mostly intellectuals, poets and calligraphers, even into the 19th century. Senchado blends Chinese and Japanese cultures and was very popular during the late Edo and Meiji eras.
The Higashi-Aberyu School, formed in the 19th century by Abe Kenshu and developed by Sessho Inao, rests on four tenets of harmony: gratitude, mutual concession, service and self-examination. It is considered more open, less formal style of tea ceremony. Tea is steeped, unlike in Urasenke, which I studied. We dissolved ground tea leaves,
matcha
, in very hot water.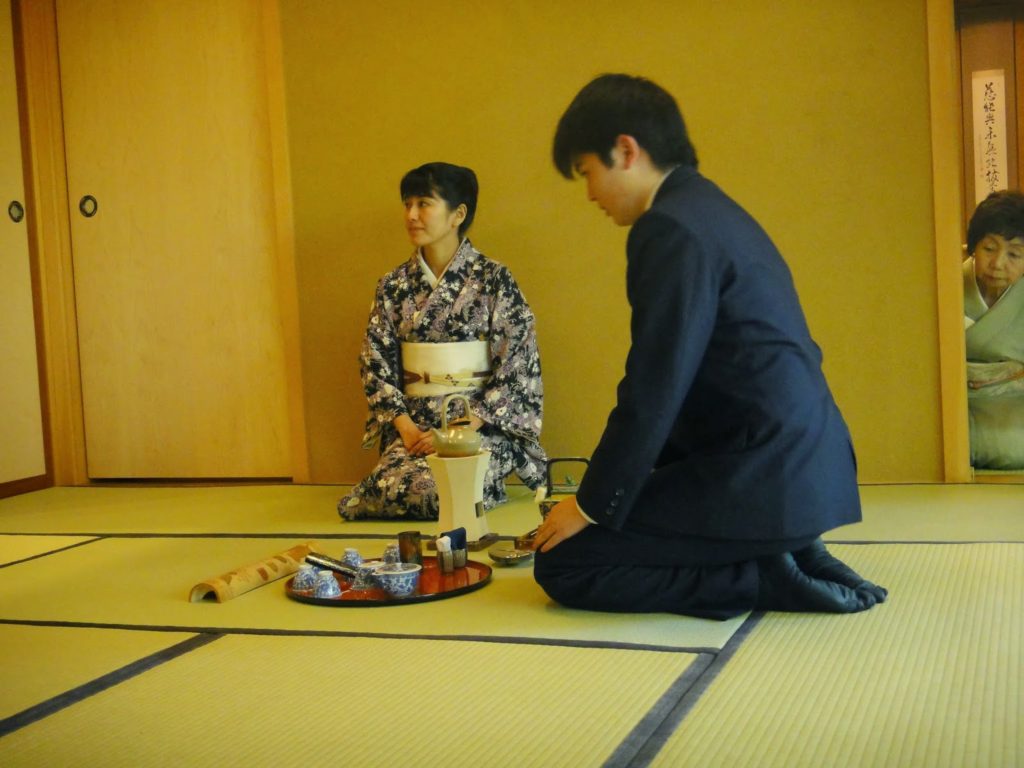 Grandmaster's wife and oldest son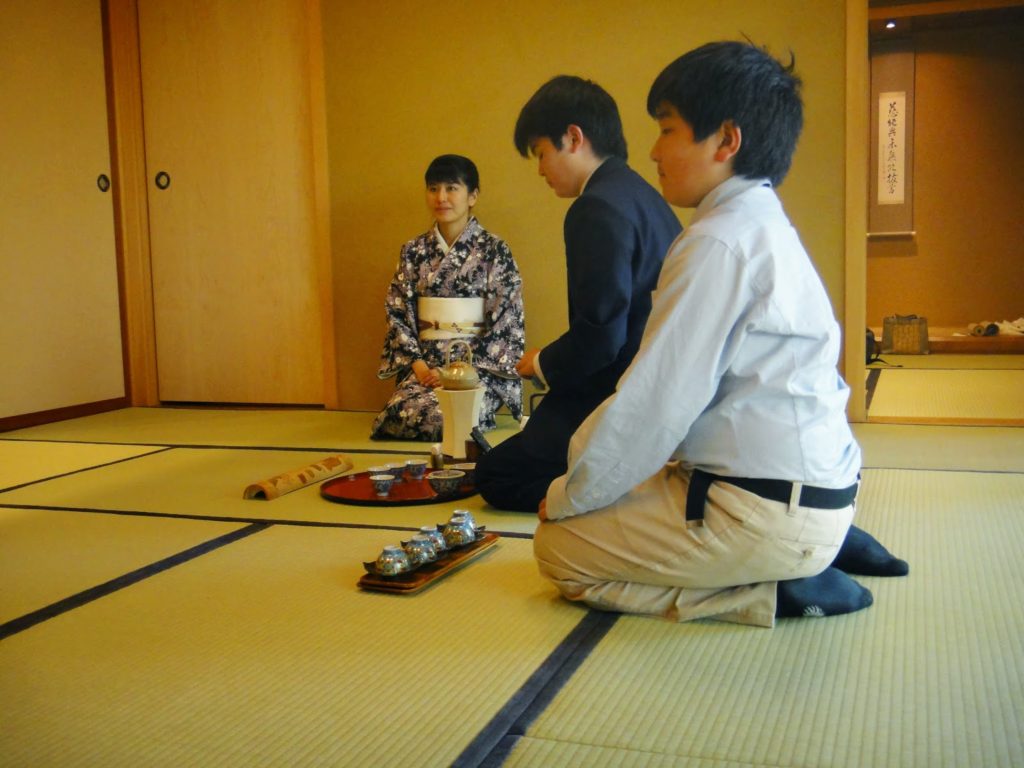 Preparing first tea
Tea leaves are steeped twice in Senchado. The first brew contains many amino acids to balance out the bitterness of green tea. After this, the guests enjoy higashi. Then, the more bitter second brew is served. In different beautiful cups, of course!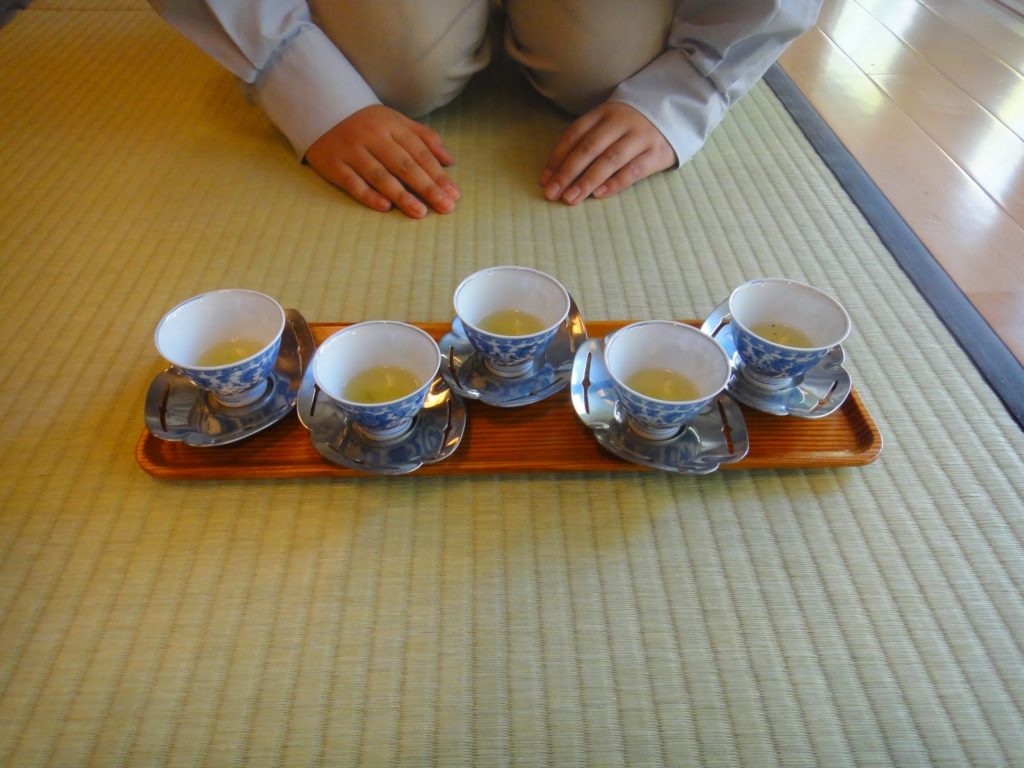 First brew: tea is served in the tatami room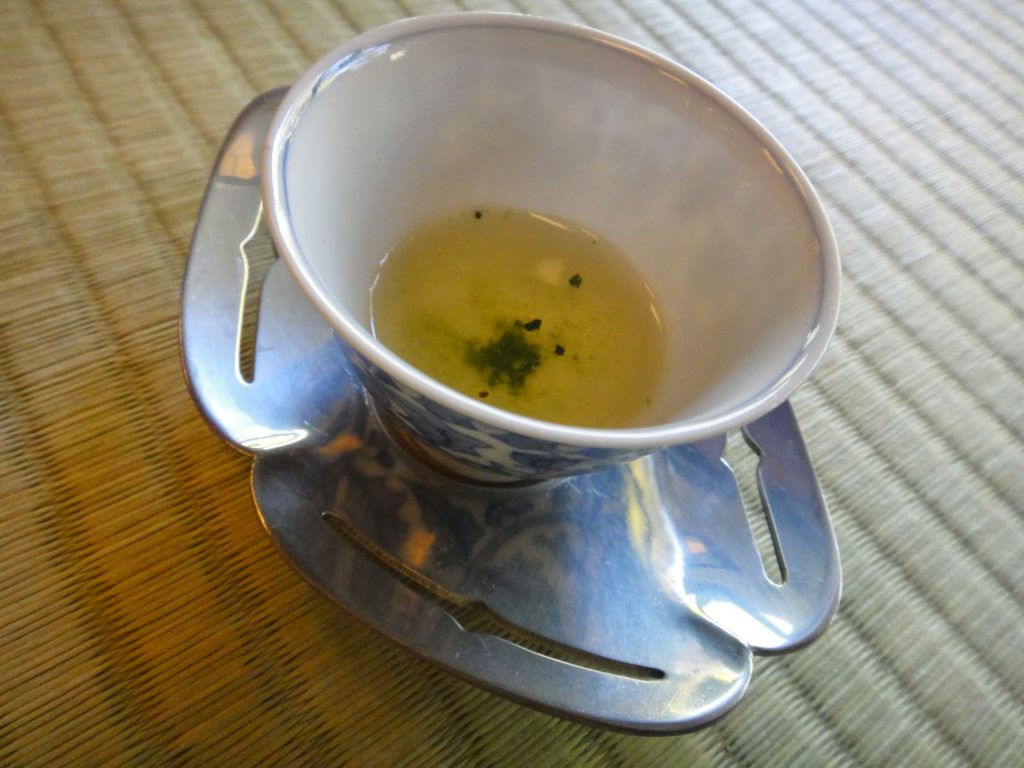 Grandmaster Sessho brought a 150-year-old scroll depicting tea ceremony. I watched him and another guest have an animated conversation about it. Then I saw they were looking at his iPad, not just the scroll. This confluence is what brings me back to tea again and again: Florida meets Japan, past meets present, traditional meets high-tech, Urasenke student meets Higashi-Abe School—appreciating the day and whatever it brings.
Even though I have another cold. At least I got to see my friend Tami and enjoy Japanese tea and sweets—an unexpected, delightful encounter all around.