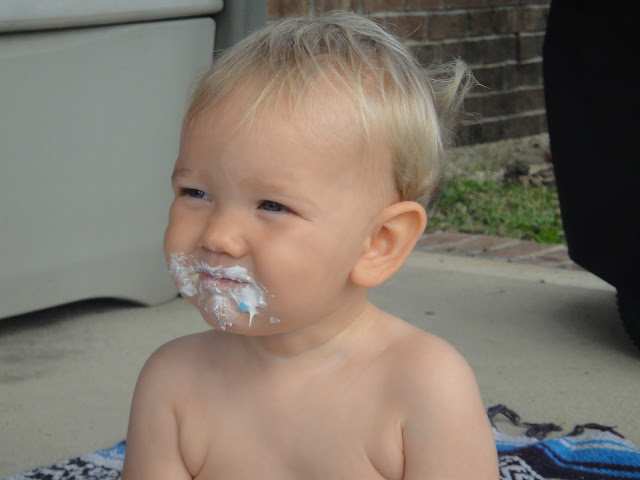 Happy Birthday, Captain Goodbaby!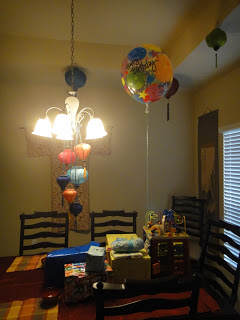 Isaac's first birthday was so much more fun than his day of birth. For all involved. Obviously.
He opened our presents and we sang Happy Birthday and had champagne cupcakes before Chris had to leave for work.
We got the Captain a Zany Zoo, dump truck, airplane t-shirt, and a football.
Mid-summer we were looking at baseball tickets and Chris said, "Oo! The first 2,000 people get a free football!" all excited, then dejectedly, "Oh wait, it's probably just some cheap thing."
I had kind of smirked. "What, were you expecting an NFL quality pigskin or something?"
"Well, yeah, kind of!"
Then, the week before Isaac's birthday, Chris got an oil change and received a free promotional football—game-sized, and tagged as NFL quality.
"Ah-HA! See?" Chris triumphed.
Father, son, football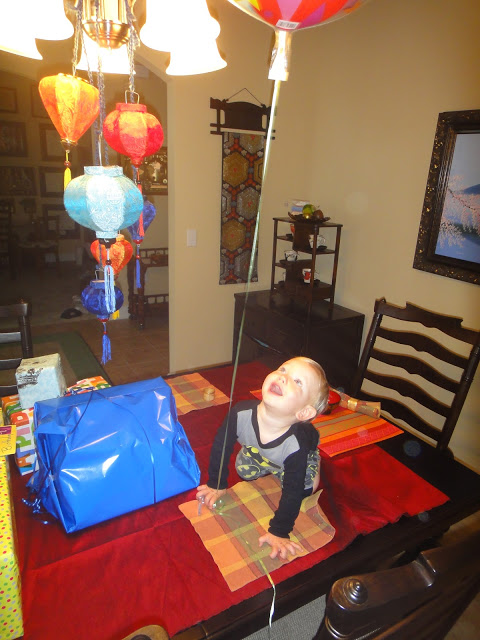 Isaac's delight with this balloon was all I had hoped.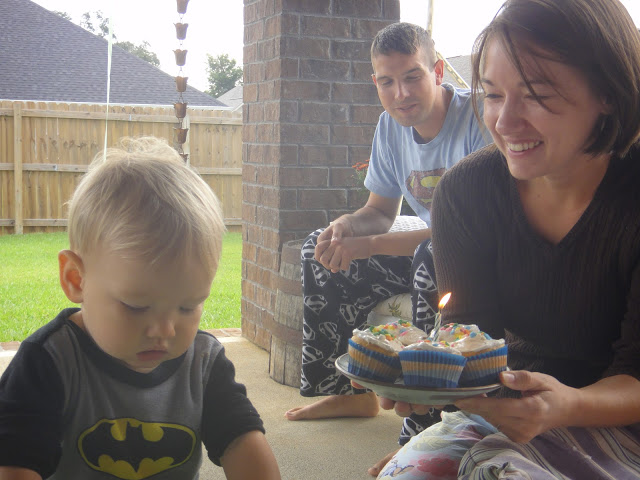 One candle!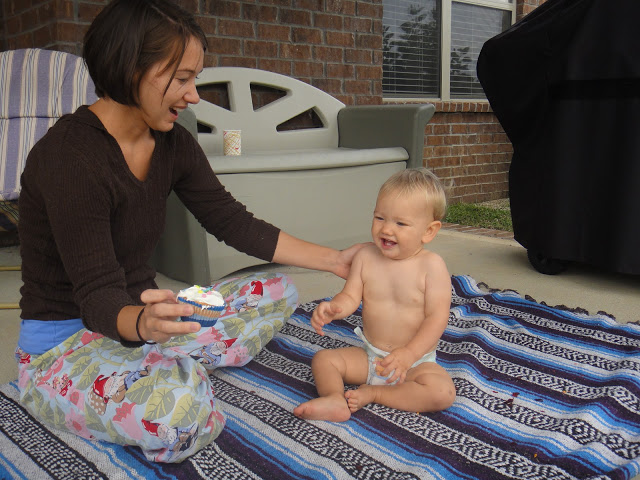 Gimme gimme gimme!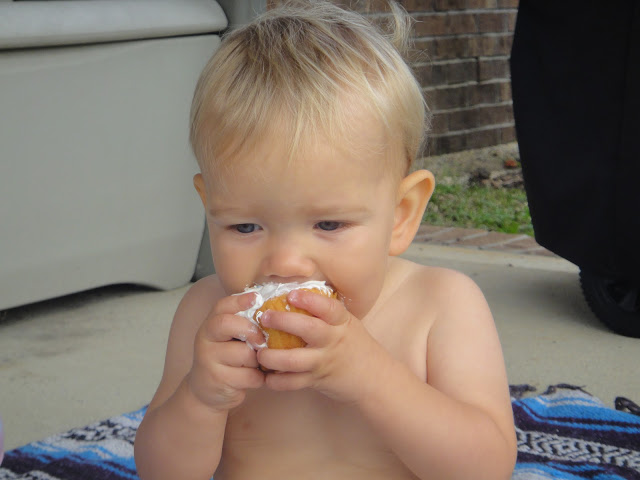 YUM!
Isaac had a great first birthday! In honor of his first year, some excerpts from his baby book are in order.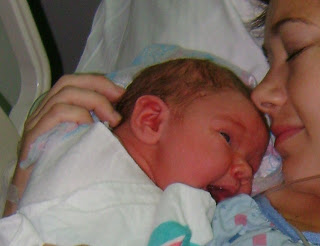 four or five hours old
"We did so much your first month! Brought you home to our Japanese house, took you for walks along the Hikichigawa and Hikichidai Park, took you to the sushi-go-round near the bunny store with Grandma. You met a lot of our friends at the Yamato Open Market, the flea market by the train station. You were less than two weeks old! We took you to church at six days old. You were dedicated on 23 October."
~October 2011
rush hour train, October 2011
"Before you were even four weeks old, we packed you up for your first train ride, first shinkansen, and first vacation. Dad carried you all around Kyoto, to the Imperial Palace, the Fushimi Inari Shrine, to Nara. The famous Nara deer bowed to you, like in the Lion King."
~October 2011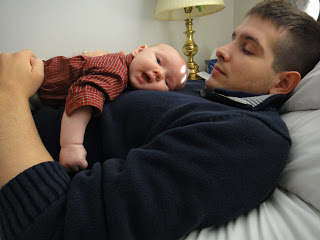 Isaac and Dad, November 2011
"This month we left Japan. You took your first international flight Nov. 10. We drove to Texas and spent Thanksgiving with your dad's parents, then went to your mom's parents' house where you met all your eight cousins for the first time. We tried sleeping you on your tummy for the first time and you slept FIVE HOURS. You've slept on your tummy ever since! We bought you a play mat and it's your favorite toy. You love the music, the lights, Mr. Octopus—it's the best, and it keeps you off the nasty hotel room floor."
~November 2011
So many kiddos! November 2011
Cousins' first Christmas, December 2011
"Another long drive to Florida for Dad to start work as a flight instructor. Then we drove to Texas and back…AGAIN. This time you didn't want to sleep and were only happy if mom held you or changed your diaper on the floorboards! On your first Christmas, your dad and I gave you a Bible and a book of Christmas stories. Everyone loves you so much. You bring a whole new understanding of Christmas and God's love for us, plus insight into how Mary and Joseph must have felt being on the road with baby Jesus. We are so thankful for you!"
~December 2011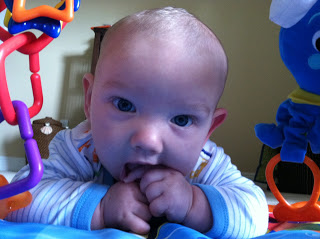 I love my play mat. January, 2012
"You've started grabbing things and purposefully shoving them into your mouth. Now you make eye contact from across the room, sit up in your jumper, and laugh riotously at silliness! We moved into our house mid-month and you start sleeping SO MUCH BETTER. You're not a homeless baby anymore."
~January 2012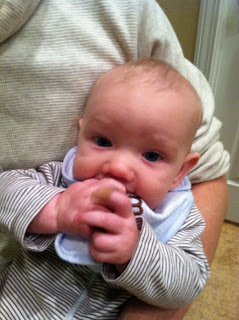 First baby cereal: YUM! Febrary 2012
"You roll over for the first time February 3. With all the construction around us, you sleep best in our cool, dark closet. Your play mat is still your favorite toy."
~February 2012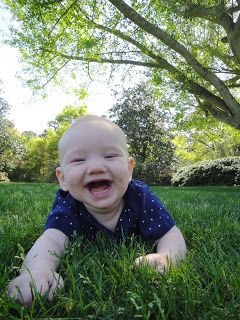 baby at Bellingrath, March 2012
"We start putting you in the nursery during church. After we handed you over to the nursery ladies, Chris said, 'That was hard!' You quickly become known as the happy, smiley baby! This month we took you to the beach for the first time."
~March 2012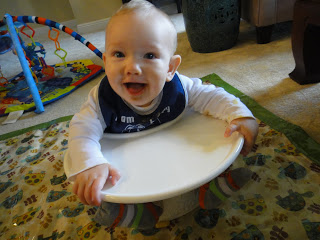 I want to eat everything! April 2012
"We celebrate your first Easter, and we start feeding you solid food every day. Grandma and Pa visit at the end of the month. Pa teaches you the value of work by letting you play with tools and pecans every morning. Before long, you're stronger than ever and sitting up great! You like oatmeal, applesauce, and bananas. You hate peas (no surprise there.) You like cheese."
~April 2012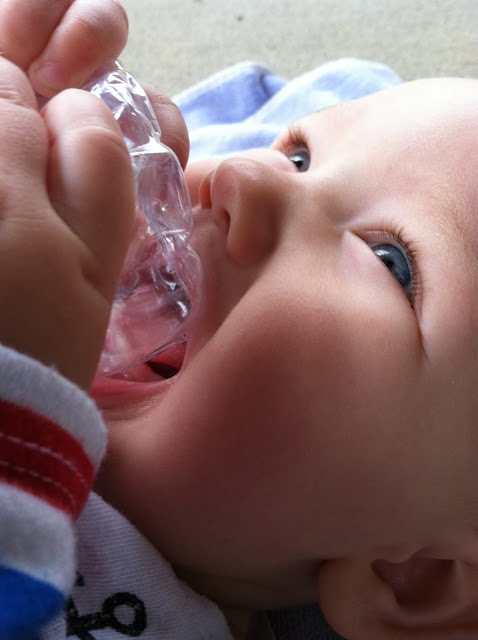 First tooth! May 2012 (7 months)
"You've been sleeping from about 6:30 pm to 6:30 am for a month now. You love to snuggle, giggle and play. Grammie, Grandad and Auntie M visited in the middle of May. Your hair is blond and curls a little on top, and your sweet smile is wide and joyful. We like to walk around the citrus trees in the evening. You LOVE bananas and eat a whole one almost every day. On May 25 for breakfast you ate half a banana, half a cup of cottage cheese, one container of baby food peaches, and one serving of baby oatmeal. ?!?!"
~May 2012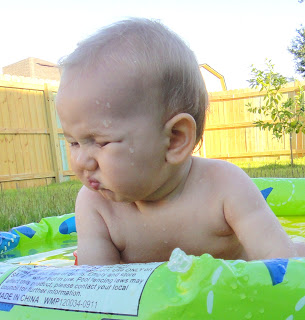 Water baby, June 2012
"You start grabbing at our reflections in the mirror and lifting your arms when you want to be picked up. You've started shouting if we don't feed you fast enough, and your new favorite noise is a squealing growl—such a boy noise. You pay lots of attention to the kitties. When you see someone reading, you pretend to read your baby books. June 21-25 we went to Colorado for your Great-Grandfather Joseph's 90th birthday reunion. You did well on the plane…half the time. You were very aware of not being home in your bed and slept half your usual amount. Even still, everyone admired your sweet demeanor, smile, laughs, and how much you eat! Back home, you started inching forward toward things you want, like my lap."
~June 2012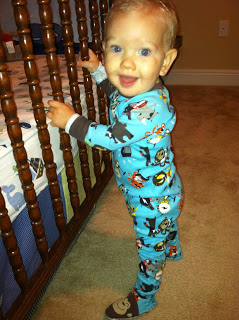 You pulled up before you crawled! July 2012
"You are scooching all around, climbing over obstacles, and pulling tables over on top of you. You are so sweet and snuggly. Daddy and you play 'one, two, three, stand up!' and you laugh and laugh. Dad claims you said, 'Dada' on the 18th…debatable. You said it to him three times, but you also said it to me. And to the air. And at your lunch. On the 21 you start crawling on hands and knees and pulling up on the furniture. You get your first haircut, a cold, and end the month with strep throat and antibiotics. When we read together you sit in my lap and look at the pictures without (always) trying to eat the book."
~July 2012
Hurricane Isaac hits the kitchen, August 2012
"You and I are sick for two months straight. You get an ear infection in each ear, poor baby! You army-crawl on the carpet, switch to all fours on the kitchen tile, then back to army-crawling on the other side. Dad calls you 'inch worm.' If you're hungry we might find you foraging for scraps around your high chair, or scavenging near the cats' dish. Gross! At the base pool one day you climbed up the stairs and out of the water. Back home, you start climbing our stairs that same day. You said, 'Mama' for the first time in your high chair eating cottage cheese. You seem to use 'yum' and 'mama' interchangeably. Hurricane Isaac strikes the Guld Coast at the end of the month, around the same time you enjoy your first PB&J sandwich."
~August 2012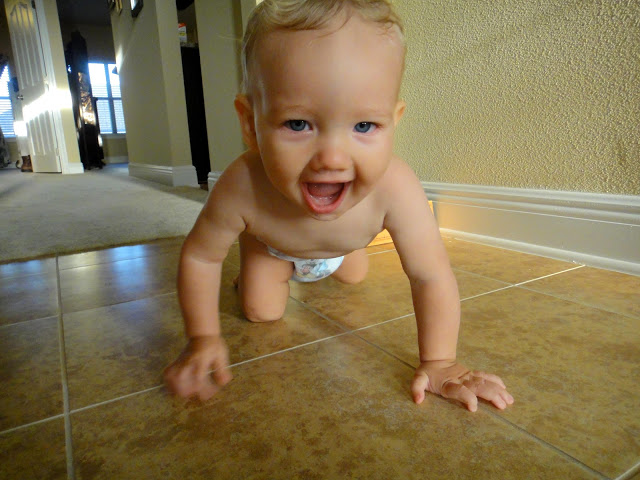 Speedy baby! September 2012
"We took you tubing on Labor Day, Sept. 3. BAD IDEA. Your dad was terrified we'd lose you in the dark, murky water. You start using a spoon and fork, dipping them into bowls and successfully bringing them to your mouth. You say, 'Mama,' 'Hi, da!' and 'Kiiiiiiii!' You LOVE the cats! Especially Mouse, who likes to sleep under your crib. I ask you to check for kitties and you lift up the bed skirt and crawl under if Mouse is there. He seems to like your abuse (belly-flopping onto him, pulling his tail, etc). You have four top and two bottom teeth. Daddy likes to do 'upside-down baby' and 'pendulum baby.' Another favorite game is baby tag. If we don't crawl after you fast enough, you turn around and 'chomp' us, saying, 'Raaaaa!' like we do on your belly. You are so ticklish! You also like to play 'Hi! Ok bye! Oh hi! Ok bye!' You can climb onto the coffee table and drop wine corks into it. You prefer to bear crawl on grass and cement. And you are ALWAYS giving me big, gooey kisses!"
Happy Birthday, Isaac! We sure do love you!
ps — to our future babies: sorry in advance if we fail to do such ridiculously long birthday posts for you. Life is hard.