Last weekend we celebrated Japanese Boys' Day, or Children's Day, for the first time! Families with boys hang colorful carp windsocks outside their homes to encourage boys to persevere through adversity and be strong, like the carp swimming upstream. Other ways to celebrate Boys' Day include putting out a mini suit of samurai armor (like the little guy's hat atop the koi, or the mini suit of armor in our office, below), and probably eating special food. My sweet friend Ikuyo-san gave Isaac the figure of the boy on the koi just after he was born.
Happy Boys' Day, tiny baby boy!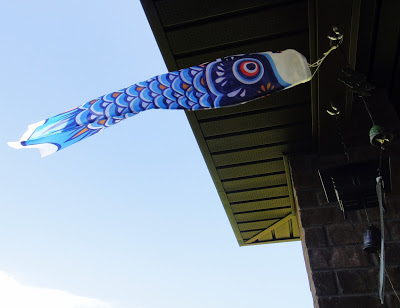 Thanks, Mary, for the koi streamer!
We went to Isaac's friend Alex's birthday party that day, and neglected to celebrate Cinco de Mayo at all (how could we!?). That night, the brightest full moon of the year rose over our back porch, illuminating the tinkling chimes of our pagoda wind bells.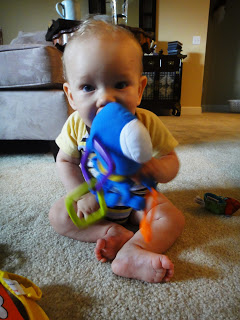 Isaac and Mr. Octopus
At the 2010 Sagami River Koinobori Festival of Boys' Day carp streamers, Mary and I observed that festival classic octopus on a stick. Isaac celebrated Boys' Day by chomping the only octopus we could find. Sorry kid. Today: stuffed octopus; tomorrow: alligator! That's right, the Boys' Day birthday party was at Whiting Park along the Blackwater River, where recent gator activity includes removing a nine-footer. By Florida law, the three foot alligator (which we thankfully did not see) is too small to catch and relocate. Comforting. Happy Boys' Day!