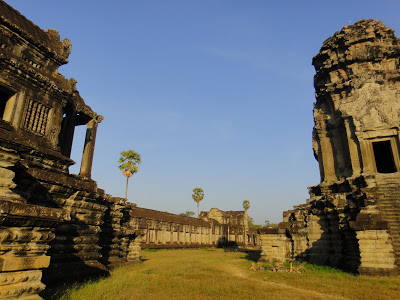 I like how Japan celebrates the new year's firsts: first sunrise, first temple visit, first time you write your name, first calligraphy or tea ceremony of the year. In that vein, I made note of our firsts for 2011 on New Year's Day: first taxi ride, first conical hat sighting, first flight, first passport stamp, first customs/immigration forms, first visas, first temple visit. And what a temple it was! The Cambodian jungle has been mostly cleared out around Siem Reap's Angkor Wat, but it retains the feeling that you're in the middle of nowhere…because you are.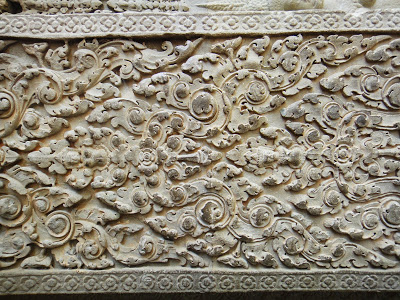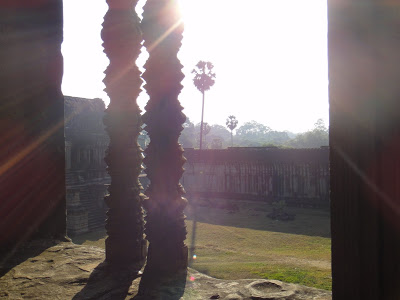 Siem Reap, Cambodia is closer to Bangkok than any major city in Vietnam. Its name means "Defeat of Siam" in memory of a victory over Thailand here near the shores of Cambodia's Tonle Sap lake. The logistics, in case you're going: We flew into Siem Reap International Airport from Ho Chi Minh City, Vietnam, and paid $20 or $25 (US) each for our Cambodian visas. They take up an entire passport page—my favorite! We also needed a couple of passport photos, which we brought from Japan. Then we met our excellent guide and went to get our tourism passes. A one-day pass into the enormous Angkor complex costs $20 US; a three-day pass is $40; one week costs $60. We had to show our passes on the way in and at every temple gate.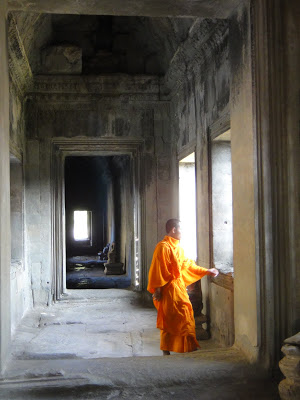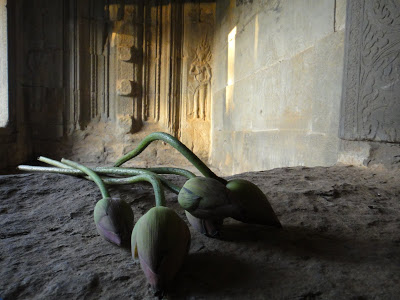 "Angkor Wat is one temple within the Ankor complex. The ancient city of Angkor thrived during the Khmer Empire's peak (900-1200) with more than 70 major temples and buildings built in a cohesive city sprawling over land the size of modern Los Angeles. Outlying agriculture was tied to the city central with elaborate waterways, making Angkor the largest pre-Industrial Revolution city (in land area). The empire began to crumble around the time the waterways could no longer be maintained" (Kanto Stripes, "Ancient Angkor intrigues with mysteries, adventure," by Mari Krueger, May 2011).
More on Cambodia's fascinating history when we explore some of Angkor's other elaborate temples later. On New Year's Day, we stuck with the biggest and best-preserved.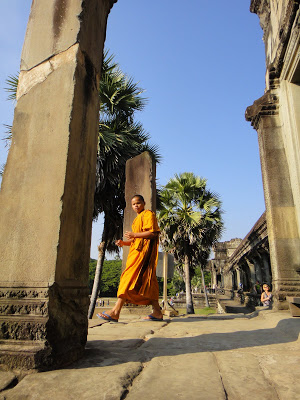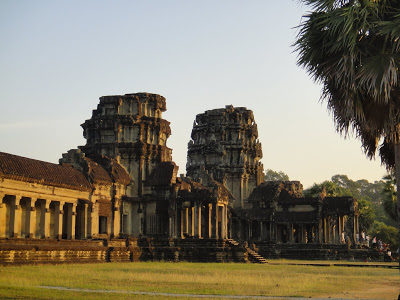 "Khmer King Suryavarman II built Angkor Wat, or 'City Temple,' in the early 12th century. At first, his Hindu temple was dedicated to the god Vishnu, but was converted to a Buddhist temple about 200 years later. A large Buddha statue sits high in the temple today. But still the architecture reflects the classic Hindu myth of Mount Meru, the home of the gods, with guardian spirits carved into many walls and pillars, plus a moat and stepped galleries climbing toward the central mountain-like tower"
(Kanto Stripes, "Ancient Angkor intrigues with mysteries, adventure,"
by Mari Krueger, May 2011).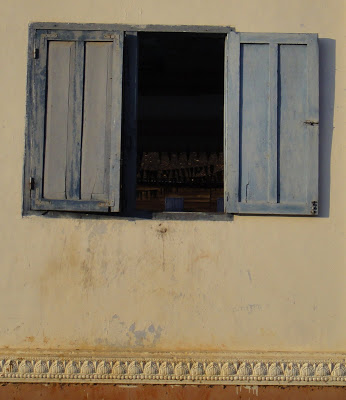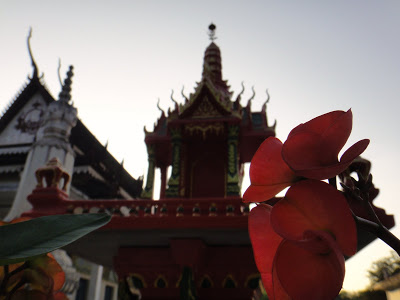 "A Buddhist monastery and orphanage abuts Angkor Wat. The contrast between the temple's stately ruins and the monastery's soaring Thai-style roofs cast an exotic spell over the temple complex. While we climbed crumbling stairs to ancient libraries, faint strains of Cambodian traditional music drifted toward us as the older monks taught it to the orphans. Throughout the temples of Angkor, small music groups composed of maimed land mine victims sat under shaded awnings, beating drums and cymbals and selling CDs to earn a living from Siem Reap's blooming tourist trade"
(Kanto Stripes, "Ancient Angkor intrigues with mysteries, adventure,"
by Mari Krueger, May 2011).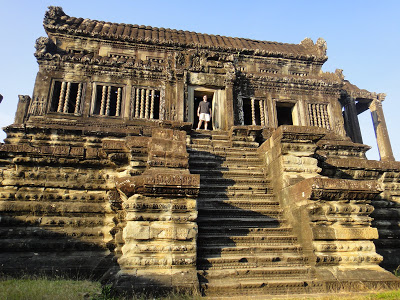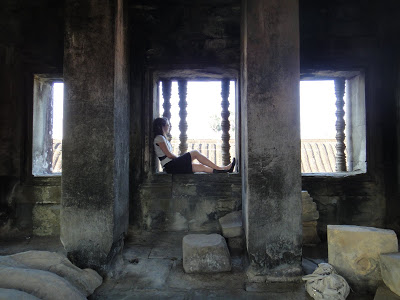 It too a French explorer named Henri Mouhot to rediscover and popularized Angkor Wat in the 1800s. He wrote, "One of these temples—a rival to that of Solomon, and erected by some ancient Michelangelo—might take an honourable place beside our most beautiful buildings. It is grander than anything left to us by Greece or Rome, and presents a sad contrast to the state of the barbarism in which the nation is now plunged." Angkor Wat has been on the Cambodian flag since 1863.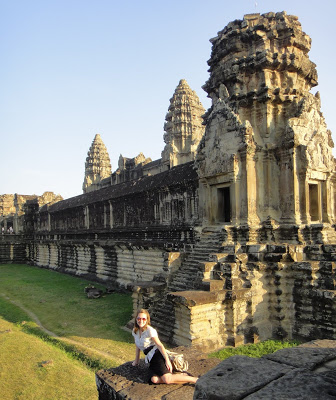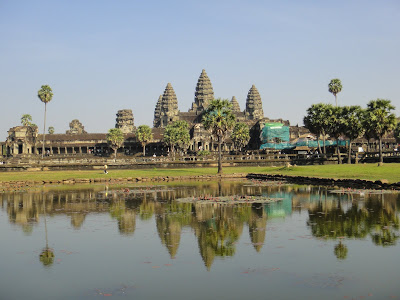 We spent a sunny New Year's Day exploring the old ruins, stealthily photographing Buddhist monks, and fielding photo requests from Cambodian and Taiwanese tourists. After the second group of people shyly posed with each of us, we asked our guide what was up. "They want to take pictures together because they think you look young and healthy," he said. I said, "In the States that's code for 'fat.' " He laughed and shook his head, shrugging.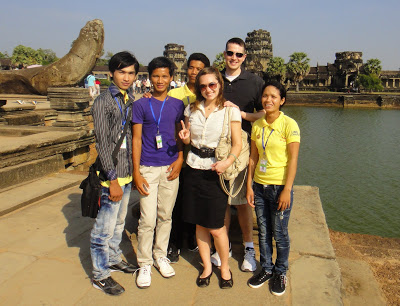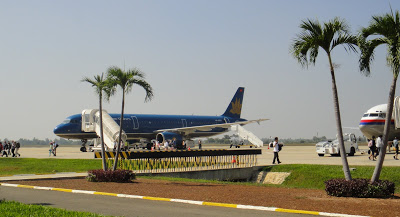 More than anything, our first day in Cambodia…and 2011…taught me how very little I know about this region of Southeast Asia, the Khmer culture and Cambodia's history. That evening we attended a dinner show where chefs made fresh Cambodian dishes and dancers performed traditional Cambodian dances and myths. In one, a creepy spirits comes and woos a young maiden. In another, boys use woven bamboo baskets to catch fish and impress the girls. Some things, I suppose, are the same the world over!