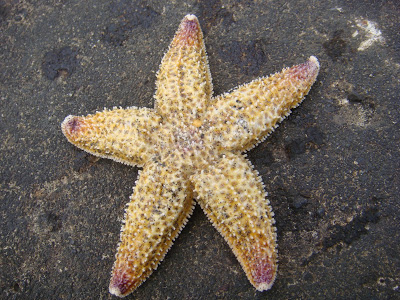 Starfish, Enoshima, Japan
I must go down to the seas again, to the lonely sea and the sky
And all I ask is a tall ship and a star to steer her by,

Starfish, Jacksonville, Florida
And the wheel's kick and the wind's song and the white sail's shaking,
And a grey mist on the sea's face, and a grey dawn breaking.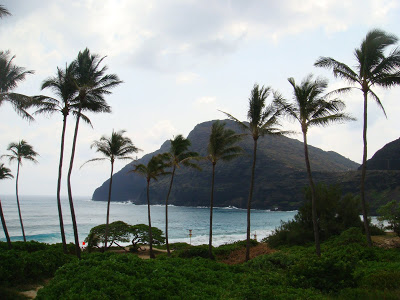 Pacific Ocean, Makapu'u, Oahu, Hawaii
I must go down to the seas again, for the call of the running tide
Is a wild call and a clear call that may not be denied;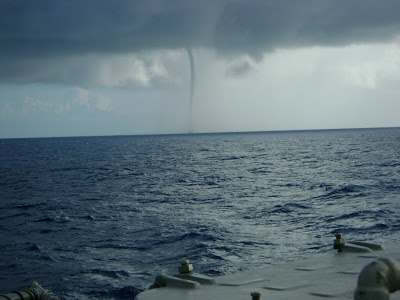 Water plume, Middle of the Ocean, near Chris' ship last summer
And all I ask is a windy day with the white clouds flying,
And the flung spray and the blown spume, and the sea-gulls crying.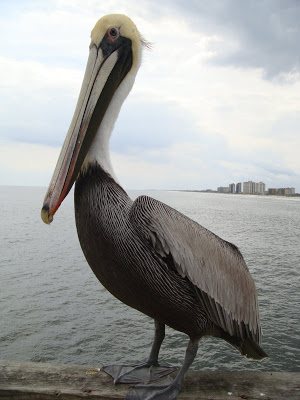 Pelican, Jacksonville, Florida
I must go down to the seas again, to the vagrant gypsy life,
To the gull's way and the whale's way, there the wind's like a whetted knife;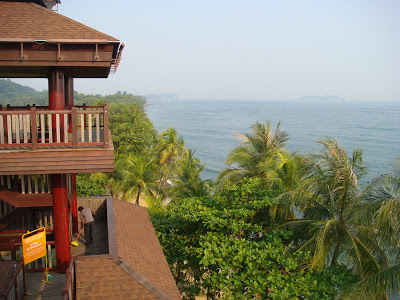 Southernmost tip of Continental Asia and Singapore Strait, Sentosa Island, Singapore
And all I ask is a merry yarn from a laughing fellow-rover,
And a quiet sleep and a sweet dream when the long trick's over.
~Sea Fever by John Masefield in "Salt-Water Ballads," 1902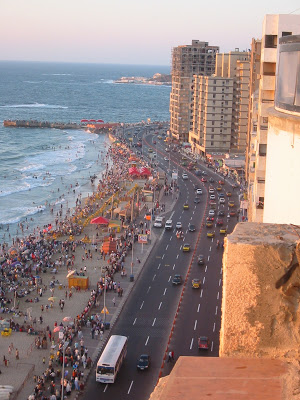 Mediterranean Sea, Alexandria, Egypt
I read this poem for the first time the summer Grandpop died. I photocopied it and cut it out and glued it into my journal because he'd been a sailor with a faded blue seahorse tattoo. My mom has a picture of him in uniform holding her as a baby.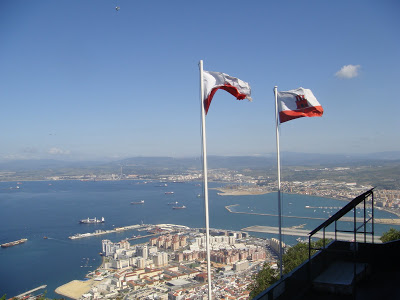 Straits of Gibraltar, Gibraltar
Japan celebrates Umi no Hi—Ocean/Marine/Sea Day—July 20, or the third Monday of July thanks to the Happy Monday System (it's really called that). Isn't that a great idea? In 1996 it became an official secular national holiday for people to feel gratitude toward the ocean's abundance and hope for the economic prosperity of ocean-dependant, island Japan.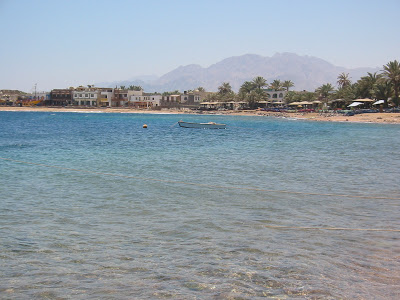 Red Sea, Egypt
Also, my friend Yumiko said Ocean Day marks the safe return of Emperor Meiji from a boat trip to Hokkaido in 1876.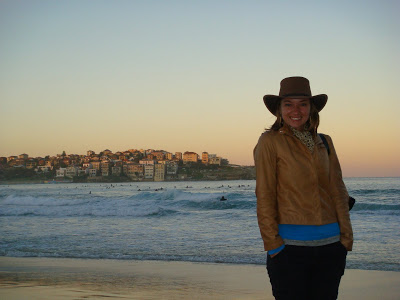 South Pacific, Bondi Beach, Australia
Early memories of the ocean include running away from the family beach blanket on vacation in California because the water was too cold. "I bet I look like a big kid," thought my 5-yr-old self, trotting down the beach in a swimsuit that probably had rainbows and ruffles all over. The lifeguards keep looking at me! Oh yeah, baby! Then one of them even came up to talk to me: "Are you Mari?" he asked. I nodded. This is the coolest I've ever been, I thought. I kept thinking that as he wrapped me in his jacket and let me sit in the lifeguard hut. Then my parents—who'd been looking for me this whole time—drove up, thanked the lifeguard and deposited me in the car. Oh, I'm not cool…I'm in trouble for being a brat. I pouted and wished I was back in the lifeguard hut getting all the sympathy and attention I'd run away from the blanket to find. My parents were not amused.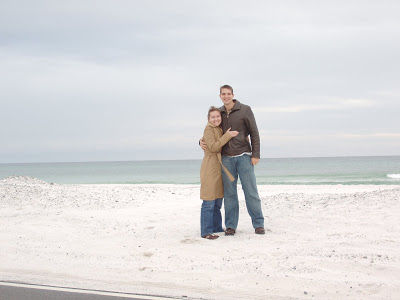 Gulf of Mexico, Pensacola Beach, Florida
Back home in New Jersey, a slightly older Mari saw The Little Mermaid for the first time. My favorite! I told Chris one time he can thank whoever wrote the Disney movie for binding the Navy lifestyle with romance. Leave your family and friends behind to go somewhere new with no one but your sailor prince charming? Well…it worked for Ariel! Along the Jersey coast the wind was picking up and whipping my 7-yr-old hair across my face. I sang Ariel's songs to the ocean and thought I was secretly meant to be a mermaid instead of having to stand here in my favorite white sweatshirt with the purple flowers and ribbon. That was the first time the ocean sang her siren song to me.
Northern Atlantic, Ireland
In literature the ocean symbolizes eternity, rebirth, peace. When I was in Morocco in 2008 missing Chris I looked at the sun setting across the Mediterranean and the Atlantic (at the same time from where I was sitting) and thought, "It's not so bad—Chris is just on the other side of this ocean." Now when I miss Chris I think, "It's ok, the ocean's not so far away." In local Japanese churches new believers are baptised in the ocean. It's a thread running through every part of our lives.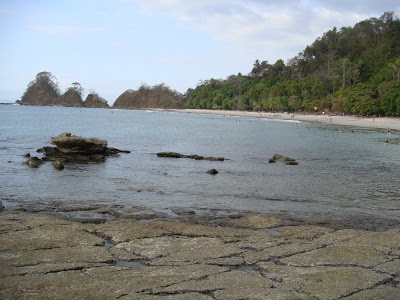 Pacific, Costa Rica
My family moved to Texas when I was in elementary school so I got to have a birthday party down in Galveston. It rained all day so the beaches were empty and we got to sneak under the docks and run around finding lost beach toys. Years later my friend Kaylon said, "Remember that time we got to climb around all those sand mounds under the dock at the beach?! That was so fun!" Yeeeaaaaars later when all of us kids were in high school or college the fam went down to the beach for a night swim and bonfire. This inevitably devolved into fire-leaping. We'd save our biggest jumps for when other cars would drive down the beach, or if the flames were too high we'd grab the ax or whatever was lying around and all dance wildly in a circle around the fire. I forget whether this embarrassed my mom. That probably would have added to the fun. But come on, how funny would it be to drive by that?? ha ha ha!!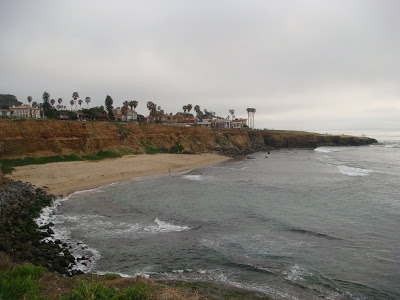 Pacific, San Diego
After we got married and moved to Florida, Chris and I pretty much lived on the beach. We'd spend all Saturday looking for seashells (me) and studying (Chris). One time I made mojitos, cocktail shrimp and key lime bars and we sat in the sand watching the sunset. More often we'd sun all day, then stop at
Surf Burger
on the way home, where Chris would order a burger, I'd get the shrimp boat, and we'd watch the boat lights twinkle on Santa Rosa Sound.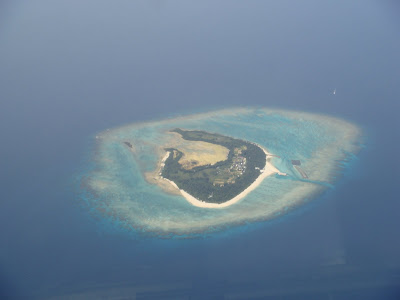 Pacific, Okinawa
In Jacksonville we'd watch these huge black clouds roll down the coast, finally blacking out the sunshine and sending us running for the car as the smell of rain overpowered the salty air of the sea. Here in Japan we don't have quite the same beach-centered lifestyle, but we're never too far from the coast and we get to Enoshima whenever we can.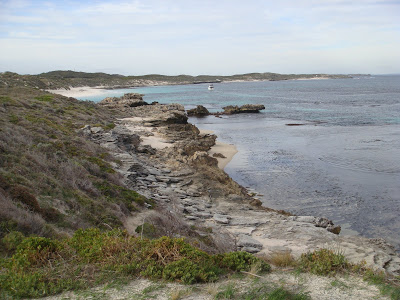 Indian Ocean, Rottsnest Island, Australia
A few years ago I went to Bryan Beach near Galveston with my family and Chris couldn't go. I was floating happily out somewhere on a sandbar when I saw a very large dorsal fin two swells away. My brain told me it was probably a dolphin. I started swimming for shore. "Hey Mari, you're swimming pretty fast there," said Luke as I cruised by him. "I'm not saying I saw a shark, but I just saw the biggest dorsal fin I've ever seen and I'm headed for land!" I said. "Did it swim straight with the fin above water or poke out and go back under? Because that last one would be a dolphin," said Luke, the engineer. "It's probably a dolphin," I said, "but that's the biggest dorsal fin I've ever seen so I'll see you later." "Yeah, me too," said Amber. "Good point," said Luke as we paddled quickly to shallower water. A month later a kid was fishing in the shallows nearby and got bitten by a small shark. He was completely fine after a bunch of stitches. Still.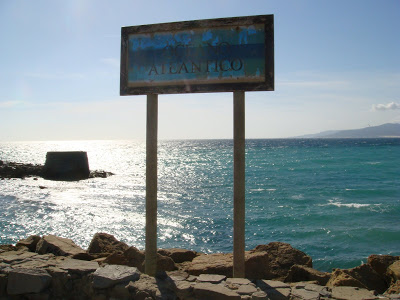 Atlantic Ocean where it meets the Mediterranean, Spain
When I was in junior high my parents said, "Ok, vacation this year is a surprise! Pack your swimsuits." We loaded up into the family van and entered I-10 headed east. Eight hours later we drove through Pensacola to Gulf Islands National Seashore for a week of camping and snorkeling. The beaches were completely empty thanks to a huge swarm of jellyfish that floated our way. Getting stung wasn't so fun, but in the clear waters of the bay on the other side of the island it was calm enough to snorkel through whole clouds of them, fanning them away when they drifted too close. That was a really fun vacation! We were also told to bring a pen and notebook and started reading through the book of James together, discussing it every morning at the campsite's picnic table surrounded by pine trees. By the time Chris and I moved to Pensacola the park was closed for Hurricane Ivan damage.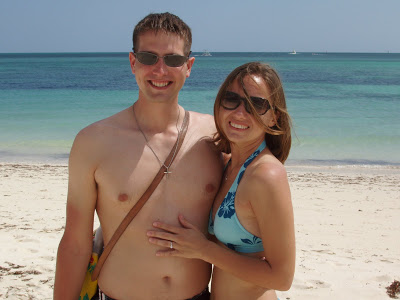 Atlantic Ocean, The Bahamas
Chris and I went to the Bahamas one spring while I was an unhappy night cop reporter in South Texas and he was still in grad school. We rented a scooter for a couple days, rode it through a McDonald's drive-thru and headed to the beach. We'd gone snorkeling and were trying to lay in the sun but the sky persistently clouded over. I was shivering and went to look for a t-shirt when Chris said, "What's that!?" There was a pirate flag in the sand. Huh? He knelt down and unearthed a treasure chest filled with gold coins and a diamond ring. In the middle of the empty beach Chris asked me to spend the rest of my life with him. I nodded.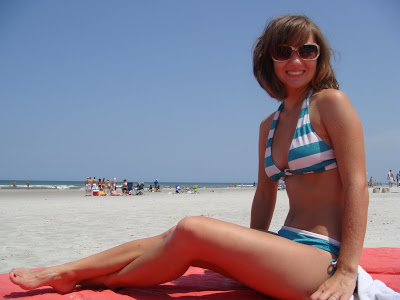 Atlantic Ocean, Eastern Seaboard, USA
Happy Ocean Day!!