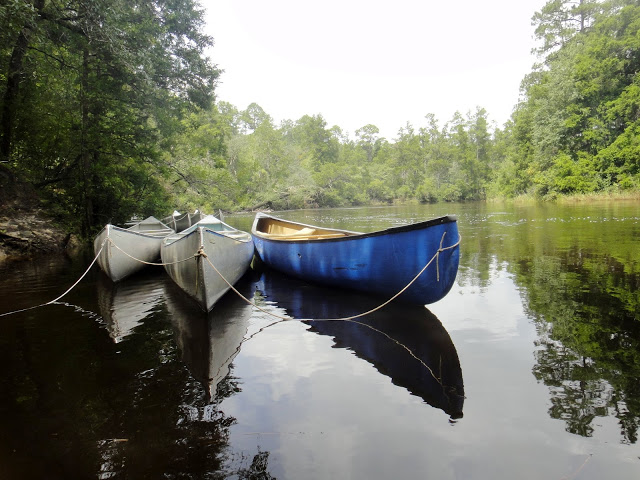 All is calm on the Blackwater River.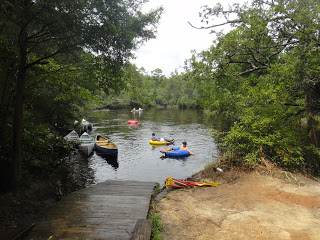 "The reaches opened before us and closed behind, as if the forest had stepped leisurely across the water to bar the way for our return. We penetrated deeper and deeper into the heart of darkness."
~Joseph Conrad, Heart of Darkness
"I had a nice time," I said, driving home from Blackwater River State Park on Labor Day.
Chris hesitated. "Me too," he said begrudgingly, "but I'm never doing that again."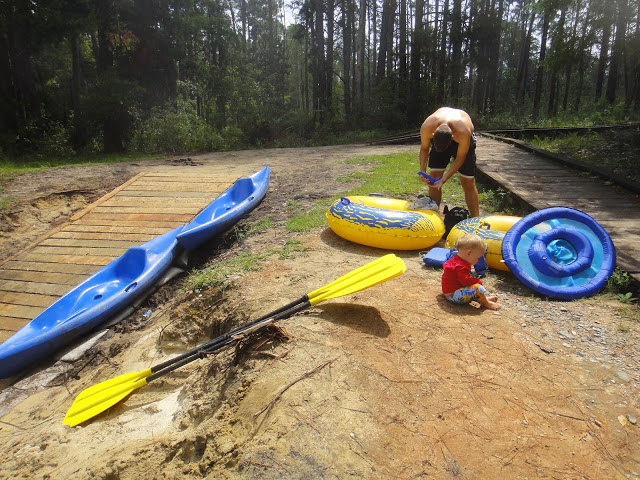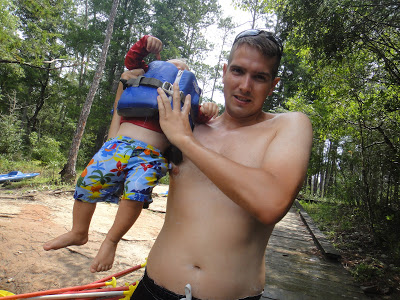 My parents paused similarly when I told them we'd gone tubing over the weekend: "…with a baby?" It's probably best we didn't ask around before we headed out to the river or we may not have gone. Learn from our mistake, however: we recommend not taking babies tubing on the Blackwater River.
The Guadeloupe River in San Marcos, Texas, is a cold, clear, spring-fed, house-lined, 45-minute tube ride and 10-minute return walk to the starting area. That's more or less the time frame I had in mind when I called Blackwater Canoe Rental Monday morning and asked how long it was to float the river. "Oh, anywhere from an hour and a half to three hours." So by not stopping on the sandbars to booze it up, I figured we'd zip along pretty quickly.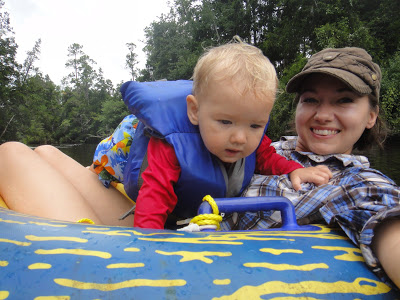 Rain smattered the windshield as we pulled up to the canoe rental outpost but cleared before we boarded the truck to the drop off dock. Everyone else hopped in their canoes and tubes and pushed off. We were left wondering how to best get into the water with a baby (me) and what the heck our wife was thinking (Chris). Chris put Isaac in the baby life vest someone had handed to us as we boarded the truck. Isaac freaked out. He couldn't figure out how to move in it or get his balance, so as he and I shoved off, he flailed unceasingly as he attempted to climb into my arms and out of the life vest. This wasn't working.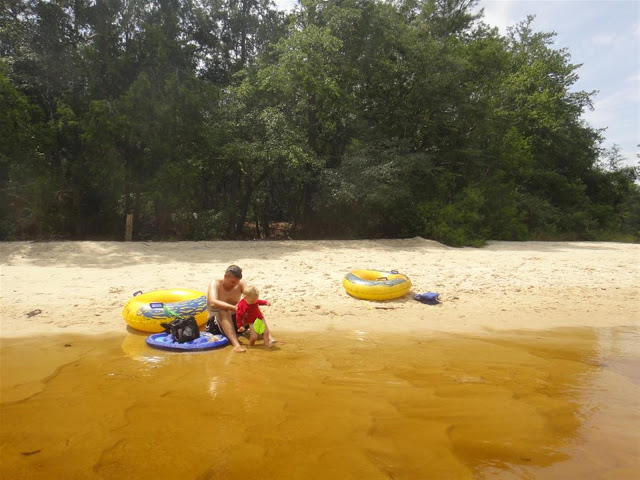 What am I doing out in the river while Capt. Goodbaby goes without trunks? …don't ask.
We took a sandpit stop about five minutes downstream. We were all hungry and our plan to eat lunch in tube was not realistic, it turned out. So here we busted out the chicken sandwiches and cold pizza, which Isaac dunked in the river and gnawed. We assessed the situation. The website had touted a clear, sand-bottomed river that averaged about two-feet deep. This was an opaque, black, mysterious river with snake-disguising vegetation all along both banks and alarming swirls and eddies on all sides. Dense, gunmetal clouds rumbled overhead. At the very end of the route is a sandy beach that always seems packed with families. But today we passed it on our way upstream and it had been almost empty. Now, far upriver, we saw no one. I fought off the icy fear creeping up the base of my skull: many rivers near us host alligators in the summer. Is this one of them? I tried not to imagine the headlines: GATOR, 14-FT, TURNS JUICY MORSEL CAPT GOODBABY INTO SWEET BABY SNACK! We were expecting a leisurely pleasure cruise; this was more Heart of Darkness.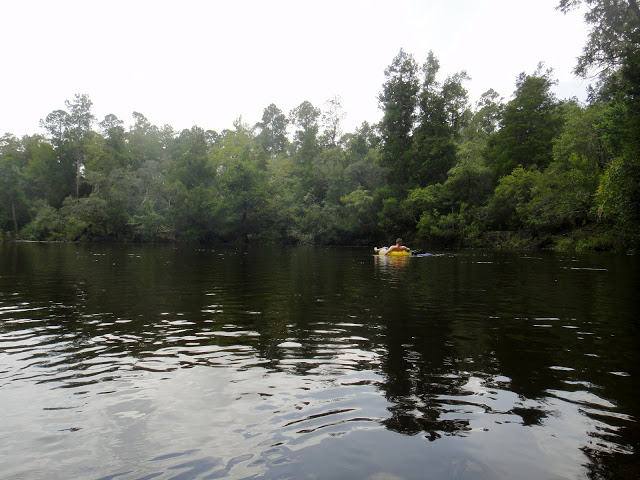 All alone on the wide, dark water. Or…are we alone?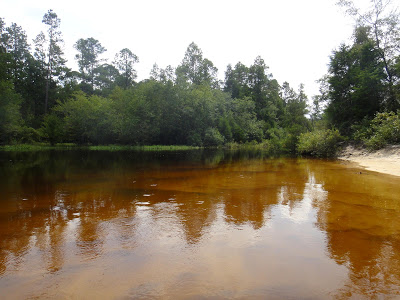 Our next problem arose from the fact that the 1.5 hour time frame was for canoes. Tubing, they told us as we set out, would take 2.5 to three hours. We debated the merits of holding the Captain in our arms, putting him in his baby floatie tube, or keeping him in the life jacket. I thought the life jacket made him so squirmy as to make it the most dangerous option. Chris thought the possibility of losing the Goodbaby in the middle of the wide, dark water was too scary to consider the first two options. This is where we agreed we should not have attempted this at this time. But we were already downstream from the now-empty starting point. Our anxiety fueled our paddling as we turned our tubes onward.

As we floated, we encountered more and more people: canoeing, tubing, picnicking, jumping off trees into the water, coating themselves in riverbank mud, etc etc. Captain Goodbaby semi-dozed on my stomach when he got tired of the cold water. "Awww, y'all need a picture of that," said a couple nice ladies in canoes. Once we were surrounded by friendly families, the whole thing seemed like a much better idea! Finally we reached the (now crowded) beach and bridge that signaled the end of our journey. All that was left was to tube underneath the bridge, pull our tubes up on the sand, and catch a pick-up back to our car.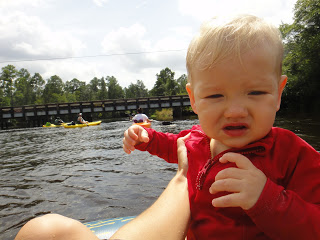 It was under the bridge that it happened—a couple women and their kids canoed past us, hit the bridge supports, and flipped into the fast-moving, deep water in the middle of the river. The mom surfaced and spluttered, "Help! HELP!!" We splashed toward them, but when she cried out again Chris heroically dove to their aid, sacrificing his sunglasses to the river. He and another guy righted the canoe while the moms pulled their daughters to shallower water. Isaac and I collected paddles and Crocs as they floated by us. Thankfully, everyone was ok, and those were the only crocs we saw in the water. The girls, who were about three and six, had on floaties but not life vests. "See?" Chris said to me on the drive home. "That's exactly what I was worried about. It only takes a second! I'm never doing that with a baby again!" It's hard to argue with that. We'll just play in the water next time.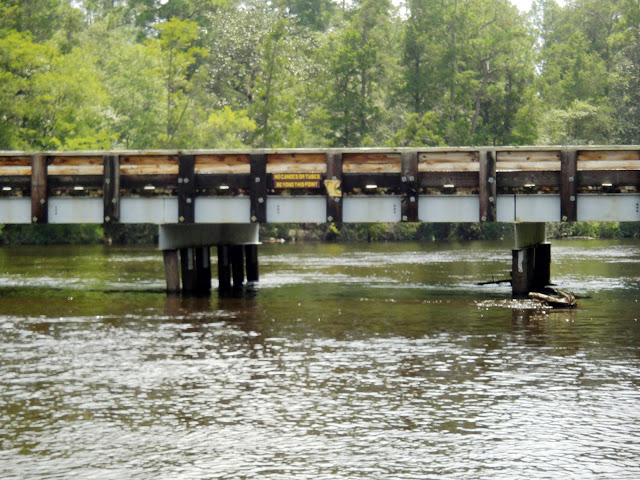 In other news, Captain Goodbaby turned 11 months old. He likes to feed himself with a fork and spoon, play with Mouse, climb the stairs, open cabinets and drawers, learn, "No!", bear-crawl through grass and over the patio, go on runs with Dad, play tickle-tag with Mom, give huge gooey baby kisses, squirm out of his stroller, and eat teddy grahams, goldfish, fruit cups, PB&J, chicken sandwiches—well, pretty much everything but raspberries. And we saw a big turtle and a woodpecker along the river that day, too. The end!
Recommended Reading: Joseph Conrad's Heart of Darkness
"Going up that river was like travelling back to the earliest beginnings of the world, when vegetation rioted on the earth and the big trees were kings. An empty stream, a great silence, an impenetrable forest. The air was warm, thick, heavy, sluggish. There was no joy in the brilliance of sunshine. The long stretches of the waterway ran on, deserted, into the gloom of overshadowed distances. On silvery sandbanks hippos and alligators sunned themselves side by side. The broadening waters flowed through a mob of wooded islands; you lost your way on that river as you would in a desert, and butted all day long against shoals, trying to find the channel, till you thought yourself bewitched and cut off forever from everything you had known once -somewhere- far away in another existence perhaps. There were moments when one's past came back to one, as it will sometimes when you have not a moment to spare to yourself; but it came in the shape of an unrestful and noisy dream, remembered with wonder amongst the overwhelming realities of this strange world of plants, and water, and silence. And this stillness of life did not in the least resemble a peace. It was the stillness of an implacable force brooding over an inscrutable intention. It looked at you with a vengeful aspect."
― Joseph Conrad, Heart of Darkness