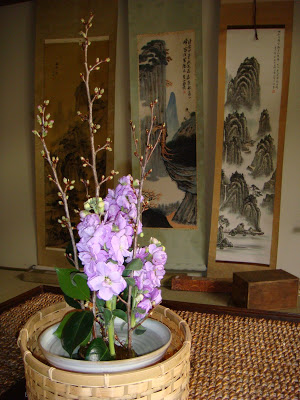 Ah, the Japanese fine art of flower arranging. There are Ikebana classes nearby a couple times a month and I went for the first time this week. These cherry blossom stalks just appeared at local florists and featured in our lovely arrangements.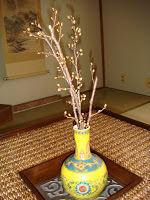 The teacher encouraged us to return because each class is different, using whatever flowers are in season. You can build more complicated flower towers as your skill level advances, but Stephani and I started with the basics. Using the length of our base (in this case, the basket) as a unit, measure the cherry blossom stalks at 1.5, 1 and 0.5 units. Then make the tallest purple bloom one unit, with the shorter ones being 0.75 and 0.5 units, give or take a bit for balance. That was the basic arrangement, then embellished with additional cherry blossoms and deep green Camellia leaves.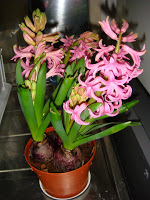 Ikebana revolves around a three-point structure to represent heaven, earth and man, or sun, moon and earth. It's supposed to be practiced in silence in order to appreciate the beauty of nature and subtle differences of form or texture in the stalk and leaves—not just the bloom. I need to work on all these aspects….
I took home some extra stalks and decide they look perfect in one of the Chinese vases I bought at the Machida Shrine Sale. These hyacinths are from the florist down the street next to the patisserie. I bought them a couple weeks ago as tiny sprouts, and now their heady fragrance fills the dining room and kitchen! The kittens continue to attack, but the hyacinths gain ground everyday. More incentive to return to Ikebana classes: the teacher promised to take us to her friend's tea ceremony next month because, "Ikebana is only on aspect of Japanese culture. You need to experience many different aspects!" Yes please!!