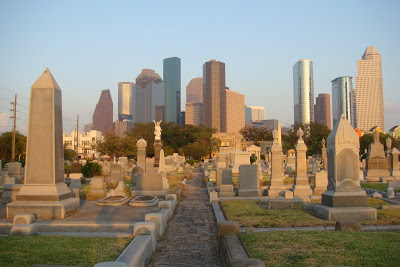 "Houston HOT" said the t-shirts my dad brought us back from his interview in Houston 17 years ago. We packed up and left New Jersey for the Lone Star State and here we are (this week, anyway). Hannie, Mum and I spent a day downtown now that Han has a real grown-up job with a downtown apartment and everything. We started with lunch at the new Discovery Green, which has gardens, remote-control sailboats, free exercise classes on weekends, ice skating in the winter and silent movies on the lawn on weekends! I think that's my new favorite photo of Houston ever. You can see the building based on Aztec architecture, the sky scraper that's in the shape of a dollar sign from above, the old and new Enron buildings, and this centuries-old cemetery at West Dallas and Wilson.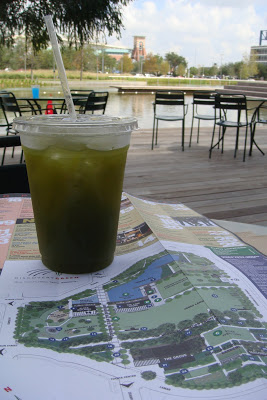 The Boathouse had this alarmingly sludgy-looking basil lemonade. DELICIOUS. Also: burgers.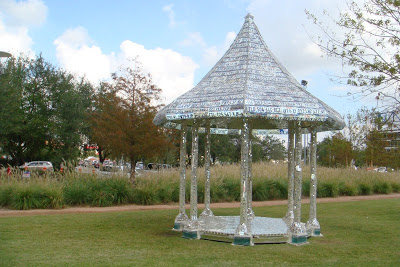 I want to live in this silvery hut.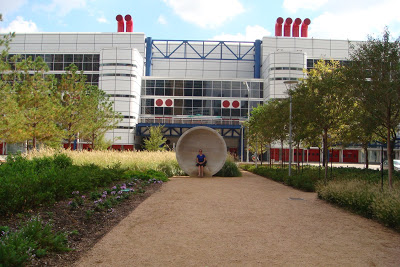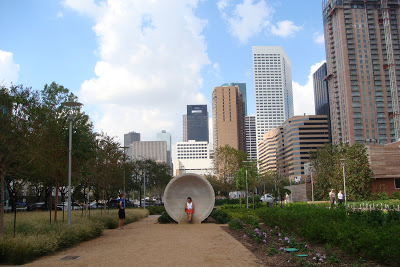 These listening spheres would have been more effective without one million lawn mowers buzzing from all directions. Also more efficient: cell phones. But less fun.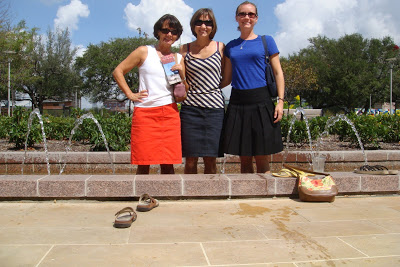 It's hot here in October, so we waded. I sure miss my mum and sis the rest of the time!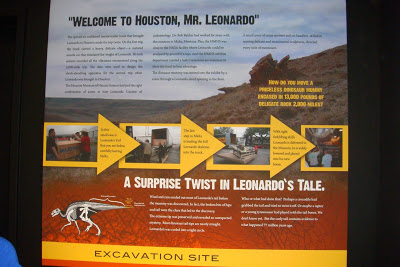 After our diversion in Discovery Green we headed to the Museum District to catch the new exhibit at the Houston Museum of Natural Science. I've come for their showings on the Dead Sea Scrolls, pearls, Benjamin Franklin (plus of course the butterfly pyramid); but today in a wash of good timing we got to catch the premiere of Dinosaur Mummy CSI: Cretaceous Science Investigation—the best-preserved complete fossilized dinosaur EVER! Its skin, muscles, even organs were preserved well enough for scientists to x-ray and examine.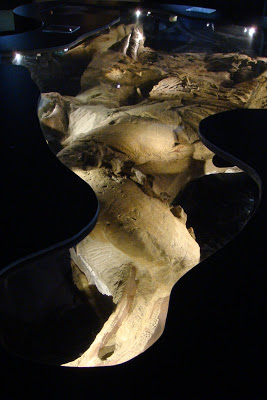 I read about the exhibit in an airplane magazine on our way to Germany and was so excited to see Leonardo the fossil and I would be in Houston at the same time—and for his debut! The exhibit had enough info to be worth it, but not so much as to feel like I had to take notes for an exam. The featured scientists were kinna hokey thought. "Science…was mistaken," reads the caption summarizing any school of thought that separated dinosaurs and birds, which the exhibit scientist says we now have "proof, beyond a shadow of a doubt…" are the same creatures. As in dinosaurs are not in fact extinct, just flying overhead. Proof!! Proof!!! It would have been better if the guy had said, "this evidence suggests…" or "this may prove that…" but whatev. As if anyone could know proof positive details of an age that has no record whatsoever. Ok, fossils. Still.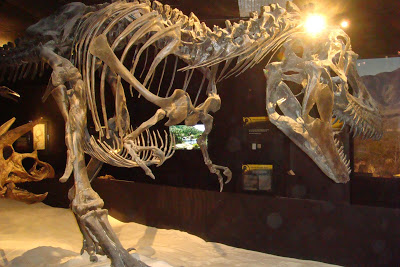 Anywho, we had a great fun time.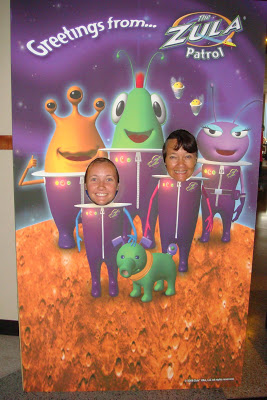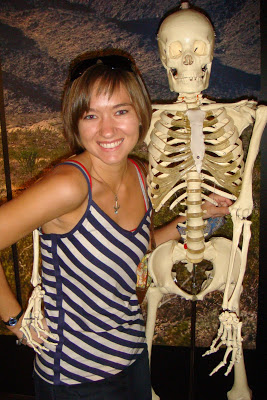 The museum is next to Hermann Park, the zoo and this statue of Sam Houston pointing toward the reflection pool and the Miller Theatre. I love this area, especially at Christmastime when they light it all up (which they unhappily did not do last year).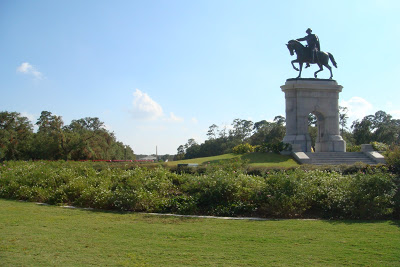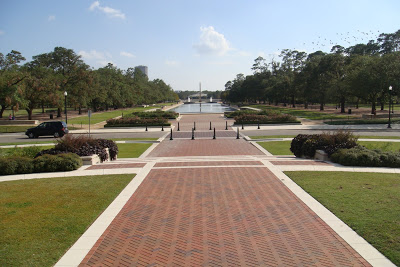 The park contains Japanese gardens and this rose garden.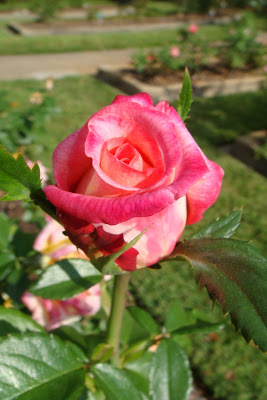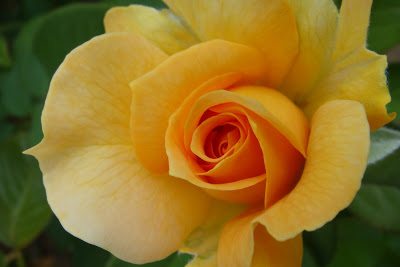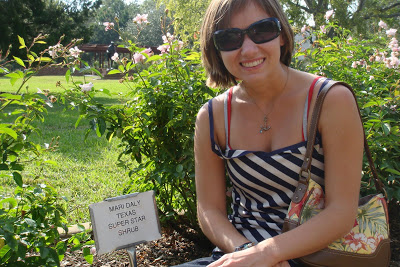 Yes, the rose garden has a Mari Daly Texas Super Star Shrub!! I love Texas.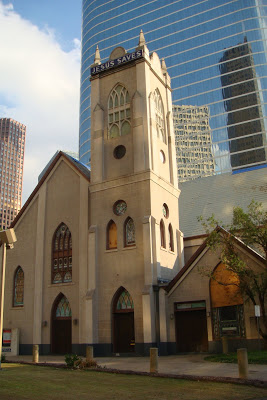 This little church, which I think is
St. John's United Methodist Church
, is tucked in with all the sky scrapers.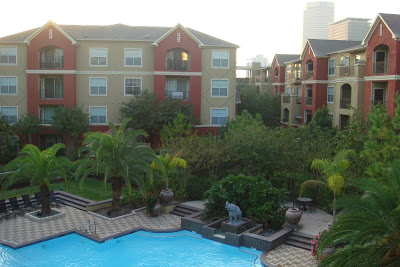 And this is the view from my sister's balcony! The first photo in this post is a view from her street if you turn East and face downtown. Not bad for her first job out of college! She and I spent the night in her cozy place and spent Tuesday shopping in Highland Village and the Galleria. Shopping is what sisters do best! 🙂