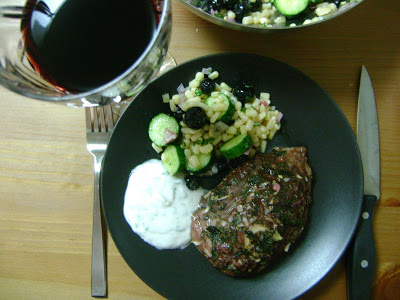 Seriously, the mint is out of control. I decided to fight back with some Herbs on the Lam lamb chops with a yogurt sauce and Sweet Summer Nights Salad. Chris is always interested in new ways to eat red meat and/or potatoes, but in the end we decided lamb is a little chewy. Good flavor though, and tasty with the very dry, slightly peppery 2007 El Fuego from San Diego's Hacienda de las Rosas.
Herbs on the Lam (thanks for the inspiration, Nancy!)
Dice a shallot, two cloves of garlic, red pepper flakes and a big bunch of mint. Mix together with olive oil and red wine vinegar. Pat the mixture onto both sides of each lamb chop (about 1 lb total). Bake at 350 degrees for 35 minutes.
Yogurt Sauce
Mix a huge spoonful of creamy plain yogurt (none of that nonfat stuff—gross!) with red wine vinegar and another big bunch of mint chopped.
Sweet Summer Nights Salad
Mix a can of sweet corn, a fresh carton of blueberries, one Japanese cucumber, a small diced shallot, honey, olive oil, a lime's worth of juice, a few shakes of Thai galangal (related to ginger) and some fresh basil that's not quite as out of control as the mint.
Take THAT, garden! Run as fast as you can—you'll never escape!