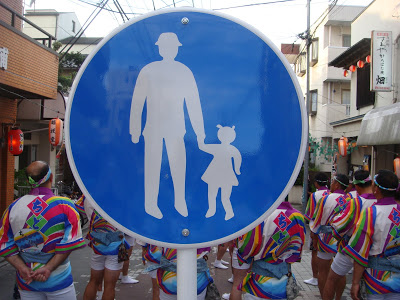 Our Awa Odori routine has slight variations: short and long; version A or B; with or without the important people's interlude in the middle. The first time we got the passback for long version A today I tilted my head and did a dramatic Japanese, "EEEEEeeeeeehhhhhh?" The lead girl started to explain it again slower for the silly gaijin but only got halfway done before all the girls started to laugh, giggling and mimicking the American mimicking the ubiquitous Japanese "eeehh"!! With the Yamato Awa Odori festival behind us, everyone has started to relax. This weekend is looking like a lot of fun!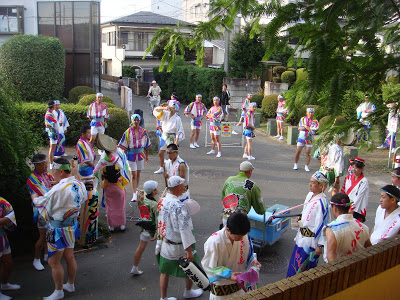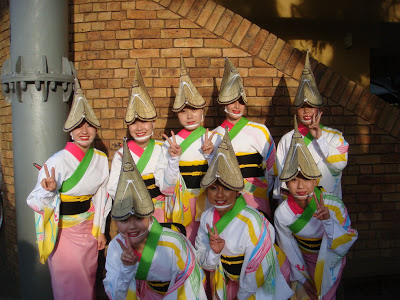 Today when I showed up at noon with my hair and makeup ready I knew not to expect anything to happen quickly. Sure enough, I sat around until 12:30pm, was dressed by 1pm, and everyone was completely ready by 1:30pm. Then we sat around until 3pm, when we went upstairs for a couple warm up run-throughs. Then we came back downstairs and sat around for another 45 minutes before boarding the bus at 4pm. It took maybe 45 minutes to get there…the festival started at 6pm. We spent over half an hour sitting in a Japanese elementary school classroom eating onegiri (rice triangles), then stood in formation waiting for the parade to start the rest of the time. The weather, by the way, is gorgeous: low 90s, not too humid, steady breeze—wow!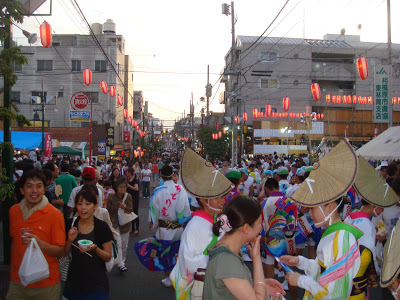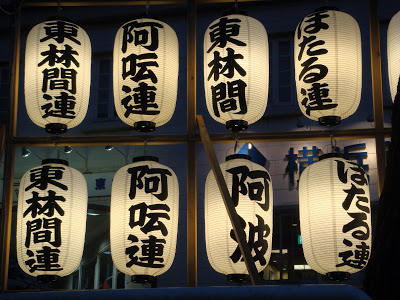 I don't really understand all the waiting around, but it's growing on me. We had ample time to take pictures, make jokes, get water, watch some of the other performers, pose for photos and just enjoy the festival atmosphere. I noticed one of the official videographers continually smiling at one of the dancers and had plenty of time to try to translate this into Japanese, or at least into charades. Girls and boys: now there is an internationally interesting topic!