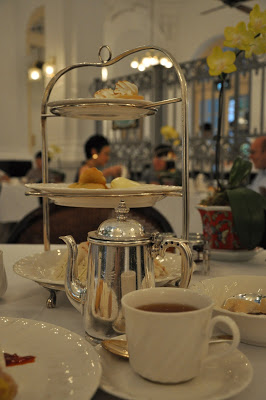 "Madame, it is my pleasure to inform you we have a table just for you," smiled the Tiffin Room's sweet hostess, her eyes twinkling. Ten minutes before the famous be-turbaned, white-clad Sikh opened the Raffles Hotel's front doors and ushered us into the lobby only to find, to our dismay, that afternoon tea was fully booked. "But if you don't mind waiting maybe 15 minutes I'll see if there's a cancellation for you," whispered the hostess. We didn't have to wait long. And we were very lucky; more than one other couple was subsequently turned away. What a way to begin our second venture into the sparkling city of Singapore!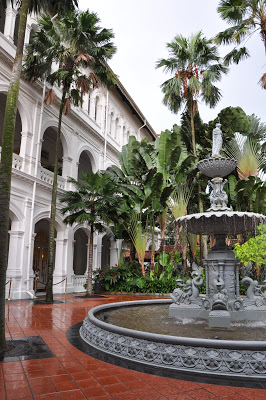 Tiffin is a light, mid-day meal. The Tiffin Room is the Raffles' main dining room and is decorated in the style of the hotel's pre-1930s glory days with teak tables and palm-back bentwood chairs. Feathery palms dot the room, which overlooks a soaring fountain and lush courtyard. The traditional Tiffin Curry has been a high tea mainstay since the 1899 refurbishment and was, of course, delicious! The buffet included a range of European and Northern Indian delights.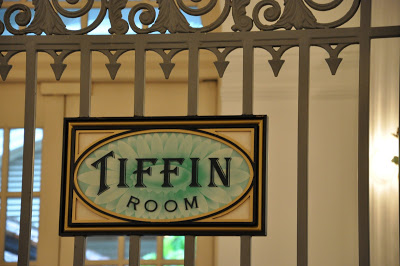 Chris is a really good sport.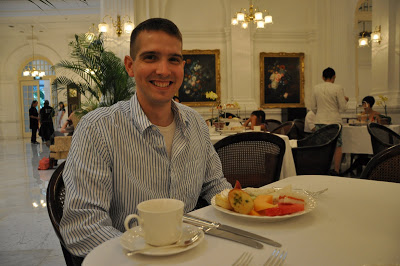 I found out about tea at the Raffles while doing some general tea research which also revealed the difference between afternoon and high tea. That would be: the height of the table and usually the available fare. Afternoon tea includes tea sandwiches and desserts and is taken at a low table. High tea is taken at a regular-height table and includes more substantial dishes in addition to the traditional pastries, scones and sandwiches. To make a reservation at the Tiffin Room call (65) 6412 1816 or email dining@raffles.com.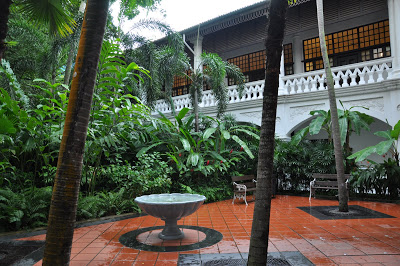 After tea we took a stroll through the adjoining courtyards steaming from an afternoon downpour. We ducked into the hotel gift shop and bought a postcard and a vintage Singapore travel poster that perfectly matches the Florida poster Hannie gave us as a wedding gift. I'm always looking for ways to tie our oceanside, beachy decor into our growing Asian collection, so when Chris spotted this poster I was sold!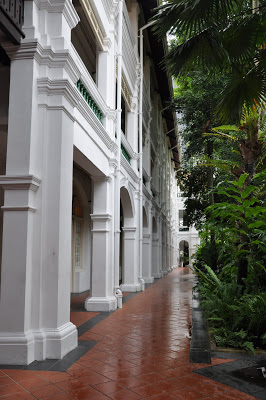 Then we hailed a cab and set off on the Night Safari. At first we were unimpressed as the nocturnal varmints each failed in their respective tasks during their performance. Then the trainers asked some people to stand up and pulled a huge python out of a locked box under their seats. Ok, we're impressed!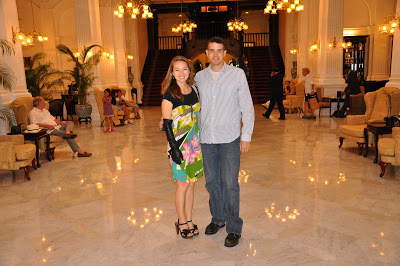 We continued to be impressed as we stole silently through the dark and misty forest and spotted a lion tearing at a deer carcass, a black rhino foraging for food, and the hugest Asian elephant I've ever seen pacing back and forth, snorting and tossing his head—complete with long, sharp tusks—beneath a sliver of a moon shining dimly through a haze of humidity. Cicadas whirred and in the distance the lion growled and called out to the night.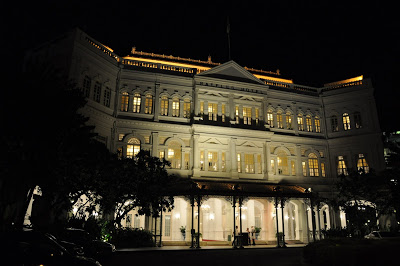 Welcome back to exciting Singapura—Lion City!
(Note: historically, it is unlikely lions ever roamed Singapore. That honor instead goes to the tiger, which is why it adorns Singapore's Tiger Beer. In 1902 the Raffles was sandwiched between jungle and the Singapore Straits. One morning a Bengal tiger wandered into the Billiard Room, terrified everyone and lurked in the shadows until someone shot it between the eyes.)