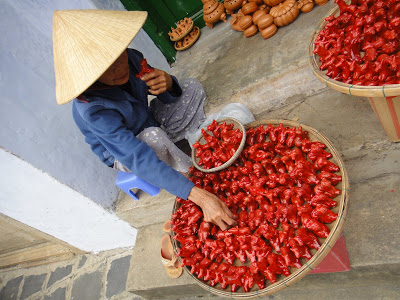 Hoi An was interesting. Not for its ancient history, but rather for its glimpse into modern tourism destinations. Hoi An has effectively quarantined tourists into the charming Old Quarter, where delicious western-style Vietnamese restaurants (meaning places where you eat at a table instead of crouched around a pot on the street corner), tailors and souvenir shops line the streets. Maybe museums and temples, too—this was a little tricky to decipher, because every 'museum' and 'temple' had a spiel and a hand-made local product of some sort or other.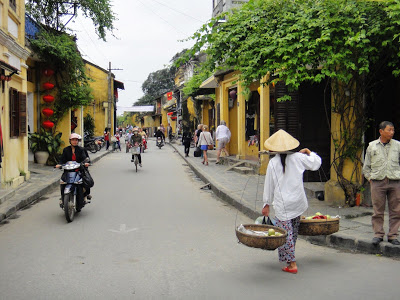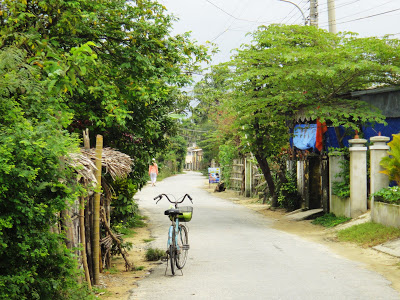 In the Japanese Quarter of Ancient Hoi An we walked across the city's iconic Japanese Covered Bridge. Coming to the end of the Japanese historic area our guide announced, "Japanese street ends here. That's just a Vietnamese street." Wait, so…why did we leave Japan and come to Vietnam?? We took a boat across the river to an island known for its woodworking, and just across the river from the tourist zone were ramshackle houses jumbled along the water with lots of people at the river's edge rinsing and washing food. A small ferry laden with people and maybe 40 motorbikes passed our little covered canoe with just four people in it. Colorful lanterns hung outside tourist restaurants, while the Vietnamese houses sat in darkness.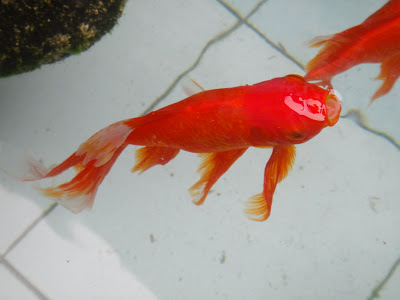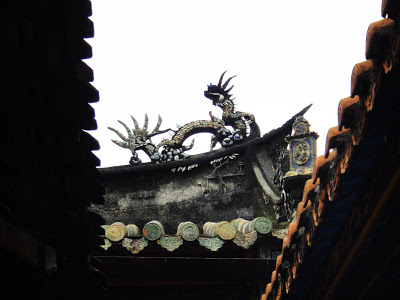 Chris and I were holding hands in the front of the boat, contemplating this when the jabberwalkie tour guide came up from the back, stuck his head between us, pointed to a hotel on the side of the river and said, "That hotel has four stars," before returning to the back of the boat. Why were both of our annoying tour guides (this guy and the mean Saigon lady) constantly telling us how many stars are awarded to hotels we will not see or stay in?? Chris and I were chatting in the backseat one day when the jabberwalkie interrupted us to say, "That's a new golf course." "Yes, but how many stars does it have?" I asked. Chris snorted. The guide cocked his head and looked confused.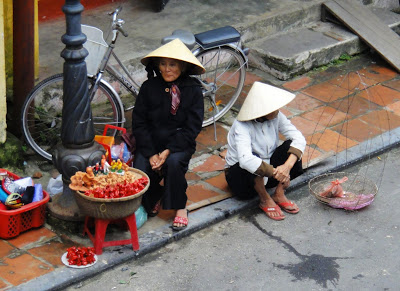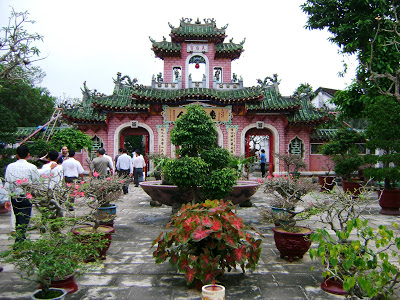 Anyway, back in Hoi An we went inside a historic house that combined Vietnamese, French and Japanese architectural styles. We got shuffled through a sales room for hand-stitched table clothes, politely listened to the pitch, then asked if we could see upstairs. A girl who said her family lived there but couldn't explain her relation to anyone showed us two highlights of the house's design, (these windows are Japanese-style. This balustrade is French. The rest is traditional Vietnamese) then instructed us to sit for a nice cup of tea. We obeyed. She also took a cup, then sat, unsmiling, staring at us. I made an attempt at conversation: "We live in Japan, so it's really interesting to see Japanese and Vietnamese style combi—" She interrupted forcefully, "Not Japanese. Vietnam." The awkward silence descended again. Chris and I exchanged amused side glances.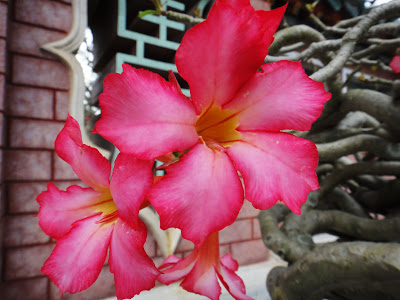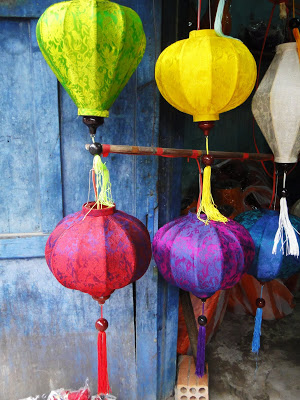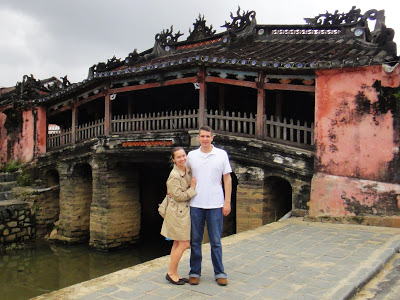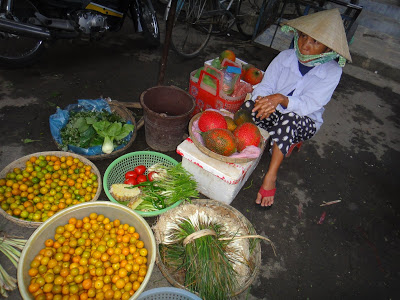 Finally, we shook our guide and strolled through the 'pedestrian and primitive vehicle' section of town. We had a delicious dinner at Yellow Star Restaurant (73 Nguyen Thai Hoc, Hoi An): prawns with lemongrass and Chinese chili for me; spaghetti carbonara for Chris. French white wine for both. The night was young, so Chris got fitted for a suit and I had a fun silk dress made. We walked through the dark streets of the old city and bought a small army of silk and bamboo lanterns. I told Chris in Hanoi I wanted one, and he said, "Why don't we get a bunch and put them out for birthdays instead of balloons?" A fine idea!! If you're ever around during our birthday month (September), be sure to stop and see them!