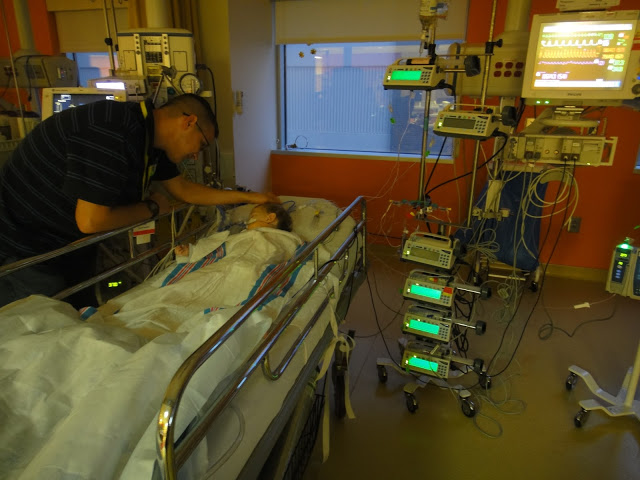 First visit in the cardiac ICU Friday night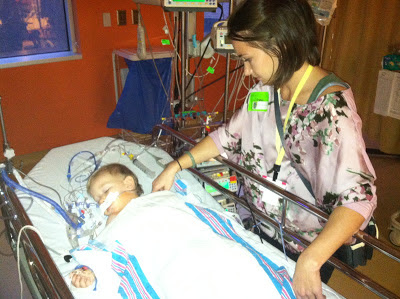 First visit in the cardiac ICU Friday night
We are (extremely relieved to be) home. The post-surgical echo showed a smooth, wide pass where it used to show a pinch. He has a lot of docs to visit in the next couple weeks (months, years…), but this surgery, praise God, was a success.
We are so thankful for everyone's prayers and well wishes for Isaac. Hearing how people care about him and how he's doing is so encouraging and makes all of us feel so loved. Thank you for your kind and supporting words. There were some extremely miserable points in the last few days, but praise God for the amazing progress Isaac has already made.
We drove through rain, thunderstorms and Isaac's hoarse whimpering last night to avoid having everyone under the sun barging into our hospital room all night. We didn't get home until midnight (EST), but it was worth it so Captain Goodbaby could have uninterrupted sleep after that.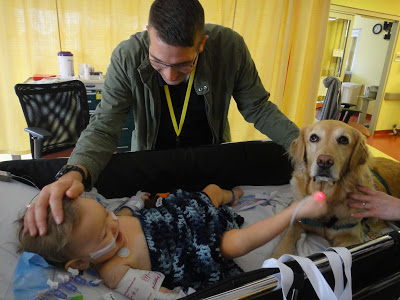 Special visitor in the cardiac ICU Saturday afternoon
Yesterday his ultrasound tech sympathized, "Aww, poor baby. A hospital is not a good place for a nap." He had 40 minute IV medication sessions at 10pm, 1am, 5am, and people coming in to draw blood at 4:45am, and take him away for x-rays just after 7am…when's a baby supposed to sleep? They'd originally said they could discharge the good Captain on Sunday, but would hold us until Monday so we wouldn't have to drive in the dark, but after that sleepless night we decided crappy sleeping in the car was on par with crappy sleeping in the hospital. Besides, a six hour drive wasn't gonna be fun no matter when we did it.
Anyway, it was completely the right decision because being home has made a HUGE difference. From a distance, you'd never know this little sweetie had heart surgery three days ago. Up close you might see the bruises from the IVs on his neck, hands and legs, and you might feel lightheaded if you saw him with his shirt off, and it'll break your heart to hear his raspy voice or post-breathing-tube cough, but dressed normally and not paying attention, he looks amazingly good. He's not climbing or running as much as he was, but he's walking around fine and back to loving his trains/lawn mower/cozy coupe/balloon/kitties.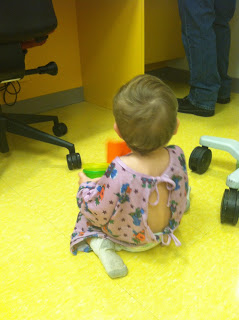 Pre op Thursday—baby hospital gown!
There are a couple moments from the weekend I can't think about without feeling dizzy, like when the ICU nurses took off his arm restraints and he tried to get up, got scared by all the 10 different tubes, wires and needles sticking him, flailed and rolled and finally just froze, crying, until the nurse untangled him. Or the effects of the breathing tube. Or waiting during surgery. Or IV removal. Or the silent, brave crying and reaching for me when I couldn't pick him up.
But this is clear: of normal kiddos, having heart surgery puts Isaac on the 'sick' end of the spectrum. But of sick kiddos, Isaac slid back to the 'ideally healthy' end. We have follow up appointments with docs, cardiologists, x-rays, echos, etc., but we feel extremely lucky. Here there were kids missing limbs, kids who were dying, tiny babies with a half-dozen needed surgeries. Compared to them, we only got dipped into this really difficult lifestyle of having a high-health-maintenance kid. Heart surgery changes a small part of the grand scheme of Captain Goodbaby's life, but several of the surgeons said to us, "Isaac's surgery is the very simplest surgery we do here. Usually we do this procedure in conjunction with several others." Whoa.
We ask our military friends, "Where are you from? How long have you been here? Where were you stationed last?" At the hospital, the inter-patient get-to-know-you questions were, "How old is he? How many surgeries has he already had? Will he need any more?" Probably not, praise God.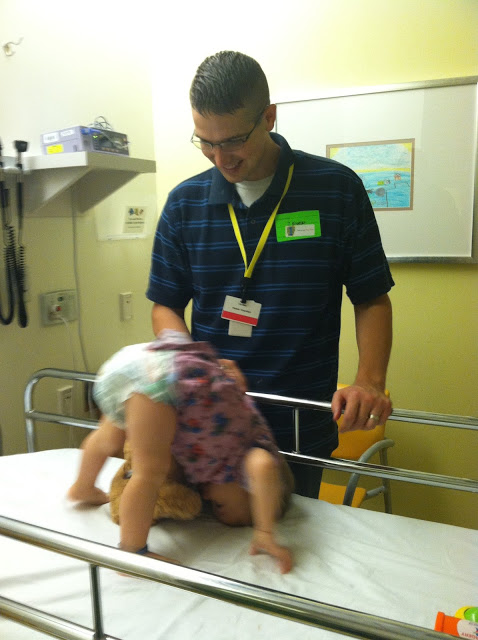 Hungry, tired, SILLY before surgery Friday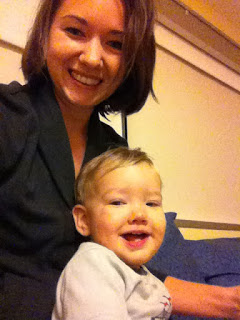 Big smile—out of ICU!
I mentioned this in a post from the hospital that doesn't seem to have posted, but another thing to praise God for is that the doc found a murmur during Isaac's routine one year visit. That's what got all this started. Three different nurses docs listened to Isaac's chest during the pre op day and said, "His doctor referred him based on that??" Apparently it sounds much better than it is.
About an hour before surgery I asked another doc, "Is this really necessary?" She smiled reassuringly and said, "It is absolutely necessary. His coarctation is moderate to severe, and soon it would begin to affect his growth and quality of life." "Thanks, that's exactly what I needed to hear," I said.
The surgeon debriefed us afterwards, "It went as expected. It was a moderate coarctation, so he could have gone probably one more year without having surgery, but any longer than that and it would have done permanent damage to his heart and blood pressure." Also, I'm not sure how we got hooked up with this surgeon except that Isaac's cardiologist knows him, but apparently he's the head surgeon and top professor of something or other at the hospital. So there's another reason to praise God. I'd also like to mention that we have standard military healthcare, which for us has so far been predominantly fantastic.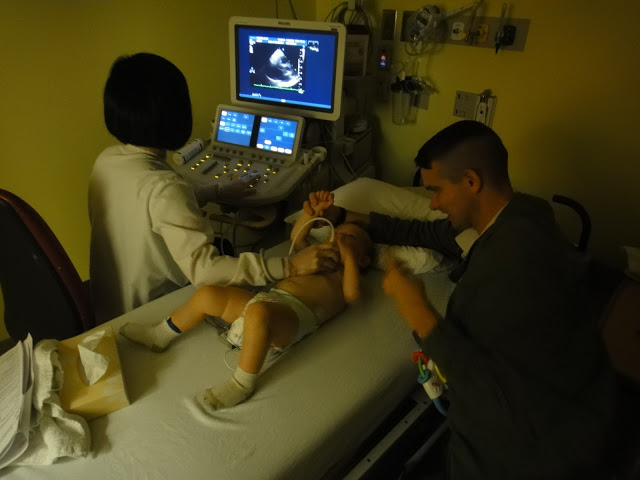 Pre op echo Thursday—sedated baby…for 10 minutes. Then he was cranky, no balance baby.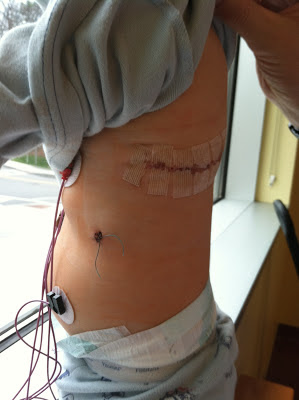 Five-inch incision and drainage tube hole. Baby girls dig scars, right?
So now more than anything Isaac hates having his neck touched where the IV was. He can't be around tons of other kids and babies, because he's not supposed to be too jostled. And if he gets any little fever we are supposed to take him to the hospital, where they'll determine whether he caught a cold from smooching his baby girlfriend, or if some part of his body is infected from the surgery. Other than that, he's pretty much good to go!
Now, after way too much information, I will leave you to wonder:
who is Isaac's baby girlfriend??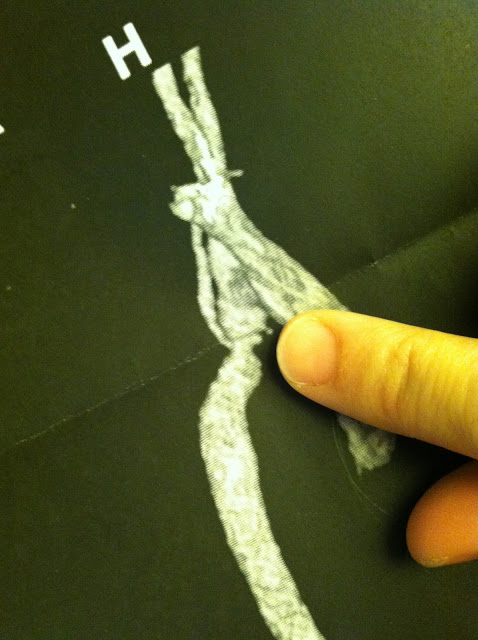 That little pinch is not there anymore!