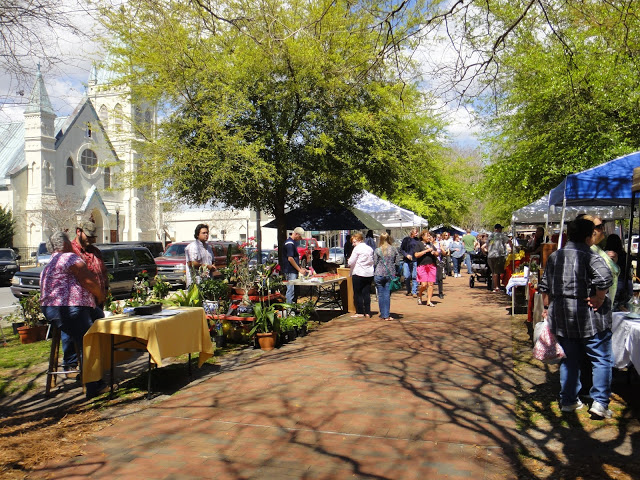 Palafox Market (8am-2pm Saturdays)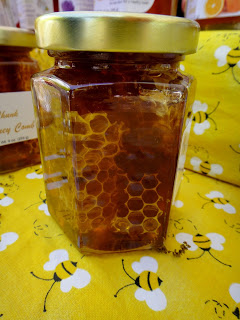 This honey was in a hive YESTERDAY.
The weather is gorgeous, we have no pressing yard work, and the beaches are full of spring breakers (avoid). Sounds like a perfect Saturday morning for our first trip to the Palafox Market! Sellers spread fresh organic produce on tables nestled between trunks of crepe myrtles. New spring leaves cast dappled shadows on the brick thoroughfare. Captain Goodbaby ran around people's legs, garnering lots of compliments (and stressing out his da). The Palafox Market (8am-2pm Saturday) is a couple blocks of fresh bread, cakes, pies, produce, dairy, eggs, coffee, honey, jelly, soaps, jewelry, art, scarves, antiques, herbs, flowers, etc.—standard market stuff—in the Martin Luther King Plaza in downtown Pensacola.
Now I'm going to tell you the best part: a HONEY TASTING at Little Angels Gourmet Honey booth. A honey tasting. Wine tasting: fantastic. Lupicia's Grand Marche du tea tasting: yes! Temecula Olive Oil tasting: yum. And now honey tasting! The good Captain was a big fan of the tiny tasting spoon and, naturally, the honey. This was the only time this morning he wasn't wiggling to get down. He even leaned forward like a baby bird, mouth open. Peep peep!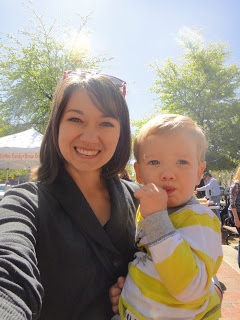 Vise grip on that honey spoon
The husband and wife beekeeping team keep bees all over the area, then infuse the honey with herbs, flowers, fruit or spices. My favorites were the Sicilian lemon, lavender, vanilla bean, and spearmint. Spearmint honey! How yum will that be in tea?! We bought the last sampler pack, so we also have Valencia orange, chamomile, cinnamon, and ginger.
They also mentioned that honey can be a better cough remedy for tots than kids' cough medicine. The Goodbaby's meds have a cough side effect, so guess who lucked into a spoonful of honey on occasion!
It didn't take long to cruise through the whole market, which was good; we had to come home because somebaby was all grouchy-pants. It would be fun to come a little earlier and combine it with lunch outdoors at Dharma Blue or something.
Please let me know: What's your favorite Saturday morning spring outing?
Find herbs, flowers, baked goods, local honey, eggs, art, popcorn, jewelry, crafts, and antiques at the Palafox Market