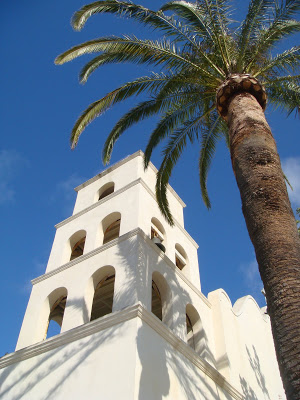 I had this great plan to spend a day in Mexico while I was in San Diego for a bonus passport stamp and tasty tacos, but the general consensus among people who live here is, "Yeah, we're not really supposed to do that these days…." I bought a blanket identical to my parents' beach blanket (oh, this is where they got that) from a Tijuana native in San Diego who shrugged and said it wasn't that dangerous as long as you stayed in the main tourist areas. I did enough reporting on trafficking to know I am not interested in being sold into white slavery, so I did the next best thing and skipped Mexico for Historic Old Town San Diego!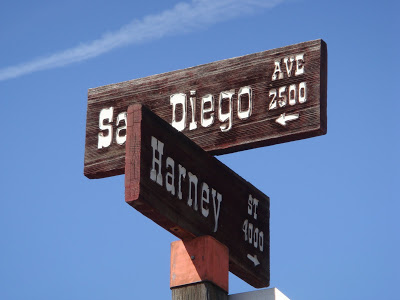 Did you know Old Town is where the first Europeans settled along the West Coast?! Some of the original buildings are even still standing! Most homes were adobe, but as some of the townspeople became rich they built homes of wood or brick.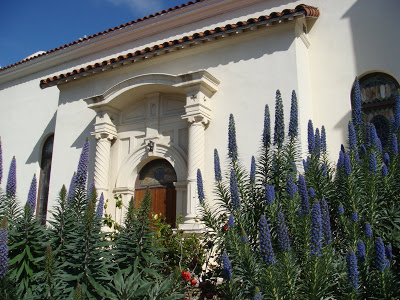 Here's a nice story from the old days: San Diegoians decided to build a jail, but forgot to put cement in the mortar. So when the mayor's brother, Roy Bean, became the jail's first prisoner, he simply dug out, went to the saloon and bought everyone a round to celebrate his own escape. He went on to Texas and became Judge Roy Bean, "The Law West of the Pecos." Yikes. As legend goes, this prompted the sheriffs to give prisoners the prison keys and ask them to lock themselves up to avoid further vandalism to the structure.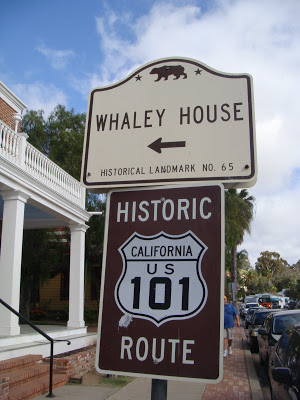 Years later outlaw James "Yankee Jim" Robinson allegedly wanted to steal a schooner so he stole a rowboat and rowed toward it. Between the crime of stealing the rowboat and the intended crime of stealing the schooner poor Jim was arrested and sentenced to death for an intended crime. The jury included two owners of the schooner and a host of others who knew his reputation as an outlaw, so this conviction seems slightly unfair. Jim was convinced no one would actually hang him, but they did—on the spot where the Whaley house was later built.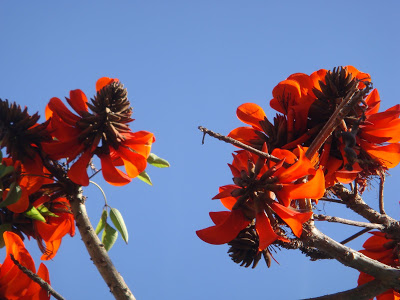 Jim is one of several ghosts who contributes to the house's reputation as the most haunted house in America. Whaley was one of the owners of the town's general store, and he, his wife and their son died in the house naturally, plus a little girl died of accidental poisoning, plus Whaley's daughter shot herself on the grounds after a heartbreaking divorce at only 22. I walked around but did not go in. Yikes!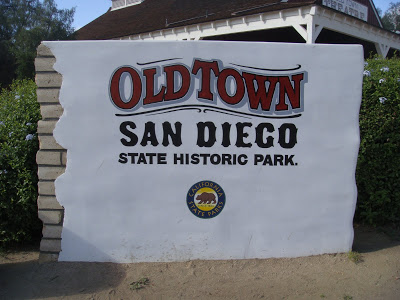 La Casa de Estudillo is a 170-year-old adobe hacienda that's one of many old houses now turned into a (free) museum. This one is filled with antiques to show how a well-off family would have lived. I don't think there's anything more peaceful than strong, dark furniture against cool, white walls and clutter-free shelves and table-tops. A pleasant emptiness. Ah, how appealing to live in a time before paper-clutter. But I guess they traded paper-clutter for a general lack of indoor plumbing, air conditioning and stuff. Still.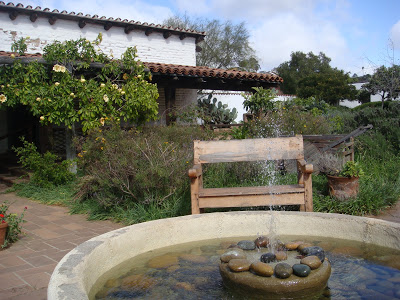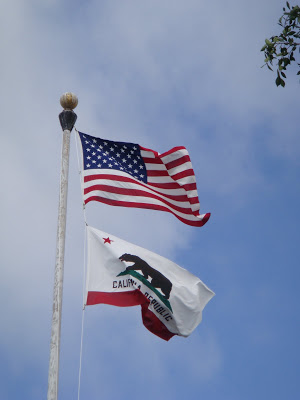 The cool verandas and sunny courtyard are prime examples of the style my ideal house would follow. All the greenery, flowers and vines hanging over the trellis are bonus!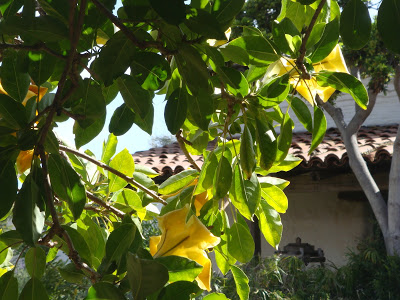 I had already made up my mind to go to Old Town when I started researching San Diego wineries. Imagine my delight to discover a family-run tasting room for
Hacienda de las Rosas
right in the middle of Old Town. The daughter was working and told me her family grows all the grapes in Temecula, just north of here, and that her brother is stationed about 16 miles from me in Japan with the Air Force! I got a military discount and bought El Fuego—a tasty red wine with a fiery finish!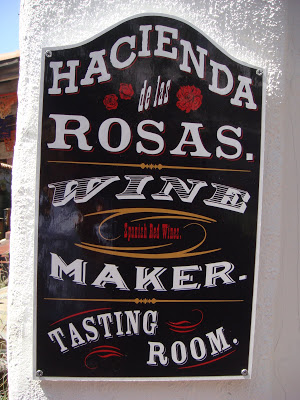 From there it was across the plaza to the
Temecula Olive Oil Company
. "Would you like to do a tasting?" asked a lady dressed in a floor-length red skirt and old-fashioned Mexican peasant blouse. "…an olive oil tasting?" I asked, raising my eyebrows. "…do I?" That sounds kind of…oily. I tried them anyway. All the olives are grown in Temecula, and I tried oil made from Italian olives, Spanish olives, cold-pressed, infused with basil, infused with garlic; and vanilla and fig flavored vinegar to finish it off.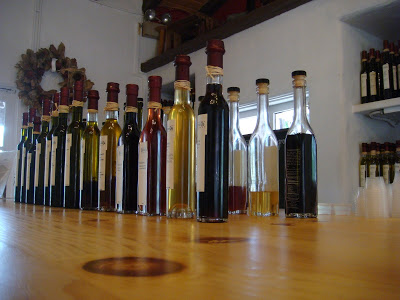 Well that was something new. I thought I'd like the basil best, but it kind of caught in the back of my throat and made me cough. The garlic infusion, however, had a toasted, almost nutty flavor. And Chris and I LOVE garlic so that one made into my suitcase.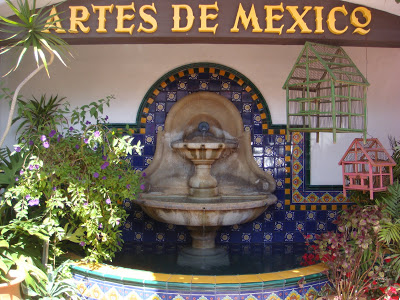 Then I shopped.
Bazaar del Mundo
sells a rainbow of Mexican, Guatemalan and international kitchen stuff. The icon Holy Mary aprons embroidered with ruffles and all sorts of embellishments were more than $100—I can't cook in that!!—so I settled on a Mexican oilcloth tablecloth in bright yellow and a coordinating locally-made turquoise dishtowel complete with Rita Hayworth (who started her career in Tijuana) in a sombrero emblazoned on the front. That will cheer up my table for Cinco de Mayo!
After Old Town I was headed back to Coronado when I passed by the San Diego Presidio Site. What's this? I wondered about the whitewashed chapel on the hill.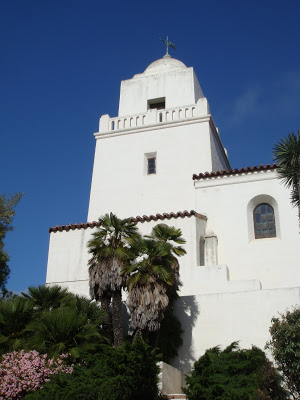 "Soldiers, sailors, Indians and Franciscan missionaries from New Spain occupied the land at Presidio Hill on May 17, 1769 as a military outpost. Two months later, Fr. Junipero Serra established the first San Diego mission on Presidio Hill. Officially proclaimed a Spanish Presidio on January 1, 1774, the fortress was later occupied by a succession of Mexican forces. The presidio was abandoned in 1837 after San Diego became a pueblo." Your mom's a pueblo!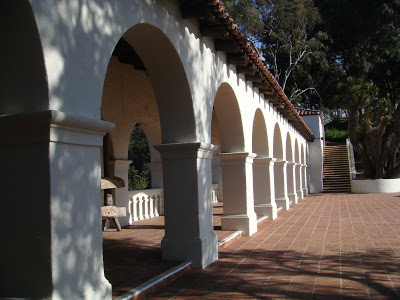 I climbed up a dirt path to the top of the hill overlooking the outcrop where the mission sits. The sweet smell of orange blossoms wafts up the hill to mingle with the eucalyptus grove. The picnic tables would be a lovely spot to share a bottle of wine and enjoy the nice smells and sweeping views of the valley, Mission Bay and the Pacific.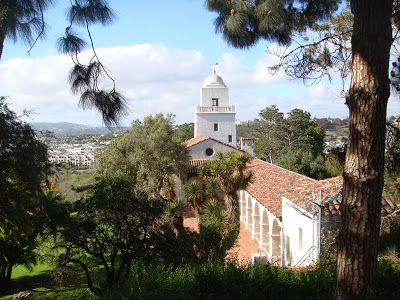 There were a couple guys with a camera on the mission steps who stopped mid-conversation and obviously waited for me to leave. Ok…a little odd. Then I tromped back down the hill and over to a little lookout that's become overgrown with trees so there's nothing to see, so I headed back to the parking lot. Here a white guy and a black guy had progressed from chatting to a makeover. One guy sat in his car while the other pulled things out of his clear plastic makeup bag and dusted the guy's face with an oil-absorption sheet. And it's time for me to go home.