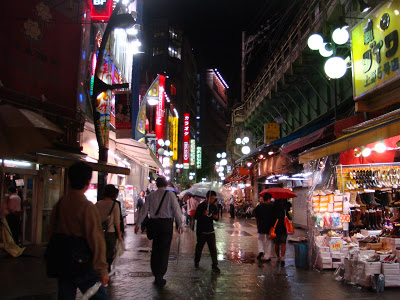 Chris and I were starving in Ueno's Ameyoko Arcade this weekend. I usually give up and eat in a cafe or something because I know how to eat there—walk in, sit, order, pay, leave. But real Japanese restaurants are kind of intimidating. Why? For starters, the entrance to your typical Japanese restaurant is just a flight of stairs going down. But I decided it was time to face my fears. I said to Chris, "Let's eat here!" hopped down the steps, slid open the unmarked wooden door at the bottom, peeked my head around, smiled and held up two fingers to the smiling girl walking toward me.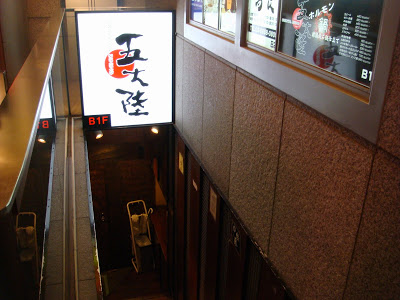 "Irrashaimasen!" shouted all the chefs behind the bar at
Gotairiku Oriental Dining
(since 1996), welcoming us to our double person bar stool bench. Thank you very much! We are happy to be here! The menu's headings were in English but every item was Japanese. I ordered two ume shu, or plum wines, on the rocks. Those arrived nicely. Chris was frustrated with the menu. I was so excited that we actually worked our way in with no help from anyone that I felt emboldened! Japanese menu be darned!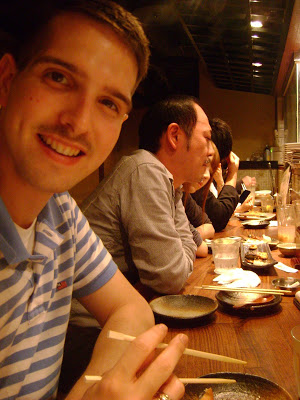 One section was titled gohan. "I think that means rice," I said to Chris. The character for rice is 飯 but can also mean generically meal. We ordered the most expensive gohan dish (¥730) hoping for fried rice. Other sections were titled "Pao" and "Asia." One item in the pao section said, "New!" next to it, so I ordered that. To order, point to something and say, "Kore wa wo kudasai!" That means, "This please!" The waitress took these down, then said some stuff. Chris and I looked at each other and smiled back at her. She flipped through the menu to the front and pointed to the Salad and Wa Food sections. "Oh," I thought. "Right–we're eating Japanese-style. Order courses and share everything. Not bad…each course is only about $6." I pointed to the top item in Wa Food. She called our order out to the chefs. Chris and I grinned at each other in victory. Temporary victory, it turned out. All the other tables were laden with delicious-smelling grilled foods and our appetiser (which is automatically brought to you when you arrive and costs about $4/person) was baloney with pistachios, black olives and cheese. YUM! How bad could anything here be, right?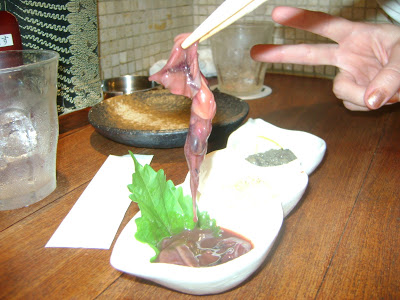 This bad, it turned out. Wa Food Item #1 was a trio of nastiness: gray fishy paste, raw shellfish and the coup d'état–a pair of puffy, eggplant-colored raw squid that, as Chris so eloquently described, looks like you took a baby squid and popped its head and this is what squeezed out. At first we both just stared down at it in amazement. "You've got to be kidding me," I said. "Everyone else in here has these delicious-smelling skewers of meat on their plates. How the heck did I order us this?!" We couldn't take our eyes of it. Chris was kind: "Well, I have to say it takes balls to point and order at a Japanese restaurant." We have eaten a variety of raw food here, including shellfish, octopus tentacles and squid, but never like this. At first I tried to pump myself up for a
"smile and eat it!"
a la my dad, but once I caught a whiff of the squid I knew it would be impossible. I did eat the shellfish and tried the fish paste though. And I poked the squid. But then wiped off my chopsticks before eating anything else….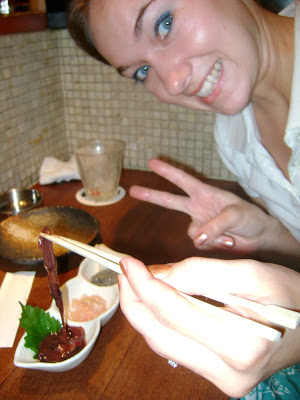 Right, so after that little doozy we were a little worried about the rest of our food. Fortunately the rice soon came out. Yay! It was in fact rice! Spicy rice with an egg on top actually. Delicious! But Chris didn't want the egg, so we spooned it aside, where it was eventually joined by the squid. "Why did you do that?" Chris asked. "I don't know," I said….."Uh, can you move it over there? It's making me sick to my stomach." "Yeah, so why, again, did you do that?" Chris said, moving it aside and placing a little napkin over it.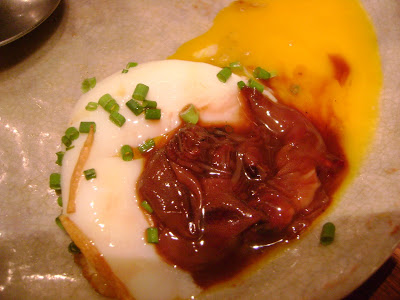 Ok anyway, so the Pao was fried crab spring rolls! Jackpot!! And our seat was near the edge of the bar, so we could see some of the food the chefs were passing through to the staff. That's how we ordered our next round of drinks and this nice cheese plate. Yum! The ¥680 gag fest not withstanding, the food was fantastic and very satisfying. A successful dinner indeed!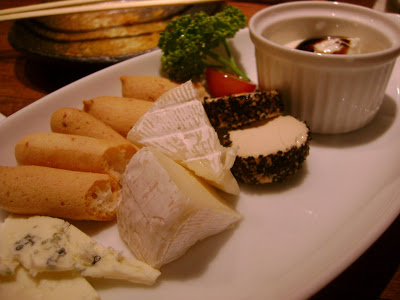 Here's how our bill totaled up: appetiser baloney things: 2 @ ¥350, ume shu plum wines: 2 @ ¥600, spicy rice: ¥730-ish, Pao: ¥580, Wa Food: ¥680, Chees-u plate: ¥1,200, beer-u: ¥580, Oriental cocktail: ¥580 for a total of about $60-ish. Usually after ordering they leave the bill on the table and you pay at the register on your way out, but we were at the bar so we just signaled for the check at the end. Easy!