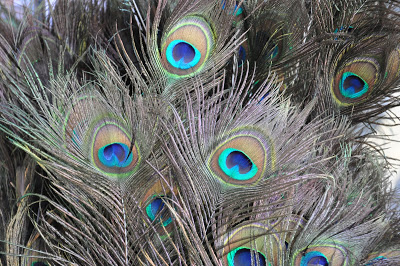 Little India marked one of our best days in Singapore. Chris and I love looking through markets, sifting through the various wares and toting home the best of the best. I am a very lucky girl!! Last year we bought our favorite side table in Singapore so we had high hopes for this year. Such high hopes, in fact, that I brought my biggest suitcase even though it was only half full of outfits.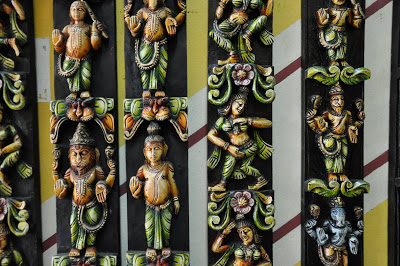 This is where I purchased thank-you presents for my friend who watched the cats last year, then later thought, "Rats! Why didn't I get myself any of those?" No problem—that was easily rectified this year!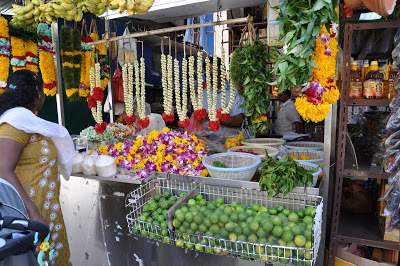 Chris and I wandered slowly through the area's streets and shops. I started off buying two silk saris—one in aqua and one in deep blue, both with gold stitching. The vendors harassed Chris when he ventured into the shopping street alone: "Are you with the ship? You need tailor? Best tailor in Singapore!" But when I accompanied him their tactics were different: "You want this purse? I make good deal for you! Two for ten dollar!" No eye contact or an indifferent head shake and they'd turn to another hapless tourist.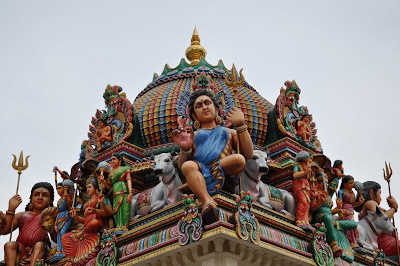 The best and worst part of my job as a buyer means I've gotten used to buying in bulk to get better prices. In Little India that meant asking prices, picking out everything I was interested in, then asking, "Hmm, what's your best price for all this?" The offer immediately lowered. I'd act unimpressed. "Still too much," I say. The vendor comes down a little more. "How much you want to pay?" they ask. Here I shrug or ask again, "What's your best price?" After they stop coming down, I make a counter offer, usually half the original price so they can laugh in mock outrage. Eventually we meet somewhere in the middle or I walk away. Sometimes they'd take me somewhere else before the final agreement so no one else could overhear. One woman told me, "Please do not tell other vendors the price for the purses," after she'd packed up my tea cozy, star dangly-thing, pillow cases and embroidered purses. "Secret!" I smiled. I'm sure I got taken for a ride, but I think we were both satisfied. I hate to say it but my general rule is: If someone is selling you something, they're probably lying. Of course it's not a genuine antique, hand-stitched, real cashmere anything—it's just business. And for me it's fun, not a livelihood, so I take that into account while bargaining. I try to bargain enough to gain respect but show respect as well. Does that make sense?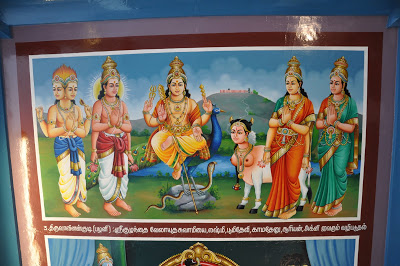 Anyway, we ended up with: four pillow cases, various Christmas presents, eight coasters, a brass-inlaid rosewood pedestal side table, a matching large beverage cart on wheels, a tea cozy, various thank-you presents, elephants and stars on a string, saris, a wooden collapsible fruit bowl and a carved wooden Bible stand. This year I remembered what I'd seen last year so it wasn't as overwhelming as seeing it all the first time. Last year I thought stuff was pretty but wasn't sure how much I should pay or which items I would rather have or what I might see elsewhere in the city, so I didn't buy much for myself. When Thomas Raffles landed in Singapore he had with him a contingent of British Indian soldiers. Therefore an Indian-style tea or beverage cart seemed to us the perfect Singaporean culmination of classic British-Indian style prevalent throughout the country.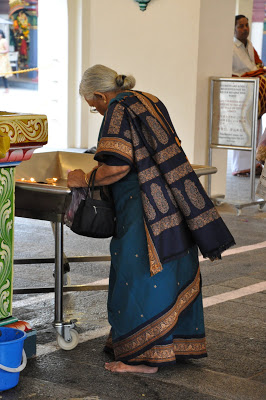 We had to pop back to the hotel to drop off our loot before heading to Chinatown for dinner. Our taxi driver (the only female driver I've ever had) dropped us off in front of Sri Mariamman Temple, one of the most photographed sites in Singapore. Get ready for cultural confusion: it's an Indian Hindu temple in the middle of Chinatown just down the street from the Chinese Buddha Tooth Relic Temple, but should not be confused with the Indian mosques, Arab mosques or commercialism worship centers found elsewhere in the city. Huh?! Where am I!?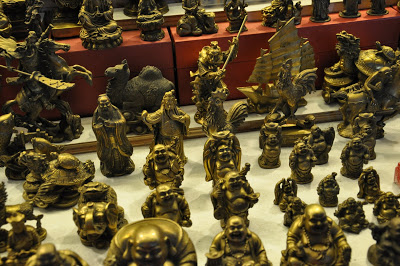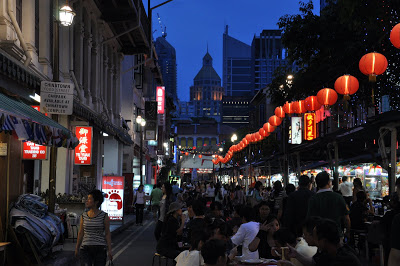 We walked through touristy junk stalls and antique shops as the cloudy day shifted to twilight and the lanterns along Smith Street winked on. Soon the hawker centers and restaurants were hopping. We stopped for Singapore's famous chicken rice, Tiger beer and an ice katchang dessert of shaved ice with milk, mango, corn and red bean toppings—just like we had here last year! Yum!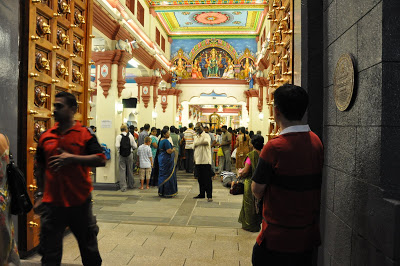 Last year in Chinatown we found our carved chopstick holder and a
porcelain
teapot. This year we bought some Christmas presents, vintage postcards, a China-girl dress that fits me perfectly and a bowl made out of a coconut finished with white
lacquer
so it looks like…a fresh coconut. Love it!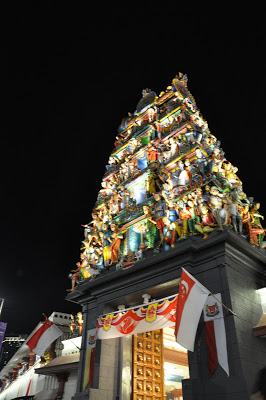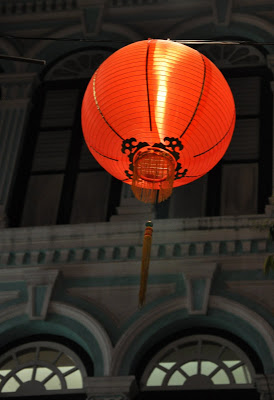 Back at our hotel later we had tea on the balcony watching the buildings of the
CBD
(central business district) shoot laser beams off their rooftops over Marina Bay. When I checked into the hotel the clerk said, "I will upgrade you to a harbor-view room free of charge……..are you here alone?" "Nope, my husband is meeting me!" I chirped, thanking the guy and taking the room key. This is the best time we could have gotten the upgrade too—we got to watch the Youth Olympic Games torch being run around the city right below our room, plus we could see all of Marina Bay, the
Merlion
, the Peninsula, City Hall, Clarke Quay, the Singapore River, Indonesia, Malaysia….everything!!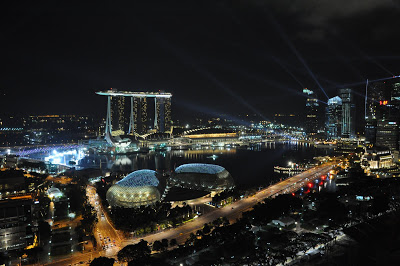 You may be wondering how I fit a pedestal table into my suitcase. I will tell you. The top unscrews from the central pedestal, which also unscrews from the three-legged base. The base I put in my carry-on jungle-print nylon Le
Sportsac
Bag ($30 at
TJ
Maxx
compared to Y9800 on sale for the SAME bag in Japan at
Yuzawaya
!). The pedestal and table top fit diagonally in my suitcase (barely), cushioned by laundry. The suitcase ended up weighing 28.8 kilograms (no excess baggage fees somehow!); I had to lug it from the
Swisshotel
to the hotel I shared with friends in the Arab quarter to
Changi
Airport to
Narita
Airport to the
YCAT
bus to Yokohama train station to the
Sotetsu
Line to
Sagami
–
Otsuka
Station into our friend's car, into my own car and finally into my house. Whew! Good thing it looks gorgeous in the living room! Chris mercifully took the beverage cart with him back to the ship.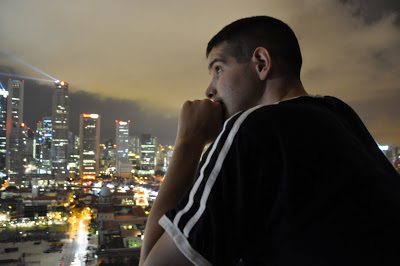 Chris and I are both really excited about our fun new furniture. I recently read a magazine article about beverage carts and another about how the mark of a well curated living space is a mix of furniture finishes that all coordinate. Our rosewood tables with the brass inlay coordinate perfectly with our brass-accented step-
tansu
and
tv
stand. Chris, my whole heart, accomplice and best friend….I wish you were here to see it all together!! You are sorely missed.