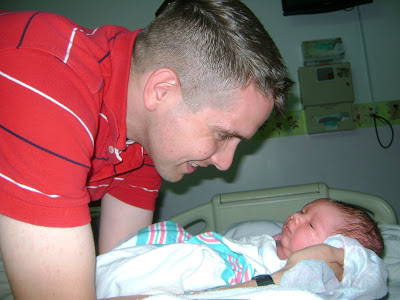 Warning: If you're looking for actual info on natural childbirth, look elsewhere immediately.
Warning II: This post contains—at my mom's request and against my vanity—some of those awful first puffy-faced 'meet the baby' pictures. Sorry.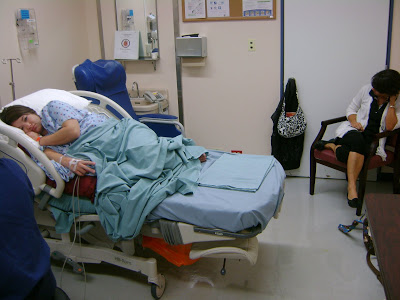 I woke up feeling crappy at 2am October 2. Around 5am I woke Chris and my mom; we ate breakfast, showered, and got to Yokosuka around 8am. Here the guards gave my mom a hard time for not having a special base pass. I'd called the hospital before she arrived and asked what to do to get her a pass so we wouldn't have this problem, but they had no idea. We ended up having to leave her at the gate and Chris returned for her after checking me into the hospital. Lame.
The nurse confirmed I was in labor and guessed the baby would be born in the early afternoon. Woo hoo! They asked about my method of pain management and I told them I'd been practicing the deep breathing exercises as described in the book I'd been reading: "The Bradley Method of Natural Childbirth." (laugh here) I mean, my mom and my sister did it au naturale—sans medication—so I was going to try that, too.
Here's where I went wrong: I was prepared to deal with it for a relatively short labor, like my mom and my sister had. Yet the nurse came in again and again and reported very little progression, even after the doc broke the baby's water around 2pm. That was very discouraging.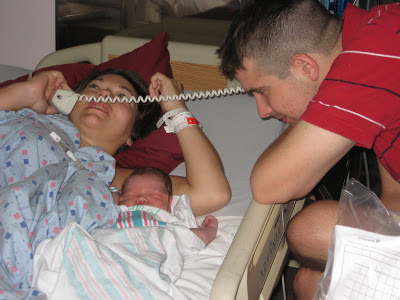 After I'd been at the hospital past the amount of time it had taken my sis to deliver, and without being anywhere close to pushing that baby out, I gave up and asked for some narcotics. People say childbirth can't be compared to anything, but I thought it was remarkably similar to having a kidney infection added to one of those bouts of travelers' diarrhea that incapacitates you with barfing and cramping agony to the point where your mind is numb with pain and you pray for death. I did.
Anyway, my sis labored with a cute flower clipped into her hair, so I wore furry puffballs. At this point, however, I ripped them out and handed them to Chris. Then the nurse told me no, I still had not progressed AT ALL, so I asked for an epidural. At that point, I felt like I'd thrown in the towel; I also felt hopeful for the first time in hours. Now I could save up some energy for pushing.
Finally, late at night, 20 hours after I'd first woken up in labor, it was time to push. It didn't take long for the doctor to announce, "I see his head! He's blond!" I didn't understand why we kept pushing for so long after that, but the nurse explained the baby's head seemed to be stuck. "Just push as hard as you can and his skull might mold enough to squeeze through!" they said. Then the doctor helpfully pushed the baby back in so we could try it again. And again. And again. "He's transverse, so his head is sideways and I'm not trained in transverse forceps delivery," the doc said after a couple hours, striking fear into my very core. All those things sounded scary.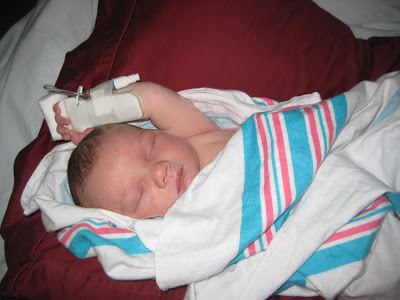 After three hours of this, she recommended going to the operating room for a c-section. I started to cry—labor fail—but I was secretly relieved because an end was in sight for the first time all day. Now I was really glad I'd gotten the epidural, even if it was turned all the way down at the moment, because it meant less wait before it was all over. "You'll feel pressure, but no pain," someone told me as I incoherently signed form after form. I'd filled out these forms weeks before, thinking, "Waste of time…c-section blah blah blah, disregard."
Again, I'd mentally prepared for labors like my family's. I didn't have another reference point, so when people talked about long labors and c-sections I tuned out. Mental preparation fail. Actually, I tune out when people talk about labor in general—that's scary stuff. I'd hoped I'd be a "The Good Earth" delivery person: the wife is working alongside her husband in their Chinese rice field, announces "It's time," delivers at home alone, then ties the baby on her back and rejoins her husband in the field a few hours later to tell him, "It's a man child," and get back to work. Instead I turned out to be one of those prairie wives who die young in childbirth, leaving her husband alone on the homestead out West. Historic personification fail.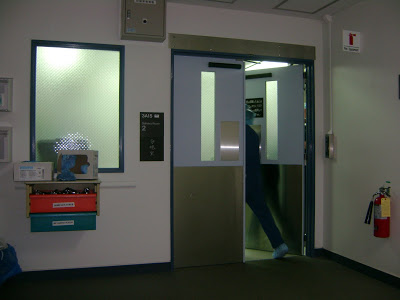 Anyway, I would say I was not mentally or physically prepared to be wheeled into the OR at 1am October 3. "Do you want something for anxiety?" the nurse asked. I declined, thinking, "Why would I need something for anxiety? They're numbing my body and it's almost over." Warning: gross fact: apparently they remove the uterus during a c-section, take the baby out, then stitch up the uterus and stuff if back in. GROSS!
And the baby was stuck in my pelvis, so I'm lying there under a sheet thinking, "Everything about pregnancy is so undignified…do not think about what all that yanking is," as several doctors and nurses pushed and pulled the baby out. Chris held my hand. Then the baby cried. I cried. Chris squeezed my hand, went to check on the baby and came back: "He's beautiful, Mari. He's perfect." The fingers on my left hand were tingling and numb. Then I couldn't breathe. I felt like my neck and lungs were closing; I gasped for air.
"What's the matter, Mari?" the anesthesiologist asked, slowly and evenly.
"I don't know! I'm freaking out a little because I can't breathe! Can I get whatever that was for anxiety?"
"Someone check her vitals."
"Vitals are fine."
I saw the anesthesiologist measuring liquid in a syringe. Then I woke up in a hospital room because a nurse was making a ton of noise banging around on a computer right by my head.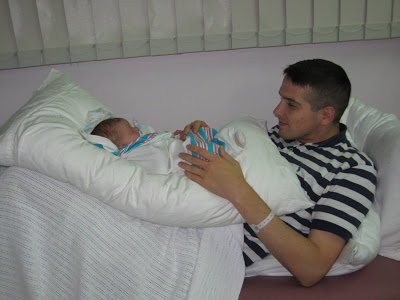 "Where's Chris? Where's my baby? Where's my mom?"
"Oh, you're awake. That stuff usually puts people out for 12 hours and it's only been two. You must have really needed it."
"Yeah, I was kind of freaking out."
"The baby's head was too big to fit through your pelvis, so even if he wasn't transverse you would have needed a c-section."
"What?! All that labor for nothing?"
"No, it's still good for your body to have labored."
"Says you," I thought, but instead said, "Whoa, without modern medicine the baby and I would both be dead."
"Girl, you can't think like that!"
"Well, I'm kind of thankful!" I said.
The nurse shrugged and turned back to banging on the computer.
Chris was right there. It was 3:30am. Two corpsmen pushed the baby in and gave him a bath, then handed him to me. "How would I know if this was my baby?" I wondered. I didn't see him come out. I've been out of it for a while. I thought our baby would look just like Chris. This baby looks like me—huge cheeks and my eyes. Everyone thinks he has Chris' hair. Kawaiiiiiiii! He snuggled at my side until my mom arrived back at the hospital a couple hours later.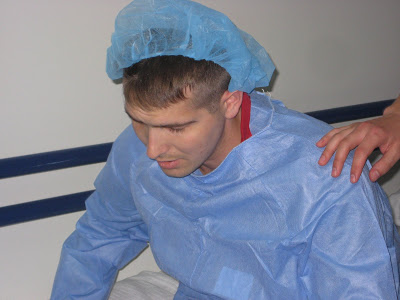 She told me she'd been waiting near the nursery for the baby to come out of the OR but instead saw a blue scrub-clad Chris lying on a hospital bed. My freak out—combined with the organs out on my stomach—put Chris over the edge ("I thought I was about to lose my wife!") and he just managed to exit the OR before blacking out. Aren't we a pair. We've done much better since. The baby and I both had to be on a million antibiotics; apparently I'd had a slight fever and uterine infection during labor because it was taking so long. We both had awful IVs that hurt and stung and made it hard to feed him, but after a couple days of people coming in to check stuff every 10 minutes we got to go home. And that is the beginning!