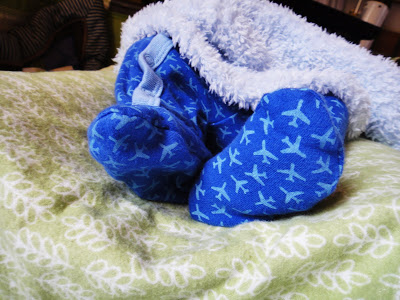 Unacceptable baby passport photos are the number one reason baby passport applications are rejected, says Yokosuka Naval Hospital. Fret not—following these easy steps will get you as close as you can come to a passably acceptable photo.
Step one:
Acquire a baby and dress him/her in the appropriate travel outfit of your choice. We recommend: airplane footie pajamas (
kawaiiiiiiiii!!
).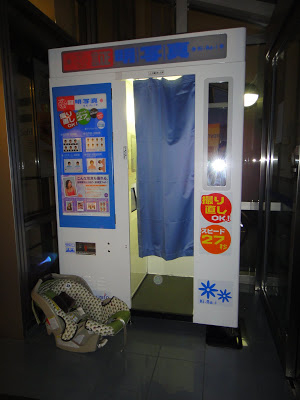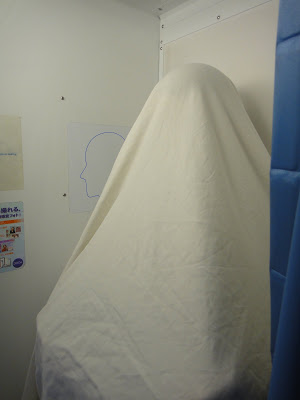 Step two:
Find a photo booth. If you go looking for the one that used to be in the food court, someone moved it to the awful no man's land between the automatic sliding doors. Annoying.
Step three:
Drape yourself head-to-toe in a white sheet. Look natural. If any part of you appears in the photo, REJECT! If anyone asks what the heck you're doing, wave your arms and make ghost noises. Their fault for asking.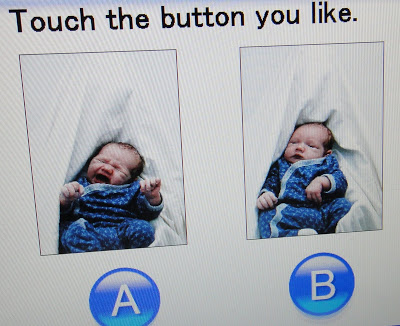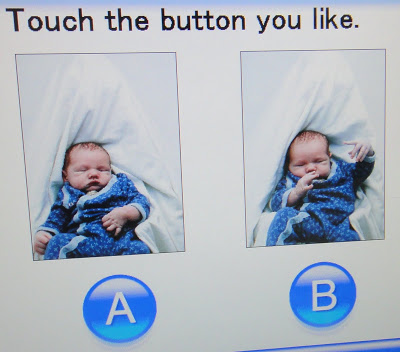 Step four:
Insert your 600 yen, select the 'passport photo' option on the touch screen, and prop up your selected baby. Try to distract or bounce said baby while the automated voice counts down from three and shoots a photo. Your goal: eyes open, head straight and aligned with the visual cues. From under a sheet?! Try again.
Step five:
Be annoyed that you get only two tries per 600 yen before your session times out and prints whichever ridiculous photos were last onscreen. Deposit another 600 yen. (Repeat steps four and five as needed. Also: wish the "touch the button you like" feature worked in real life: Hmm, screaming baby or sleeping baby…decisions, decisions….)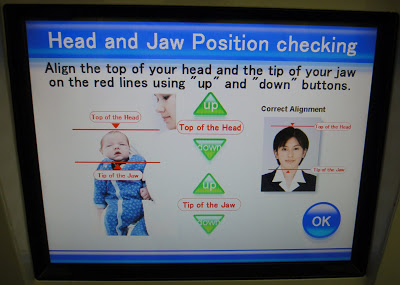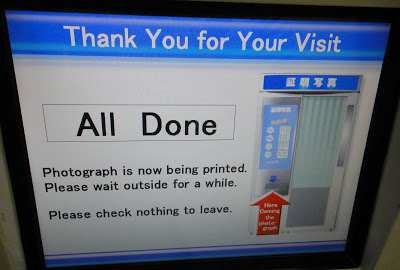 Step six:
Resort to a different pose—perhaps sheet-over-arms-holding-baby-head-upright. If photo is head-on and baby's eyes are open, proceed to centering the face onscreen as directed. Be sure to crop out any adult ears/noses/etc that may have sneaked into baby's passport photo to avoid possible REJECT!
Step seven:
"Please wait outside for awhile." Maybe that's why they moved the photo booth to the exit…?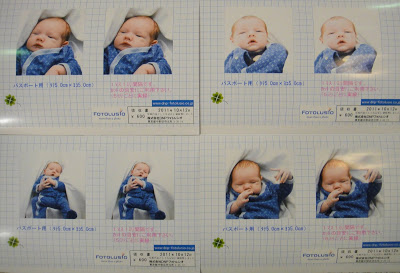 Step eight:
Review your many and varied passport photos. Try not to think about how much yen you just spent on ridiculous baby pictures. Hopefully you've had some success. If any of the photos are more or less upright, eyes open, and do not have floating adult body parts in them, congratulations! Add the picture to the stack of paperwork you're taking to the US Embassy next week!