Watching Hurricane Harvey blob over Houston from afar has been heartbreaking. Someone at church asked me, "Oh, did you parents leave?" I must have looked at her kind of blankly before nodding as I mentally waded back through all the things that have happened since they left two weeks ago: my sister, Hannah, had a baby (early), my husband left for training ahead of deployment, my sis was released from the hospital with her newborn just days before the storm hit, my parents' dodged a tornado that demolished a business in Katy, then they weathered the hurricane and long fitful nights of rising waters.
First of all, praise God for her baby's early delivery! Otherwise she could have been stuck in a furnished apartment in an unfamiliar area with three little kids and no way to a hospital—her due date was tomorrow.
Now all that's happening tomorrow is monumental amounts of cleanup. From thousands of miles away, I've prayed and felt helpless. And, I admit, the night North Korea fired another missile over Japan I may have had popcorn, chocolate and beer for dinner. I'm not usually a stress eater.
But anyway, the rain has stopped, the sun has returned, and I'm moved to tears by all my family has done—my parents went out in the floodwaters to cart friends from church to safety when their house flooded, my dad and brother-in-law, Justin, went to Costco to help supply local shelters with food, and my mom helped a flooded neighbor rip out interior sogginess. My sister—with four kids—even sounded upbeat about renovating the (flooded) house they have under contract as they move back to the city. I want to weep in admiration. Then there are the surprising plot twists of people I remember from high school as being such assholes doing very selfless things, and I think, "Wow, if nothing else, you've added great kindness to your assholery." May that be said of all of us.
Then today, the USS Kearsarge, the LHD3 ship Chris was stationed on in Norfolk, deployed to the Texas Gulf Coast to provide medical support, maritime security, and heavy lift air support (HELICOPTERS, WHAT!). Some of the guys Chris worked with and trained are still on that ship, and now it's off to support our family and friends.
It's been a gut-wrenching week to be so far from family—this is one of those times I truly feel the distance. I used to feel that being a Navy Wife was brave and important; these days it more often feels invisible and lonely. But seeing a huge ship like the Kearsarge, the vessel of so many of our tears and triumphs, heading to the rescue? I only feel proud. And maybe still weepy.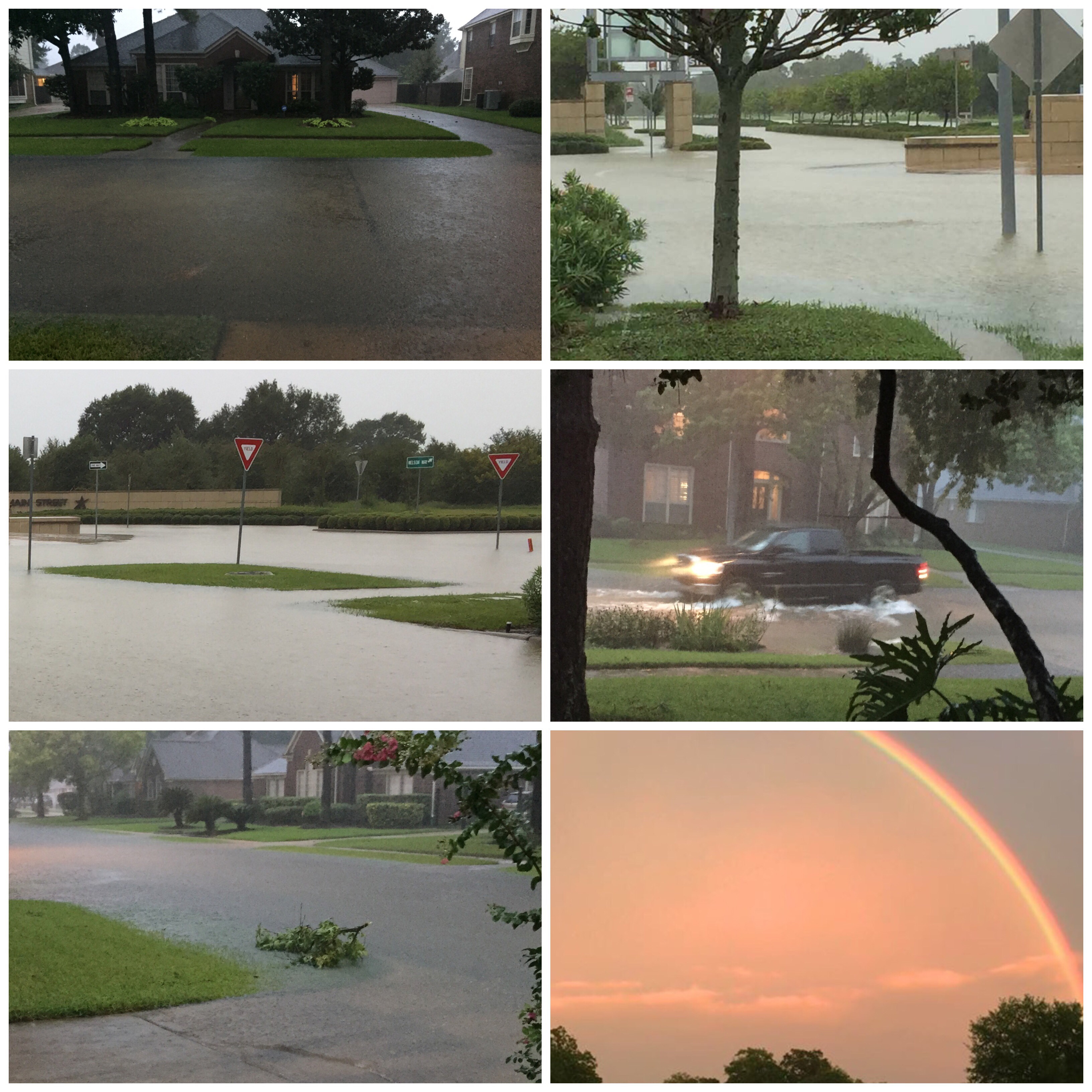 Here are a few of my parents' pictures of their street and nearby HEB, plus a rainbow pic I stole off Facebook.
You can do it, Houston! Just remember that drought five years ago! You'll dry out eventually!