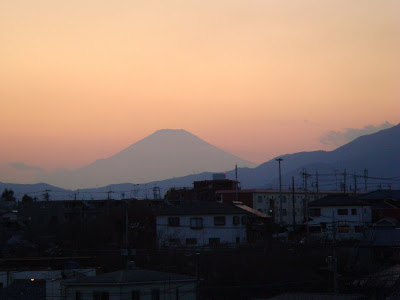 The thin, chilled air increases visibility so that Fuji-san silently appears with its hovering ladies-in-waiting cloud cover from November through March . This is usually thrown off around sunset. I walked up the hill to Seven Ereven to pay our gas bill around 4pm the other evening and was almost startled to see the mountain so clearly silhouetted against the pinkening sky.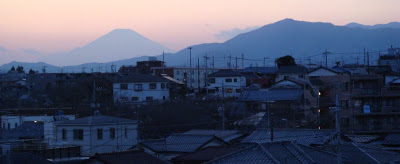 The park down the street that Chris and I sneak over to sometimes after dark on warm evenings to slide down the two story slide without anyone around to make fun of us is built on a hill. I've never been there at sunset. A fine discovery!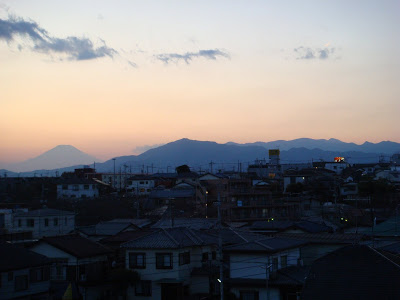 Living in the shadow…no. Living near the silhouette of a volcano forecast to erupt in our lifetime keeps us very aware of Japan's many natural disasters. So do the fairly frequent earthquakes we feel on a regular basis. Japan has spent a lot more money and done more planning regarding the aftermath of an earthquake than Haiti has, but even in the last two decades 6,400 people died when an unexpected tremor shook Kobe in 1995. I guess that eliminates a lot of the "I'm different from them" people do to psychologically distance themselves from victims of disasters as a coping mechanism to convince themselves they're safe, that "it couldn't happen to me." We have so much to be thankful for and so much to pray for.