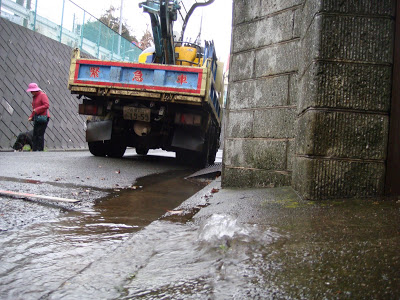 Everybody always says that as soon as your husband deploys something bad happens: your car breaks down, your kid launches himself into the curb face first, something like that.
So yesterday I notice the water pressure seems a little weak. Then this afternoon I hear a truck pull up and the doorbell rings. Usually if I don't get there right away the gas meter guy just puts the bill in the mailbox,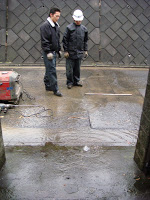 so I wasn't in much of a rush. Mainly because I was wearing ridiculous fuzzy pants and a housecoat. Don't judge me; I don't have central heating and it's rainy and super windy today. Anywho, I shed the housecoat and tried to do the Japanese thing where you barely peak your head out the door to see who it is. The guy standing there of course gestures to a small geyser bubbling up out of the cement in front of my gate and strings together a lot of Japanese. I look clueless. He says some more. His friend tried to help and says, in English: "Here!" pointing to the geyser of water. Oh, are you sure?
.
They both said some more and looked to me for a response. Hm, I pondered, realizing I'd left the privacy of my home in absurd white fuzzy pajama pants and slippers. Hm. They seem to want something. Either my opinion or my permission.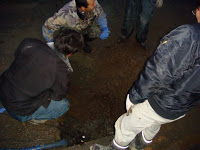 Not flattering myself–or my pants–that anyone would think we were an expert on municipalities, I tried to give permission: "Domo," I said, retreating inside to hide my fuzzy pants, then feeling like an idiot. What I'd meant to say was "Please, go ahead," or "Dozo." What I said was, "Domo," or "Thanks (casually)."
"Hey lady, we need to remove your gates to dig up the street and fix this water line. Is that ok?"
"Thanks and goodnight!"
Twelve hours later the water pressure is still iffy and I'm still feeling idiotic.