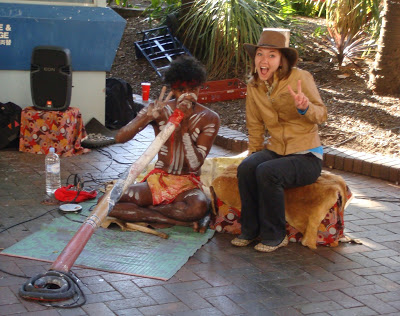 "Indigenous Australian" is preferable to "Aboriginal," said my guidebook, which was generally worthless. Everything was labeled "Aboriginal" and I didn't see anyone looking offended, except maybe the Aboriginal/Indigenous girl who stabbed a sailor in the face with scissors for no reason late one night at a train station in Perth, but whatever. Note: "Let's Go—Australia" leaves huge gaps of information where helpful information is needed. It left out important stuff like how much stuff costs, which is really annoying for planning. But fortunately Sydney is pretty easy to navigate sans-helpful guidebook.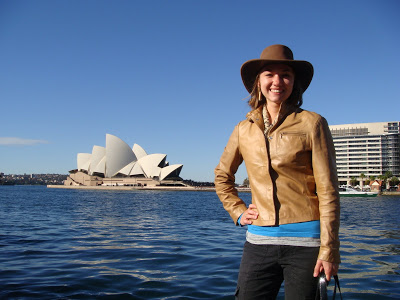 I'm probably the quadrillionth person to make comparisons between Australia and Texas, but with so much rugged land and strong, friendly, casual, independent people, where do the similarities end? And we all speak heavily-accented but easily-understood English. Ahhh.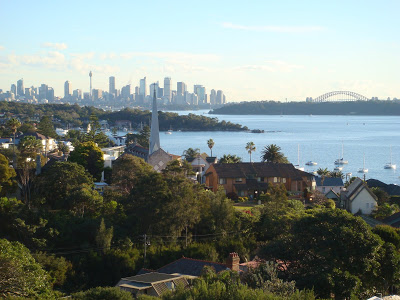 I think that was one of the things that was so satisfying about Sydney—just the right mix of familiar (English! Decent food! Everyone driving! Warm winters!)and exotic (South Seas! Exotic palms! Driving on the left!…Wintertime?!)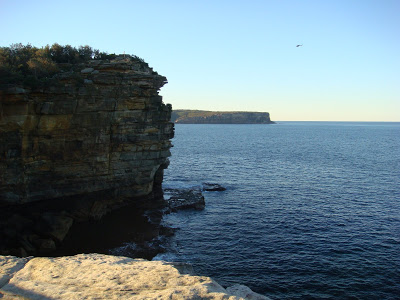 So my friend Chrissy and I did this totally fun hop on hop off tour that took us first around the city, then on a separate loop out to the cliffs and beaches. We hopped off and did some hiking, and Chrissy suggested I hop over the fence for some cool photos. Great idea! It was really far down. Oh yeah, THAT's why I'm afraid of heights.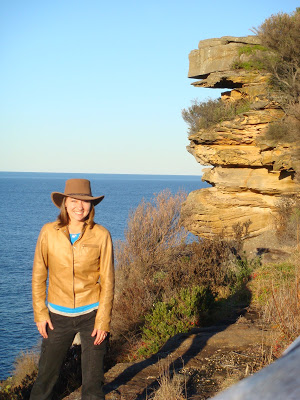 Then we saw this sign. Oops! That's quite a fine. Oh well no harm done. These cliffs behind the sign are the most popular spot in Australia to jump to one's death. So poetic.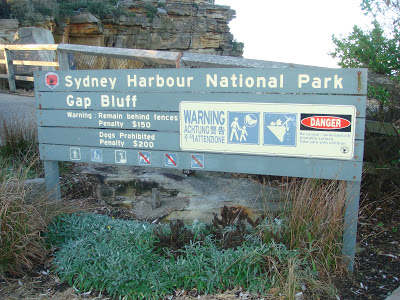 We made it out to the famous Bondi Beach ("Bond-eye." There. The only good my guidebook did me) just as the sun was setting—where there hasn't been a shark attack in years thanks to a nice anti-shark-and-crocodile net. So yes, this is a country where you don't just have to be legitimately terrified of sharks in the water; you also have to be legitimately terrified of saltwater crocodiles and poisonous jellyfish. Hopefully not within the net. July is the coldest month here and the afternoon got up into the 70s and lots of people in wetsuits dotted the waves. We made sure to touch the South Pacific.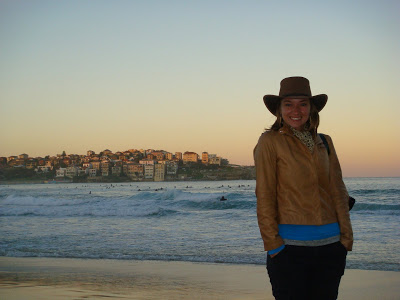 We hiked this fantastic trail along the cliffs to some smaller beaches as the dusk settled over the rocks and waves. Sandstone and limestone formations undulated along the shore and we could hear the water roaring into aqua and white froth far below our feet.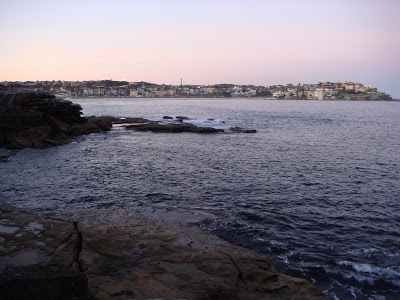 This picture with the wingtip is obviously from the night before as we were landing. That's a pretty cool first glimpse of Sydney!