We will have been in temporary housing for about three months by the time we close on our house, maybe longer…I don't want to think about it. Instead, I bring to you: Motel Living—a guide to better living in makeshift housing.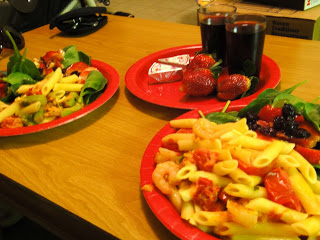 In this first edition of
Motel Living
we'll cover dining and ambiance. Eating out all the time: the novelty wears off. Expensive. Everything starts to seem greasy and unappetizing. So don't. I congratulated myself as I poured this 280mL box wine (Target's cab sauv/shiraz Wine Cube—Thanks, Han and Justin!) into two of the standard-issue tiny juice glasses in our bachelor's officer's quarters (BOQ), "Hee hee, look at us making do with what we have!" I handed one to Chris, who said, "This plastic cup decreases my enjoyment of this wine." "On the contrary," I said, "I was just thinking the opposite." (plastic
cheers!
clink)
I arranged single-serving cheeses, fresh strawberries and our plastic cups on this nice tray. Ok, it's a red paper plate. Eating on paper plates is less depressing when they are cheerful red.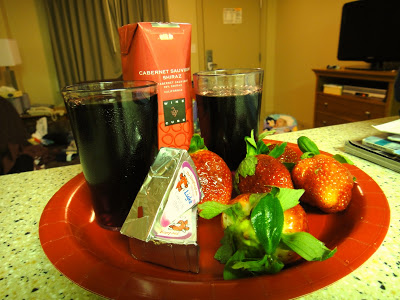 I sliced some more strawberries onto a box of pre-washed baby spinach and topped with dried cranberries and balsamic vinaigrette. Our main course when we eat in is usually one of those frozen meals, like Bertolli's. They're my favorite at about $5, and you dump the entire bag into one quart-sized plastic Ziploc bowl and microwave it, then scoop it onto (cheerful red paper) plates. Christmas candy for dessert, et voila—we have a decent dinner for one-third the calories and way less than the cost of eating out. Plus, it doesn't interfere with the bedtime of a certain three-month-old: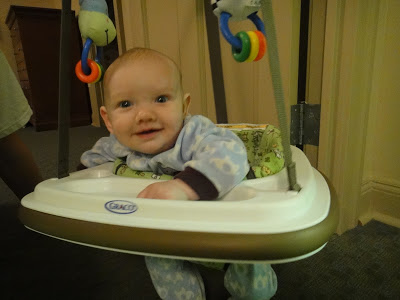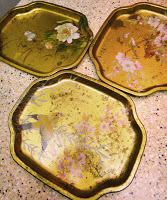 Another important aspect of
Motel Living
: Ambiance. As mentioned previously in some tiring rant, we've been in eight different lodgings in the last three months, and living out of a suitcase for six of the past 12 months. Small personalized touches go a long way toward making a temporary location feel like your own. Don't be satisfied with motel decor when they're something you can do about it! Get to work!
I found a set of three Chinese-style vintage English trays for $5 at Alyssa's Antique Depot (4586 Chumuckla Hwy, Pace, FL). My parents got us a set of remote operated, flameless candles for Christmas that make the whole living area smell like vanilla. The six large and medium candles adorn our hearth…er…tv stand. The smallest three on one of the vintage trays atop the coffee table: so cute! The gilt surface reflects their flickering glow.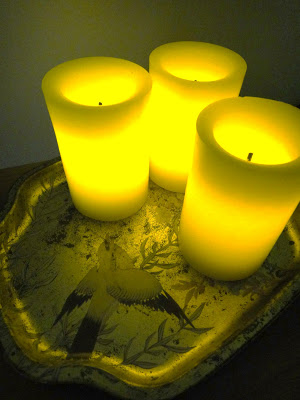 Other uses for these totally useful trays: One tray relocated to a shelf to corral jewelry and makeup. Brushes and eyeliners look much chicer when their plastic cup lives on a golden tray. Another catches my hotel key card and phone as I come in the door, plus stray pacifiers and floating personal items.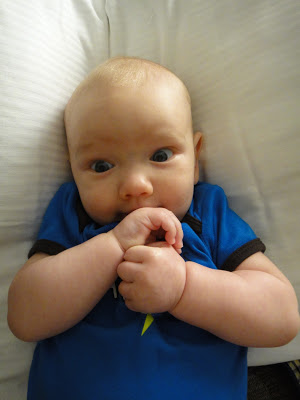 did someone say pacifiers??

That's all for tonight! Future Motel Living installments include: Beauty Products that Travel, Motels with Tiny Babies, and Microwave Cooking for Two! What are your best tips for Motel Living??