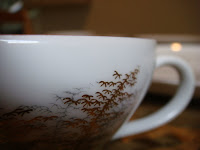 One day I started rethinking my decision to not register for any matching plates. I wanted to avoid having high-priced, fancy-dancy China in nice hutches that we never ate on. Plus, I liked my mis-matched but coordinated solid black and black-and-yellow taxi cab plates along with the conglomeration of salad plates. But once in awhile it sure would be nice to have a grown up dinner party with nice China, especially when our families are in town. So I told Jerry, Chris' dad, that for my birthday I would like the bea-u-ti-ful China he bought for his mom while serving in Vietnam. This is cool: he bought it in Atsugi, Japan on leave or something!! Jerry offered it to me a couple times leading up to the wedding, but my eyes were blinded by the daunting task of moving all our junk and not wanting to hurt the dainty dishes. There wasn't really room for it in Pensacola, anyway, but now—BUT NOW!—here they are in all their delicate bone-China-with-hand-painted-bamboo-leaves glory.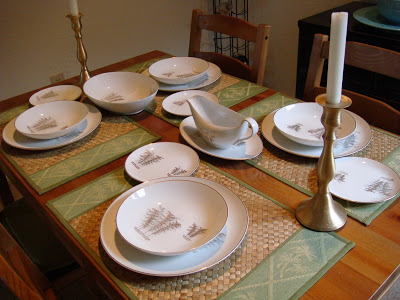 Dinner plates with soup bowls and bread plates (showing four of 12) along with a gravy boat and serving dish.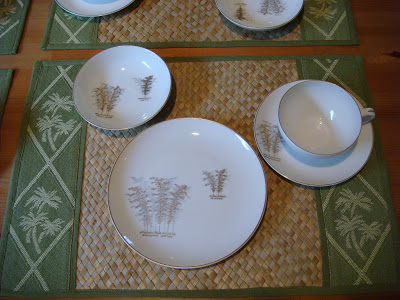 And stay for dessert! Dessert/salad plates, dessert bowls, cups and saucers. Each place setting has six pieces…I'm not exactly sure what they all are, but I had a pretty fun time rearranging the table. Problem: now I want a bigger table…. 🙂 Thank you Jerry!! I love my birthday present!