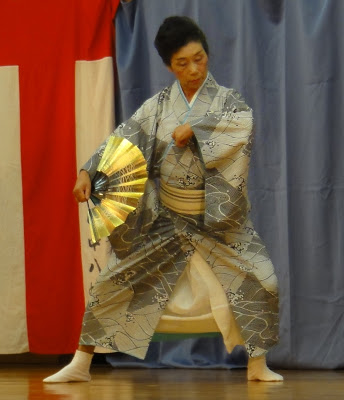 Japanese dance is captivating. I'm neither super-emotional nor very artsy, but the lanterns, the late summer evening, the dropping temperatures and a sprinkle of rain beneath a fat and growing moon—combined with the haunting lyricism of the music and the tortured beauty of the love-suicide fan dances—both swells my heart and brings me close tears. Studied, careful steps; a deliberate and steady gaze; a flash of gold as the dancer twirls her fan—I kept thinking, "I'll leave as soon as we get past the interesting dances." The festival ended two hours later. Early on I watched from the back of the crowd, inconspicuous behind a torii gate; by the end I was sitting on the tatami mats unrolled in front of the stage.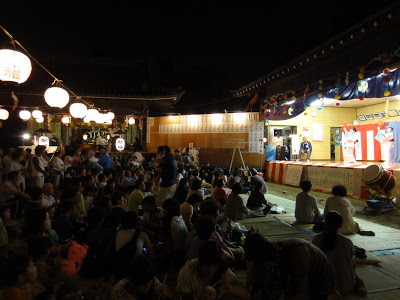 Sometimes I get so tired of living in a foreign country—inexcusable traffic to get half a mile, the lack of central air conditioning and sink disposals, a terrible exchange rate, cultural miscommunication, being so far from family, questionable food options (I've seen it a million times but I still can't get used to the handfuls of tentacles pulled from a bucket and thrown onto the grill, then eaten with barbecue sauce and zero irony).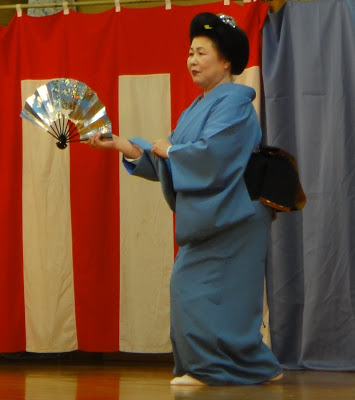 But ultimately it comes back to this: Japan is deeply satisfying—I came here to find adventure, beauty, culture, the exotic. I found all those, plus a deeper love for my husband, an exponentially greater experience of God's faithfulness, a new kind of friend that feels like family, and peace.

Tonight I planned to do nothing. I planned to sit at home alone with Mouse and Pounce and clean my house and watch television. As late as I've been getting home recently, that sounded ideal. Then I decided to check the local temple and make sure tomorrow's festival wasn't actually tonight. Whoops, it was. Just after sunset the food stands were up and serving and the stage was open and lit. I've never seen it like this before! Something must be about to happen!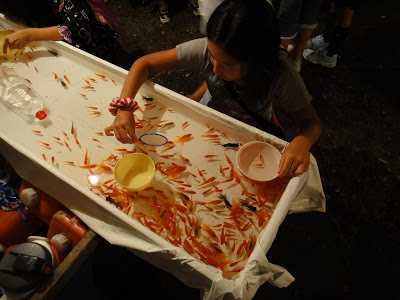 Too bad I was the only person there alone—no one wants to be the creepazord foreigner lurking around the neighborhood family festival. Le sigh, if only I could rent a child or a ridiculously tiny dog (less creepy, but weird). I put Mouse in his little kitty harness and leash and took him over but the kids and lights and drums freaked him out, so I took him home. Good think I only live three blocks from here.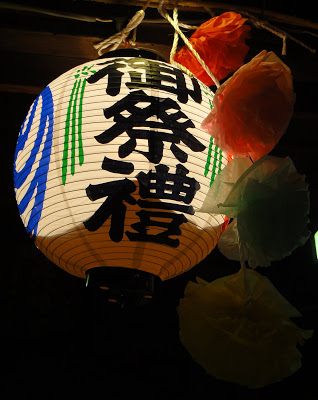 The third time's the charm. I bought some cotton candy and watched the Autumn Festival proceed. I like that all the performers were older (probably their late 60s+). It's interesting to learn the Japanese view of roles. I learned recently that upon graduation from university most people have a job lined up and they will hold that job the rest of their lives. Women get baby leave (3 mo.-2 years usually, at which time the baby goes to nursery school, which costs close to most women's salaries, until the kids are old enough to start regular school). If women choose not to return to work when baby leave ends, they will never be hireable again because good companies only hire people right out of college. I'm sure this is overly simplified, but that's how it was explained to me by some Japanese ladies.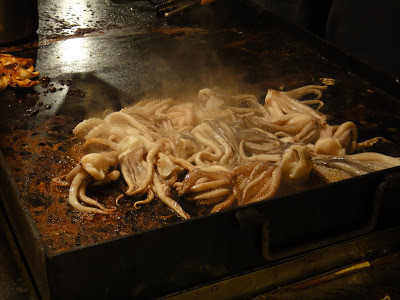 Anyway, I think this same mindset continues into a super-active retirement. They take classes most days, practice languages, go on field trips, plant flowers all along the river, dance. To the extent that there are enough skilled women to fill up an entire playbill just in my neighborhood! ALL that to say: I think it creates a healthy attitude about age; who wouldn't want to get older if it meant studying the classical Japanese art of fan dancing and performing for the neighbors (plus one creepazord foreigner)?? And there were all kinds of dance—fan dances, Bon Odori-style, parasol dances, comical dances…fascinating! And to go along with those dance lessons: delicious tentacles and zero irony.