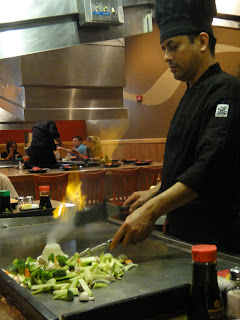 That guy doesn't look Japanese! He was in fact Mexican.
I was dressed and ready for our date when we discovered there had been a miscommunication; the babysitter was not in fact coming. Chris announced, "Family date!" and salvaged the evening for fun.
We had a coupon for a local Japanese restaurant. We were seated beneath a blaring tv next to a table of teenagers ignoring each other in favor of their cell phones. What would you like to drink? Sorry, we're not serving Asahi, Sapporo or Kirin. No beer of any kind, actually. We looked at each other. Chris paid for his iced tea and we left, salvaging the evening for fun yet again!
Minutes later we pulled up chairs to the hibachi at Nikko Japanese Steak House. A Japanese restaurant with 'steak house' in the title is promising. Chris got a Sapporo, an Asahi for me, and we split a sushi roll before the hibachi show began.
Clanging utensils, flying egg tricks, flames and fire—Captain Goodbaby was mesmerized. He slurped my soup, sampled a sushi roll, stuffed handfuls of fried rice into his mouth, slung noodles, gobbled up veggies, raved about the scallops, and ate all the steak we fed him!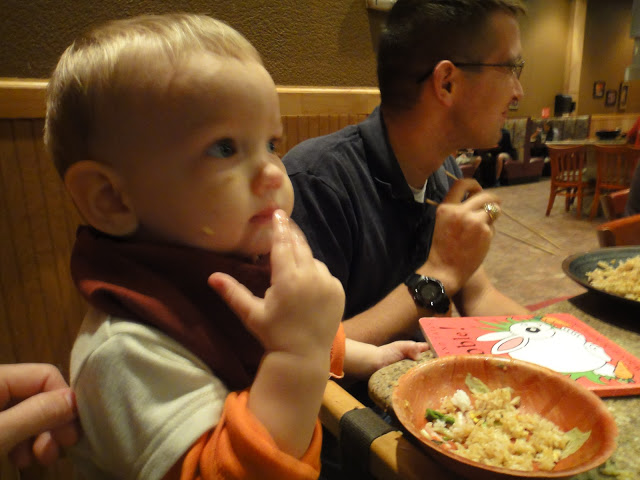 Fiiiiiiiiiiiiiiiiiiiiiiiiiiiiiiiire….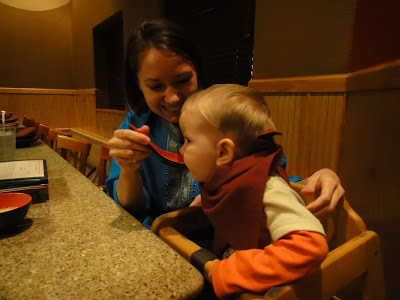 Miso hungry
This was our celebration of our Japantiversary. My sister, Hannah, coined the term 'anti-versary' to refer to the anniversary of something ending, or an anniversary you no longer celebrate, hence Japantiversary: we moved Stateside from Japan last year on November 10. This made us a little sad; now we seem that much further removed from a big chunk of our married life. One 2012 New Year's resolution was to not talk about Japan all the time, but we'd comment to each other, "A year ago we were going to the Star Festival," or "We went to that tea ceremony a year ago today," etc etc. Anyway, the real problem is that we're remembering how awesome it was and forgetting how it took days to dry the laundry, was a painfully long flight from family, and we don't actually love Japanese food. This was the first time we'd had Japanese food since we left! Which brings us back to the hibachi Saturday night.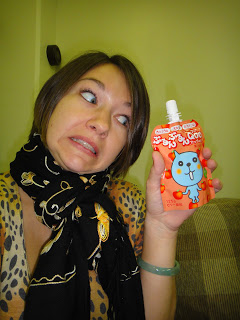 It's…how old??
"I like how it wasn't actually Japanese," Chris laughed as we crossed the parking lot. "In fact, Isaac was probably the most Japanese thing in there!" The chef was from Mexico, the rice and noodles were Chinese-style. The miso soup at least was Japanese. YUM. Also, we congratulated each other for having been to Nikko, the restaurant's namesake.
So, a brief word about the day we left Japan a year ago. That morning we woke up in the base motel and set off the fire alarm making breakfast. Whoops. Then we said goodbye and it was really hard. Total travel time by the time we'd get to another BOQ would be nearly 30 hours.
We'd cleaned out the fridge and found this gelatinous goo in a pouch, one of two I'd purchased the week we arrived in Japan. It was over three years old. The other one wasn't super delicious, so its twin sat around…and sat around…and sat around. YUK! It met its fate in the airport trashcan.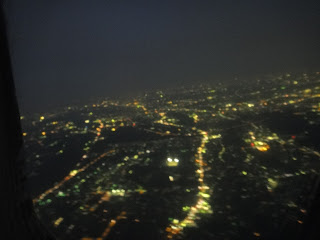 Bye, Japan!
Then we got tickets on the Patriot Express leaving from Yokota, but the seats were already claimed. One guy tried to exert his right to the seat with the flight attendant by saying, "I've been in Korea for two years." Don't play that game, kid. Sit down. Anyway, Chris got our seats sorted out and we took one final look at Japan as we lifted off, little knowing it would be a full year until we would set foot in a Japanese restaurant again. Goodbye Japan! Hello, Pensacola! And that pretty much brings us up to speed.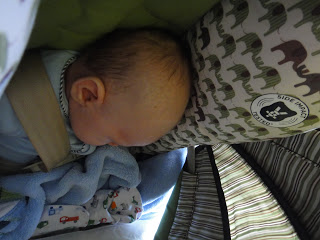 Captain Goodbaby (5 wks!) slept almost the entire flight.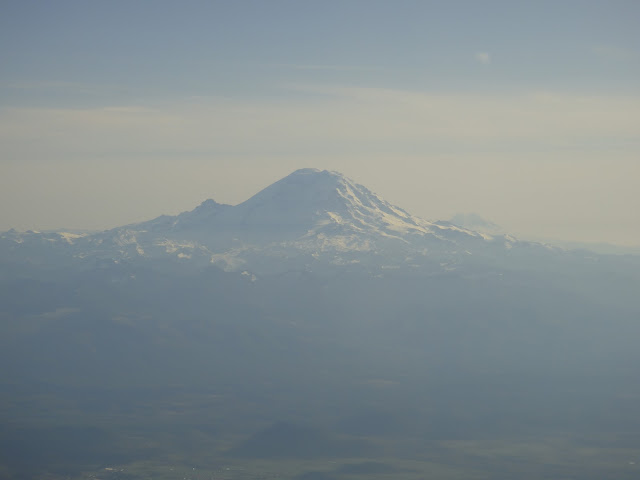 Oh say, can you see? Mt. Baker near Seattle