Reviewing books always ranked high on my list of dream
jobs. At one newspaper I used to work for, the page layout girl and I discovered all sorts of publishing companies would send free
books and sometimes stationery for us to review.
"But y'all have to actually review them," said the editor.
"Right," I said.
"That was the point," she said.
And we got to keep them! We won't analyze too closely the cost
of a book vs. the time spent reading and reviewing. Rather, we will celebrate
the symbiotic relationship that gets me books for free (and which I'm happy to
loan out)! So it is with giddy dork-laughing that I announce: I got a review copy
of this book. Score!
Ian Cron's dad is an abusive alcoholic who's friends with a lot
of well-dressed suits. Occasionally Ian finds pictures of his dad with
celebrities, or say, the president. Ian tries everything to get his dad's
attention, and even risks becoming just like him. Ian's memoir ranges from
all-American to seriously messed up and is sprinkled with stories of his
spiritual journey from alter boy to rebel to priest.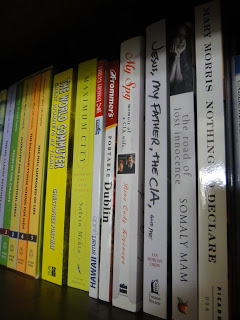 I'm nosey, and this book is juicy. Cron's writing is intelligent,
fast-paced and witty. Cron's dad's alcoholism messed up their family
emotionally and financially. That's the focus of the story. Cron longs to be
close to God from a young age, but wonders if he's lovable since his own dad doesn't
even notice him. That broke my heart. I like Cron's descriptions of Jesus tying
a rope around Cron's waist as a kid and tethering him his whole life until he
draws him back. I love stories where people can't get away from Jesus, and Cron's
spiritual journey is NOT cliché, trite or untested—fascinating!
I was slightly disappointed by the limited and vague stories of
his dad's CIA affiliation. I kept waiting for a big reveal that never happened,
but Cron's own story is engaging enough that I didn't really mind. Maybe "CIA"
shouldn't be in the title. But I admit, that's why I picked it, and I
enjoyed it.
You can find this on my bookshelf next to "My Spy: Memoir of a
CIA wife" by Bina C. Kiyonaga.