My friend Kacie makes necklaces, so she took me to a bead shop nearby for some Friday afternoon fun.
I've seen several catalogues pushing animal-print neutrals for summer, often in conjunction with travel and safari-type clothes.
So I made this necklace with that in mind. I love black and bone together (hmm, also the colors in my wine-box desk!) The center plumeria blosom is black onyx, the bone beads are, in fact, carved bone, and the giraffe-print beads are imported stone from Taiwan. Love it! Ihad extra beads, so Kacie suggested these matching earrings. 🙂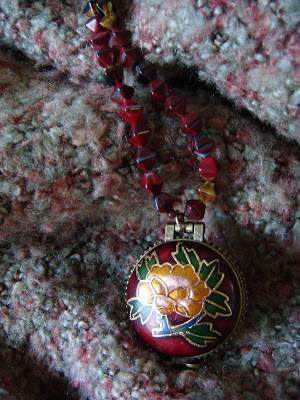 Chris has promised to get me a real locket before he goes on a deployment. Tres romantic! But I made this little charmer to match my outfits on The Great Sister Trip of 2008.
The locket is just big enough to carry ibprophen or something. Handy-dandy. Problem: I can't get it to stay on the string! The little attachment loop won't stay clamped enough; no matter how much I tighten it, it just untightens and slips off. That is no good.