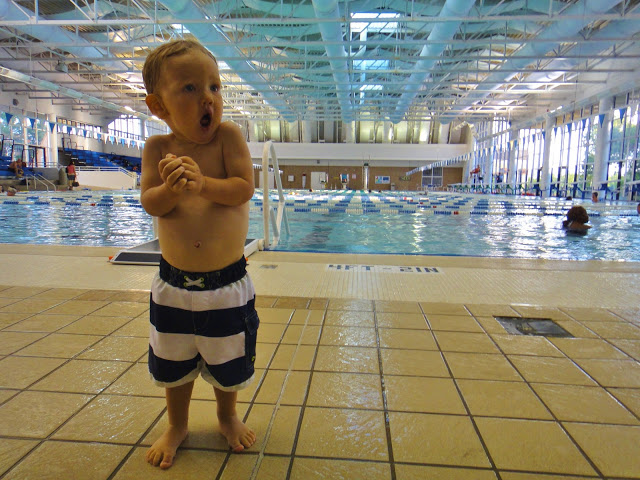 Swimming lessons at the University of West Florida are going just swimmingly…most of the time. Tuesday night Captain Goodbaby cried loudly the entire time. I guess he wasn't quite over that cold. Last night he was back to loving the water as usual. This Goodbaby loves the water more than is good for him. Memorial Day weekend, for example, he took a fully-clothed dip into our friends' pool as we were saying our goodbyes.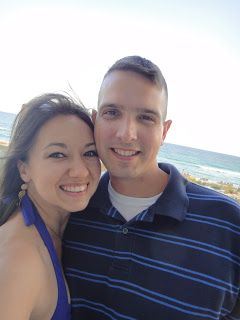 parents of the year
I've been slightly mocked for my obsessive diligence with water safety, but seriously, water is too alluring and too dangerous not to. And as a lifeguard at our neighborhood pool in high school, I was surprised at how quietly kids started to drown. One time when I was the manager of our pool I pulled a seven year old out of the water and my assistant manager looked at me blankly and asked, "How did you know he was drowning?" …? Are you serious? Go home. Don't come back.
Anyway, so the whole afternoon Chris and I were all about eyes-on-kid constantly, and in the two seconds we turned to say goodbye, splash! The Goodbaby had to have that ball floating just out of reach. He didn't sink. He turned and was reaching for the pool side when we yanked him out of the water, but still. Swim lessons. So most of the time we are enjoying those, and we see Isaac's little buddy there, and sometimes Chris can come, so that's fun.
In tot news, Isaac has started pointing to letters and saying some of their sounds. We can engage him in little conversations, and he asks questions: "Where'd Dad go?" "Cartoons? Cartoons? CAAAAARTOOOONS?" He likes to color and gets really excited about my awesome drawings of shapes, helicopters and palm trees. He asks for help when he wants to get undressed to go swimming in the buff. I embellished one of his books with tickling, and when it was bedtime I asked if he could read the book to Bear. This delighted the Goodbaby, and he tickled the bear enthusiastically. He's also decided to be exactly like Dad. He saw Dad lounging on the floor, climbed out of my lap, and lounged just like Chris. He tries to sit in Dad's chair instead of his booster seat. He mimics Chris constantly. He's pretty much the cutest thing of the face of the planet.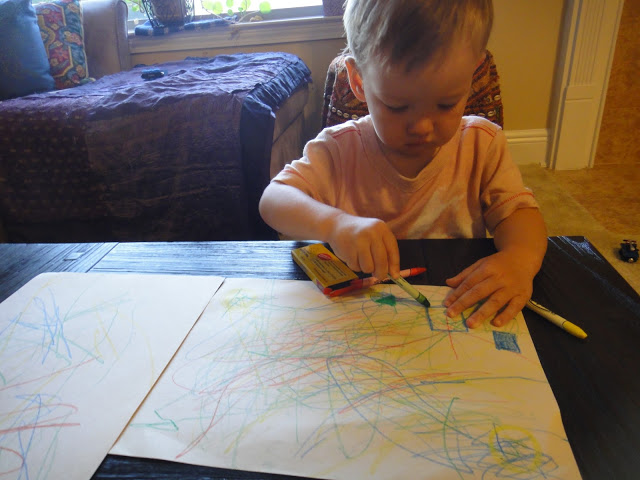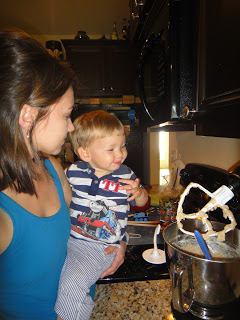 Making wheat bread with my mom's fave recipe
In adult news, Chris is transitioning to teaching brand new helo students how to hover (yikes). That means less flying at night and an almost regular schedule some weeks (yay!). He loves attending baby swim lessons and hopes to translate that into coaching kid soccer some day.
I just finished this free fun online class through coursera.org. It was a child nutrition and cooking course by a Stanford prof with young kids. Isaac loved watching the short cooking videos with me, and then he'd help me in the kitchen–so cute! And surprisingly helpful. We did little assignments for peer review and got a certificate after finishing all the quizzes (Chris loves certificates, so he was impressed).
I started freelancing for the local Santa Rosa Press Gazette about a month ago and am really enjoying it. I do interviews over the phone and write articles during nap time or after the tot is in bed. This works well because I find writing meditative and relaxing, and when Chris isn't working late he usually has reading to do for his JPME course. When my articles need photos, Isaac comes along. So far he thinks this is great fun. After Isaac was born I wrote a couple final articles for the Stripes Kanto, the free weekly newspaper on base that I occasionally wrote for in Japan, but this is the first freelancing I've done since then. I wasn't sure how it would work, but the editor was very understanding and encouraging. It made me excited to try it, and it's been working well.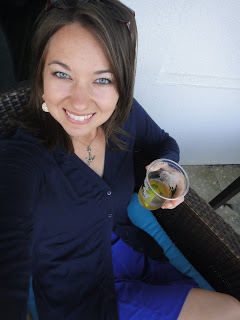 date night
I think I mentioned I got stuck being our spouse club president like a sucker a few months ago. We've been trying to do more hangouts—meeting at the park or the pool on base. Sometimes people even show up. Other than that, the Goodbaby and I continue to go to the OCF ladies Bible study, go on frequent bike rides around the neighborhood, visit with his little girlfriends in our neighborhood, moo every time we drive past the fake cow on Berryhill Road, build lengthy train tracks, and go to the doctor constantly (apparently I have a sinus infection and may have had allergies for years, possibly the reason I'm always sick).
About a month ago I read about a stargazing event out at Fort Pickens on the beach: amateur astronomers set up massive telescopes from sunset to 10pm. I immediately hired a babysitter and planned an evening around it. Chris and I have been wanting to try out Landshark Landing on the beach for burgers and our favorite beer. They don't take reservations, so we showed up last Friday and went to the bar. They have Landshark on draft, so of course we got that, and then the bartender said, "Are y'all with the wedding party? Well then you need to leave." Dang. I knew something was up when I saw an elderly woman in a wheelchair and someone with an infant at a bar = a wedding or a setup for a lame joke. Turns out you can dine alfresco at the Frank and Lola Love Pensacola Cafe, so we still had beachfront burgers—success!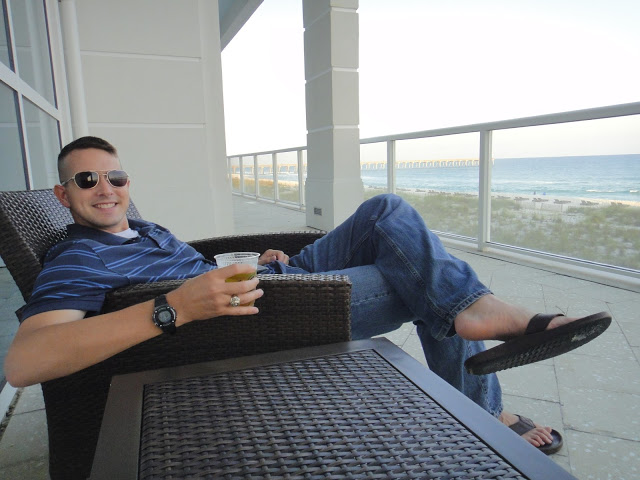 date night on the beach
After sunset we headed out to the national park. The gate was down. We managed to pass that hurdle and proceeded on to the empty parking lot where the telescopes were supposed to be. It was cancelled. Prior verification fail. Instead of stargazing through telescopes, Chris pulled out his iphone stargazer app and showed me the north star. So it wasn't a total loss. We are disinclined to pay for a babysitter and drive over an hour out to the fort again, but it still sounds cool, so check it out. Next opportunities to gaze are: August 2, September 6, October 4. May you have better luck! Let me know if it's awesome.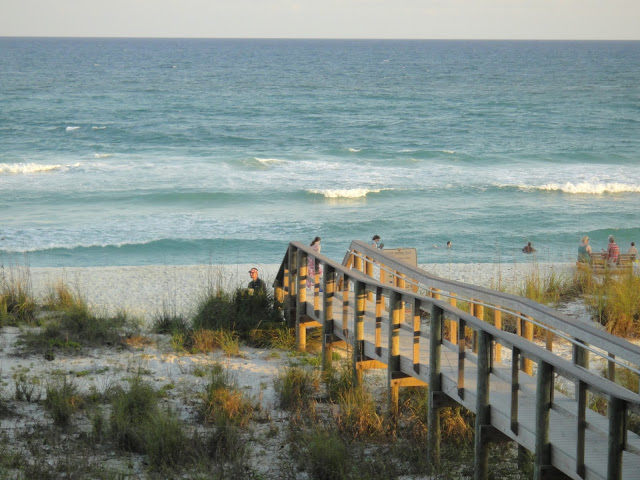 sunset at Pensacola Beach