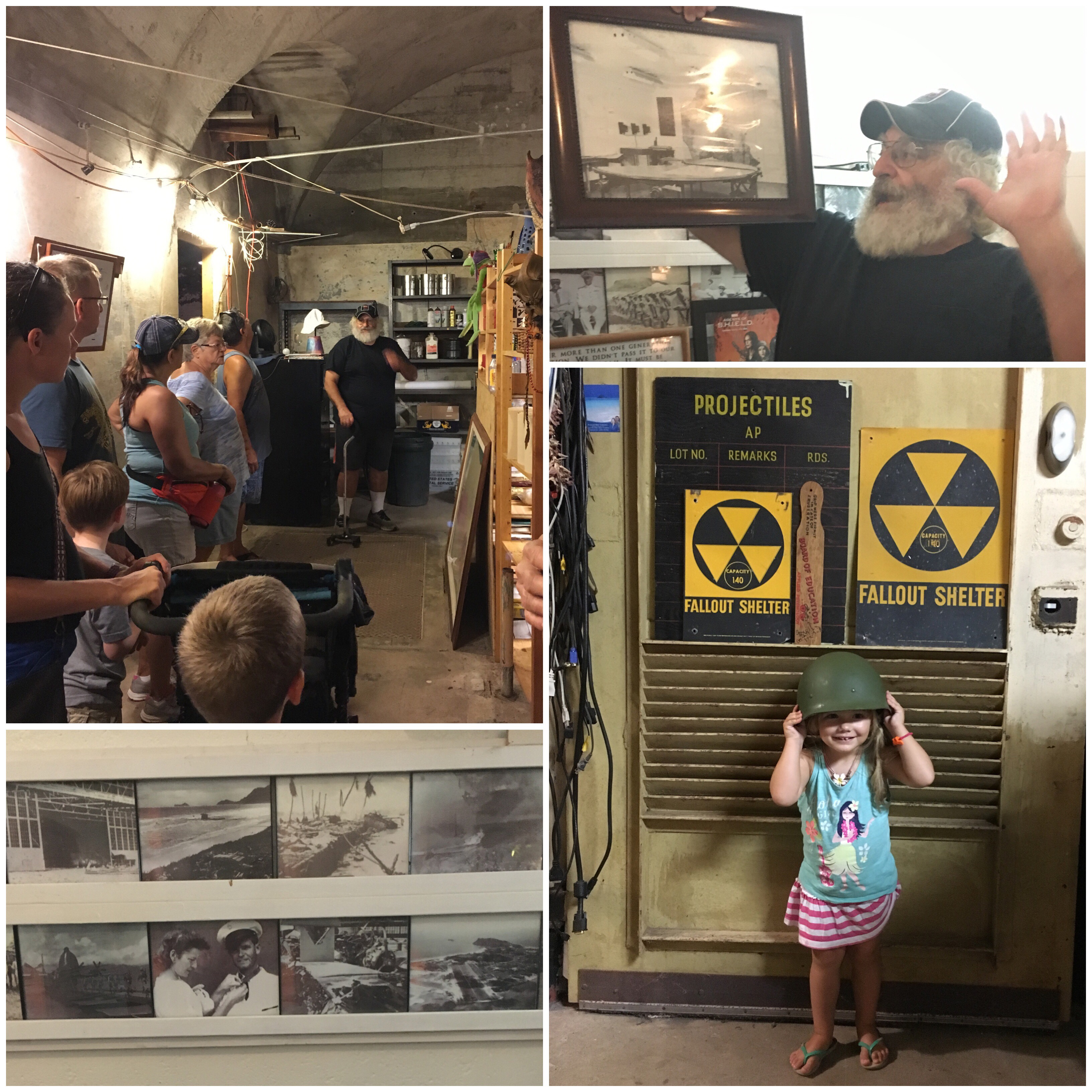 Outside the bunker the soldiers readied the gun that had sat atop deck of the USS Arizona just months ago, before she settled into her final resting place at the bottom of Pearl Harbor. With the preparations complete, the men ran behind the cement barricade behind the gun. If they didn't get there in time, the shock waves could be lethal—ship guns weren't meant for mountains. As it was, the recoil was enough to crack the water tower on top of the mountain. At the mayor's request, the military agreed not to shoot the gun again unless the base came under attack.
In the years after the Pearl Harbor attack, tunnels were blasted out of the hills that separate Kailua from Kaneohe. Air purification systems were put in place in case of gas attacks. Maps hung in the war room 400 feet below the mountaintop.
Then the end of the war left no real need for the facility, so it was declassified and sold to a mushroom farmer. Restoration efforts began in 2000 when the property changed hands again, and now it's owner, Gary, has a data storage business deep underground.
Saturday morning I saw a community notice about a garage sale AND TUNNEL TOURS benefiting the Hawaii Animal Sanctuary. So you know we were all over that.
"Why did WWI start?" Isaac asked when I told him we were going to go see some old bunkers. We talked about the Great War leading to WWII, and good guys and bad guys, and we may have talked about atom bombs a little.
"Is this one of the three rumored fallout shelters in Kailua we hear about anytime North Korea fires another missile?" I asked Gary.
"Probably," he said, "but if anyone's going to bomb Hawaii, they'll bomb the other side of the island and we'll be somewhat protected by the mountains. But it's such a small island very few people would survive it anyway." (just ME in my BUNKER! I'd be thinking if I were him)
He continued, "The real threat is tsunamis. Some of the tsunami safe zones would actually be underwater. And once the water came over the beach front, the land behind it is lower, so the water would just sit there for a long time."
Also, lots of barrels of radioactive waste were dumped in the nearby dump during WWII, and apparently the marsh we live near consistently tests high for heavy metals.
Anyway, so the bunkers were cool, and now we know: if a nuclear bomb hits the island and triggers a tsunami, maybe it will wash us into the marsh and the radioactive waste will help us all sprout gills and tails, and we'll have a new reality series called Waterworld: Hawaii. Now isn't THAT terrifying?