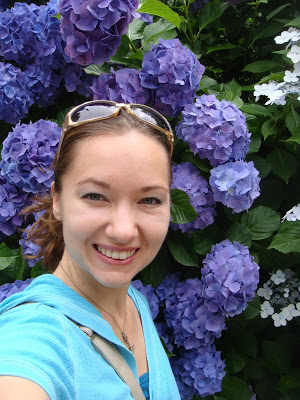 Kamakura in general and specifically Meigetsu-in Temple are famous for hydrangeas! In fact, Meigetsu-in is commonly referred to as Ajisai (hydrangea) Temple. I told some Japanese friends I wanted to visit the temple this weekend and was cautioned it would be very crowded—as in two-hour-line crowded! Weekdays are better, they advised. So with no pre-planning, I hopped on the train today and squeezed in a visit to Kamakura despite having Happy English Class and an afternoon shift at Ichiban Collectibles. Totally worth it!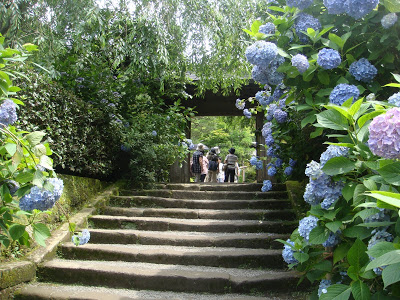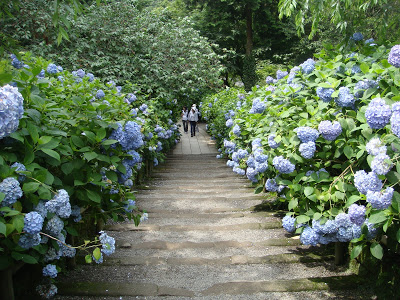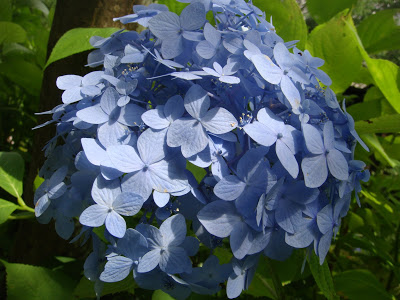 The temple was founded in 1160 and is famous for this round window which looks out over a small raked rock garden, a pond and an iris garden. The tatami room inside offers tea and rice cakes. Other features of the temple grounds include a larger raked rock garden that expresses the Buddhist view of the world (???), a grotto grave, "Moon-smiling" teahouse Gesshoken and a path of weathered Kamakura stones (first photos). Also, the temple brochure/map had a bunny on the front and there were bunny statues and live caged bunnies around the grounds.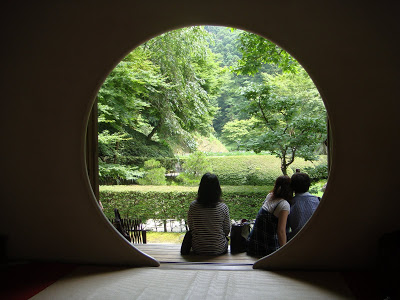 "For 37 years
I held the mirror of karma high.
Now with a smash I break it to pieces,
And the Great Path falls away."
Deathbed poem by Hojo Tokiyori, who had a different name for himself after he entered the Buddhist priesthood and another for after he died. That's too many names to write here. It is unclear which name should get credit for this poem.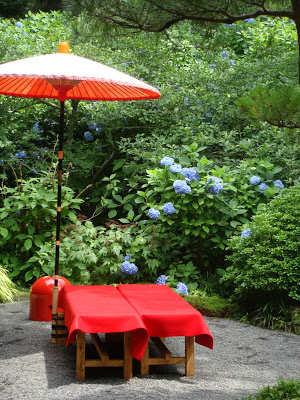 Did you know many kinds of hydrangeas actually originated in Japan? The Kanto Plain is especially famous for blooms of deep purple and vivid blue thanks to the volcanic soil's high acidity. I am particularly partial to blue hydrangeas. Four years ago in May my mom and I walked around our neighborhood discussing the details of my and Chris' upcoming wedding every morning. We'd pass bushes of blue hydrangeas and ultimately decided that was the ideal flower to complete the bridesmaids' bouquets and pull the wedding colors of watery blues and greens into the floral arrangements. So blue hydrangeas always make me think of wedding planning, my mom and my and Chris' wedding…and now I see them everywhere!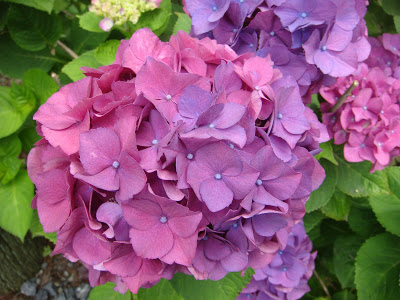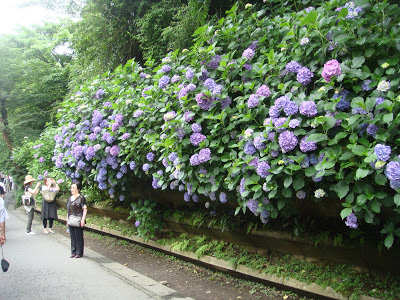 I read somewhere that snails on hydrangeas (especially in poetry) are synonymous with Japan's late June rainy season. So far this rainy season we've actually only had a few days of rain, and today especially was cooler than the muggy mid-90s temperatures we'd been having but still hot enough to feel satisfyingly summery. I got to use my new vintage fan. No snails, however.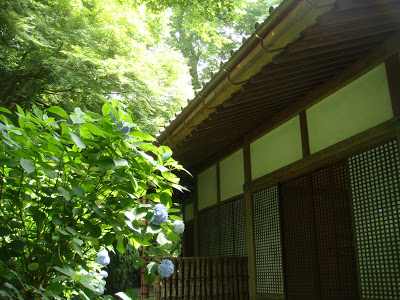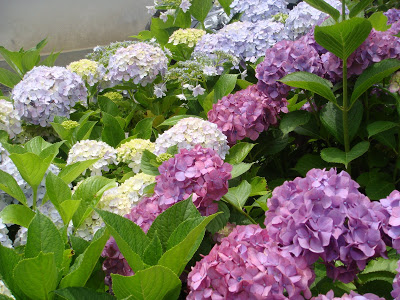 Getting to Meigetsu-in is easy! Take the Yokosuka-Sobu Line from Ofuna to Kita-Kamakura Station. It's just one stop north of Kamakura Station. Find one of the maps outside the train station to locate the temple from there, or just follow the signs. It's about a 10-minute walk from the station.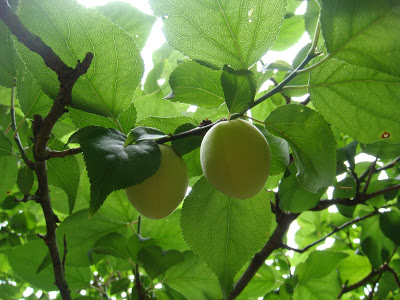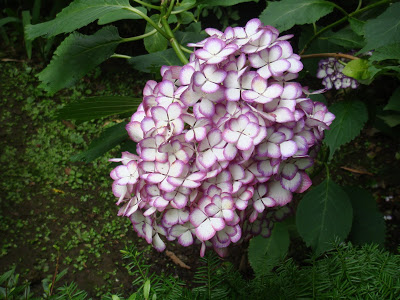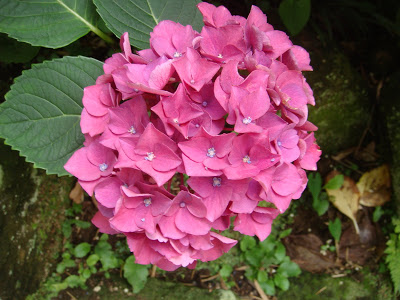 Between Kita-Kamakura Station and Meigetsu-in is Engaku-ji Temple, the "temple of spirit." It's sprawling, smells wonderful, and had many little diversions, plus—interestingly—it was founded about 700 years ago after the Japanese twice beat back the Mongolian hoards so people could hold mass for the fallen soldiers of both nations. And at the same time influence the Zen World of Japan; Engaku-ji was even the Zen Center of Kanto Plain in the Meiji Era (late 1800s-ish). This area is going to be BEA-U-TI-FUL when all the Japanese maples change colors in the fall!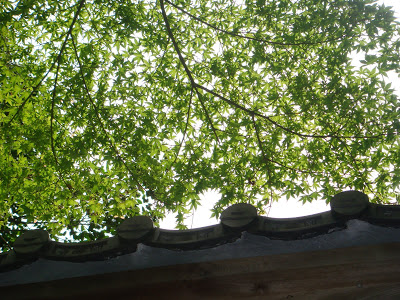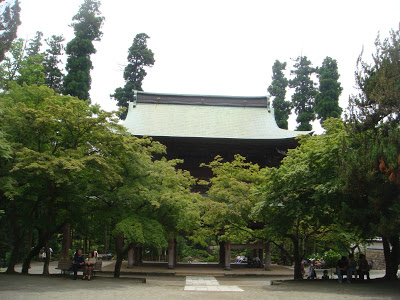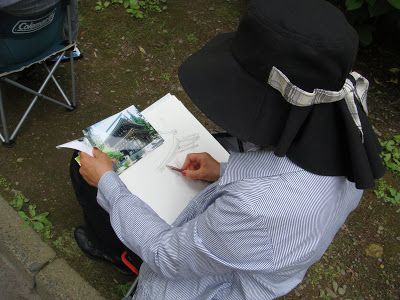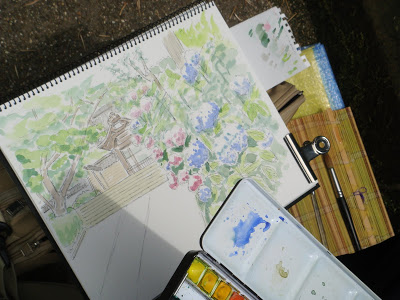 Many old people sat comfortably surrounded by sketch pencils and watercolors creating little masterpieces. Here is another thing I love about Japan: doing something interesting in public is practically an invitation for polite observation. I think simply being a foreigner falls under that category sometimes, but right now I'm talking about the sketching. When Chris and I picnic by the river people lean over the blanket and kind of study what we're eating. In the same way, the sketchers didn't mind over-the-shoulder observation. Talented!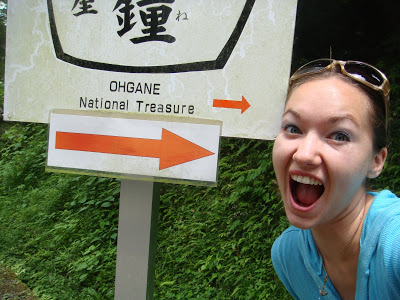 So to sum up: Kamakura is, as ever, my favorite. I recommend both temples now and again in the fall, but maybe not on the weekends right now, and never with strollers (lots of stairs). There are lots of places between the temples to stop for ice cream, tea, lunch, etc. If you are into Power Tourism like I am, I recommend this three-to-four-mile loop of
Mari's Kamakura Favorites
:
Begin at Kita-Kamakura Station. Walk to Engaku-ji (3 minutes). Walk to Meigetsu-in (10 minutes). Walk to
Kenchoji Temple
(15 minutes? This temple complex includes a bit of hiking and—depending on the weather—nice views of Mt. Fuji and the Sagami Bay). Walk downhill to
Tsurugaoka-Hachimangu
(20 minutes). Continue to
Hokokuji Temple
(15 minutes). Walk back to Tsurugaoka-Hachimangu (15 minutes) and continue to Kamakura Station along one of the shopping streets (15 minutes).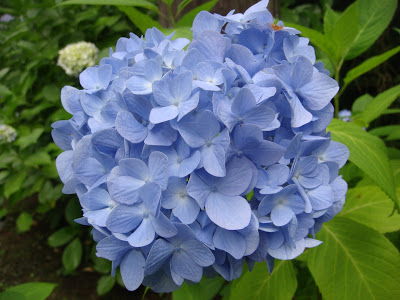 If you enjoyed this vicarious Kamakura Hydrangea Tour you might enjoy the Tokyo Cherry Blossom Tour , the Yokohama Plum Blossom Tour and Tokyo Azalea Tour!