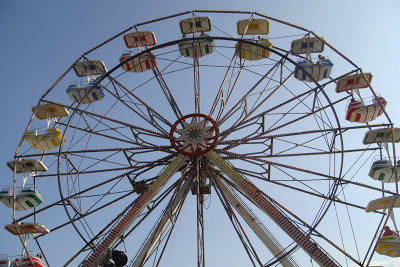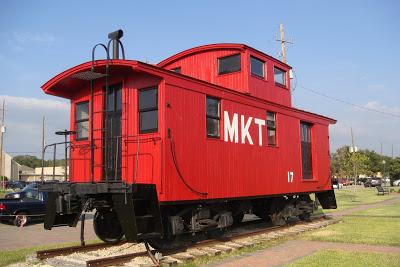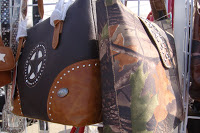 Nothing says "home in Texas" like the annual Katy Rice Harvest Festival. No one at Katy High School drove a tractor to school (that I know of), but it would be safe to say this is a community that identifies strongly with its harvesting roots. Or, you know, a good leafy-camo purse. Anyone?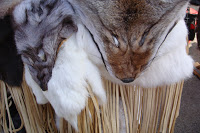 Anyone?? Or, forget blending in and go for intimidation with this nice fox-head purse.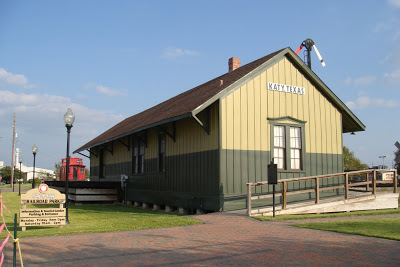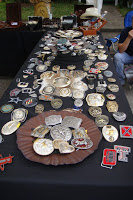 Katy trivia: The Missouri-Kansas-Texas Railroad Company, or K-T Railroad, had a depot here. So yes, the name of the town is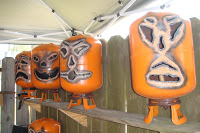 derived (integrated?) from an abbreviation. This is a good place to come home to. Despite the sudden appearance of propane tanks-turned-jack-o-lanterns. This is a new development.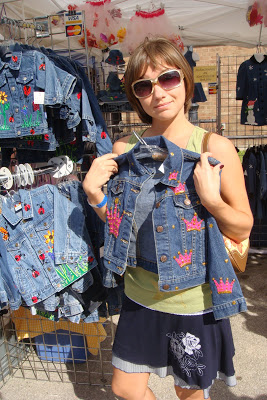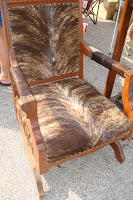 I saw a sign for the Rice Harvest Festival at the end of my long drive home. "Oh boy!" I thought. "I haven't been to that in forever!" Neither had my fam, so Hannie and my mom and I headed over Saturday afternoon. We asked Daddy if he wanted to come over. He said, "As fun as that sounds, pass." He must have forgotten about the table loads of hubcap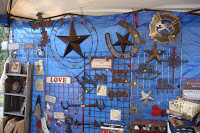 -sized belt buckles (Texas classic!) Another classic: puffy-paint on denim. It wouldn't be a festival in Katy if someone didn't set up a tent of puffy painted creations (above). I only saw three pairs of painted overalls all day. And yes, I used to have some.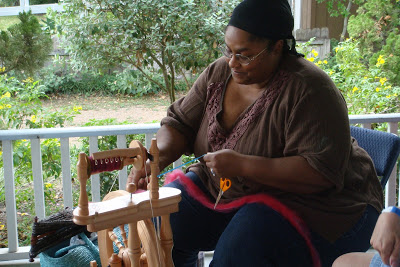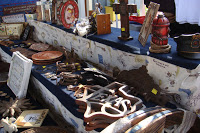 This lady at the
Lone Star Loom Room
was pulling yarn she dyed at home and had a loom in the process of knitting scarves. My great-grandmother had a huge loom, promised to my mother. This got Mum thinking about it again. Wouldn't that be a cool family hobby? Maybe? If we could figure out how to work it, then loom each other heirloom (ha ha!) blankets and stuff??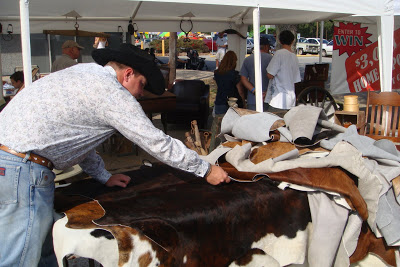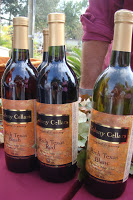 This new
Colony Cellars
winery is on the road up to College Station, where all four kiddos and most of our significant others went to
Texas A&M University
. I always love a good Texas wine with a fat grilled steak—that should be like a rule or something. I'll be interested to see where this wine falls in with our other Texas favorites.
The three of us made short work of finishing off this funnel cake and covering Mum's black capris with powdered sugar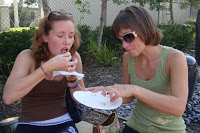 ("Yes, we'd like one funnel cake please with extra fun," we said, and got a second dusting…which got everywhere). Yum! Tastes like a festival. The one sad part: we were determined to find Chicken Bingo, where you bet on which square will receive the first poop as the namesake chicken clucks around. If that doesn't say festival I don't know what does, but the sponsor was out this year, so bummer. Maybe next time!