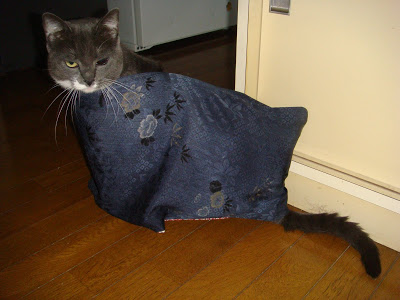 Apologies to my Japanese friends—this weekend I continue to abuse beautiful kimono. Please forgive me for generally being a barbarian. Ok, so after I removed the sleeves from my cute dress yesterday I had…two sleeves. Mouse seemed very interested in them, so I tucked one over his head as a little kitten kimono. Kawaii! Two sleeves, two cats…perfect! Too bad they're not as excited about our new clothes as I am.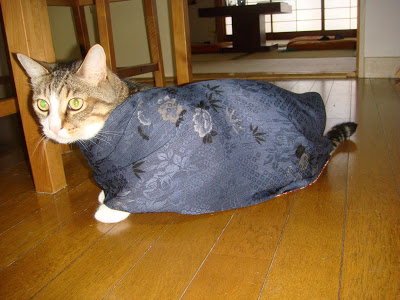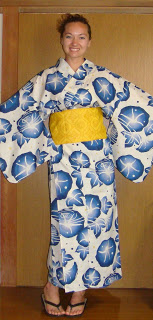 Today I had to go to Uniqlo (my favorite!) to get certain Japanese undergarments for our upcoming Awa Odori performances starting this Thursday. While I was there I checked out the summer yukata. I asked a Japanese friend last month, "Is it ok to wear a yukata for fun to a festival even though I'm a foreigner?" She looked at me and said, "Uh…it kind of is required." Permission granted! Most of the yukata I've seen this summer at Honeys and Uniqlo are black and pink with roses or butterflies on them. Then I found one that I think was designed for me. It's a white yukata with a blue morning glory pattern.

My birthday month September Kokeshi doll features morning glories, plus they could almost pass for sand dollars—my favorite! I asked a girl who worked there if the set included instructions to tie the obi. Some come pre-tied and can be clipped on; this yellow obi was free-form. Yikes! She confirmed it did include instructions but went a step further—"I can show you how to tie it right now!" she said, leading me back to the dressing room. Sold! At home I tried to dress myself and recreate the bow. My first attempt is not the best, but it's a start!! Every time I talk to my dad on the phone lately I mention Awa Odori and he's started asking me whether I'm turning into a Japanese girl. Well Daddy, dressing myself in a yukata is at least a couple steps closer!! hee hee.