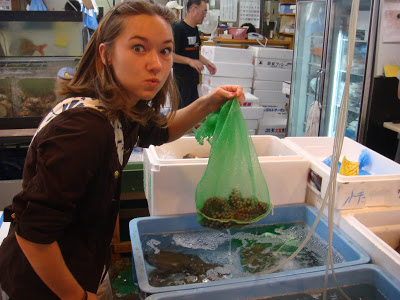 I am not quite sure what the appeal of fish markets is for me, but I cannot seem to resist them. I sought one out in
sunny Jacksonville
(maybe my fave post of last summer) and in
chilly Sasebo
. I searched for one in Sydney, Australia, but got tired and ran out of time. This morning I pulled an octopus still all a-squirm from his tank in a green mesh bag. The bag kept him from bothering the assorted sea life that constituted his tank mates.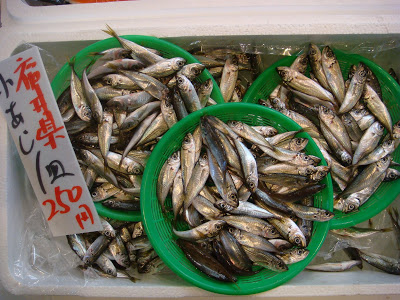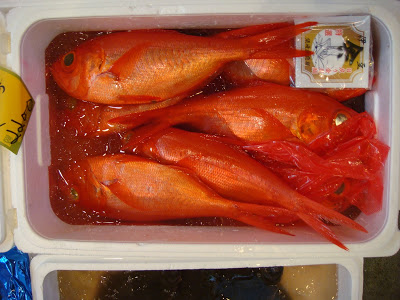 I guess the heart of it is: here is something I would never do for a living that most of these people have done every day for their whole lives, probably even generations. It's like a little window into the world of the timeless art and toil of making a living on the ocean chasing fishes through the northern seas and battling monsters of the deep…like this 700+lbs blue fin tuna. Yikes!
Sushi chef Sarkeo Shinya took my friend Elaine and me to the Kawasaki Fish Market early this morning. We followed him while he made his usual rounds, then he showed us the huge fish (above) that was caught just a few days ago in the chilly waters off Hokaido, Japan's northernmost island. Then Shin-san got his finger caught in a very fresh scallop (below)!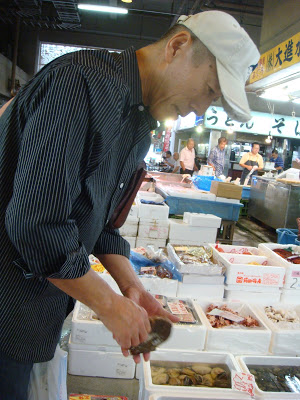 A few weeks ago Elaine and I had sushi at Shin-san's Sushi Bar OSE where Elaine boldly ordered barbecued freshwater eel. Her reasoning was, "I've never liked eel, but I've never had anything here I didn't like, so I'll try the eel." Shockingly, we both really liked it and had no flashbacks to the Princess Bride Shrieking Eels scene that usually makes me gag anytime eel is on the menu. Shin-san showed us this tub of live eels today and said, "This is what you ate!" Delightful…and I'm back to gaging.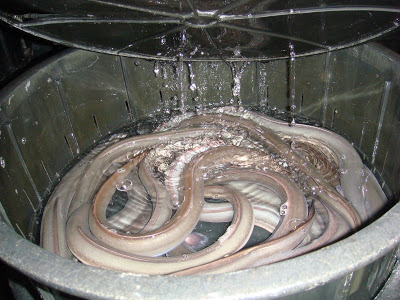 Do you ever get the feeling someone's watching you? Someone…or something…that the Japanese consider a delicacy?? Ok, they don't actually eat the eyeball, just the vitamin-rich tissue all around it. Yum!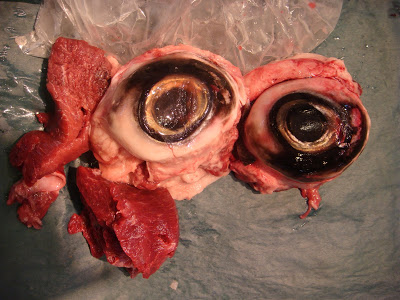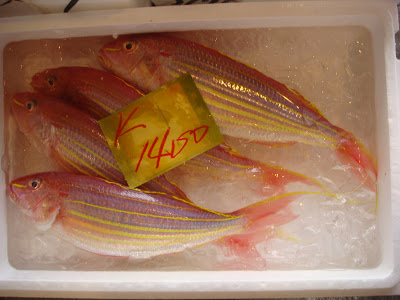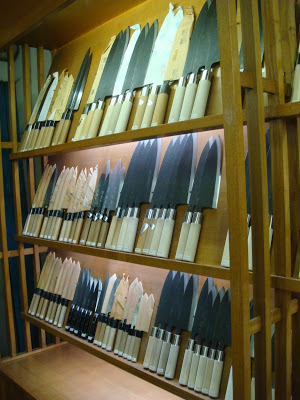 This knife shop sells cutlery specifically designed to cut through veggies, or meat, or fish, or…bone. When you purchase one, the shop engraves it for you. Neat!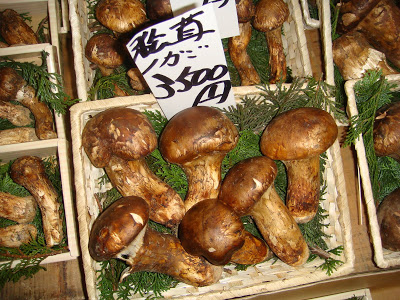 All my Japanese students have been telling me that the conclusion of O-Bon means summer is now over. I tried to tell them summer isn't over until after Labor Day. I guess I'll have to admit they won if all the beach bars are closed Labor Day weekend. And no one in Texas wins because it will be one million degrees there until Christmas. Anyway, Shin-san pointed to these mushrooms and said, "Oh! Early mushrooms because it is the beginning of fall." Sure enough, Asian Pears also made an appearance, along with assorted squash and even acorns. Believe it or not, all the cherry trees' leaves have started to yellow and leap from their branches, and this week our highs have peaked in the mid-80s. Please keep in mind we've only had about two and a half weeks of collective sunshine this summer, so I'm still holding out for another month or two of warm weather though. I can dream.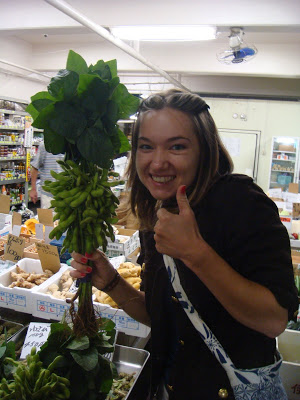 In other news, did you know edamame grows like this? I bought this and ate some for lunch. Mouse materialized at my feet as soon as I started pulling the pods from the stalks. He LOVES edamame and cries and begs for it until I throw him some beans. Weird.